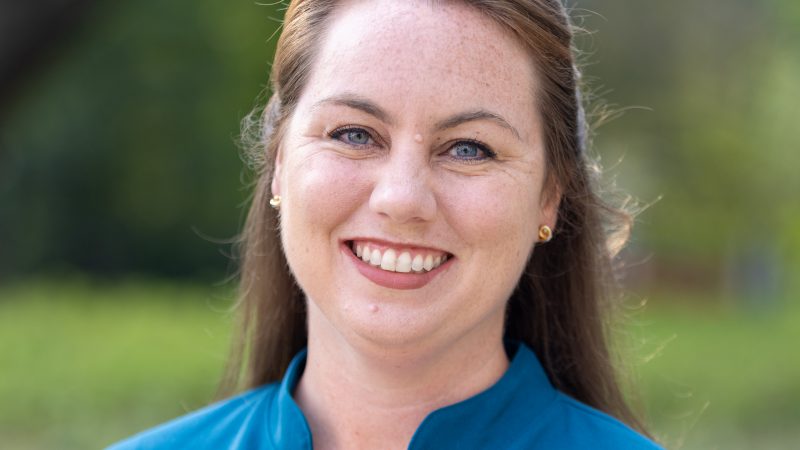 Stephanie Lowe to Lead Culverhouse Exec Ed Program
The Culverhouse College of Business is pleased to welcome Stephanie Lowe as the new Director of Executive Education. In that role, she will drive the visibility and growth of the college's executive education programs in areas like data analytics, leadership, and business cybersecurity.
"Working in Culverhouse is being able to give back where I started," Lowe said. "I am excited for the opportunity to grow the Executive Education programs and bring additional opportunities to working professionals."
Lowe brings 12 years of experience in higher education to the position. She was instrumental in developing executive education programs as an administrator in UA's OTIDE office. At OTIDE, she also worked with online and hybrid education programs for nontraditional and adult learners and with online undergraduate and graduate programs in Culverhouse, the College of Education, and the College of Arts and Sciences.
More recently, Lowe worked in Undergraduate Admissions at UA in a variety of roles, including out-of-state student recruitment, events, and alumni and volunteer recruitment.
Moreover, she also served on planning committees for UPCEA (Association for University Professional, Continuing and Online Education), and has taught the introductory professional development course for Culverhouse first-year students.
A native of Huntsville, Alabama, Lowe is a 2009 Culverhouse graduate and holds a bachelor's degree in business with a major in management and a concentration in consumer marketing. She also holds a master's in higher education administration and is pursuing an EdD in the same field, both at The University of Alabama.
"We are very excited to have Stephanie on the team," said Dean Kay Palan. "We have already seen remarkable growth in the Executive Education program in the year since it began, and we trust that Stephanie will continue developing it: building more relationships, expanding reach and visibility, and ultimately serving more professionals."
Executive Education at Culverhouse began in fall 2021, led by Jan Jones who is now a clinical professor in the college's Department of Management.
Contact Stephanie Lowe at smlowe@culverhouse.ua.edu and connect with her on LinkedIn here.