In pursuit of our mission, vision, and values, the Culverhouse College of Business is dedicated to the aggressive pursuit of ethics and ethics education that complements the rigorous technical training in our undergraduate and graduate programs. Our focus on ethics is consistent with the university's Code of Academic Conduct. We take ethics and character seriously!
Academic Honor Council (AHC)
The purpose of the student-led AHC in the Culverhouse College of Business is to promote honor and integrity in the study and practice of business in accordance with the values of the Capstone Creed, "As a member of the University of Alabama community, I will pursue knowledge; act with fairness, honesty, and respect; foster individual and civic responsibility; and strive for excellence."
The AHC will strive to:
Promote academic integrity and help educate business students about how develop and maintain strong character and ethical habits in their personal and professional lives.
Help organize and implement integrity-related events each semester, e.g., "Integrity Week," the J. Craig Smith Business Ethics Lecture, and an integrity-focused competition.
Provide classroom presentations to business classes on academic integrity and its importance.
Maintain active, positive internet presence, including in the college website and social media.
Interact and partner with the college's Ethics Advisory Committee to pursue ethics-related objectives.
If requested, provide input to the Academic Misconduct Monitor and/or Dean on allegations of academic misconduct.
Members of the 2022-2023 AHC include: (L to R) Front Row: Laura Waldsmith, Mae Farmer, Isabella Amezquita, Katherine McDonald, Sarah Richardson, Anne Mallory Jenkins, MJ Hardnett; Back Row: Kate Valeriote, Braswell McMeans, Andrew Bregman, Jeppa Kilgore, Lucas Nunn (AHC Advisor), Patrick Cullen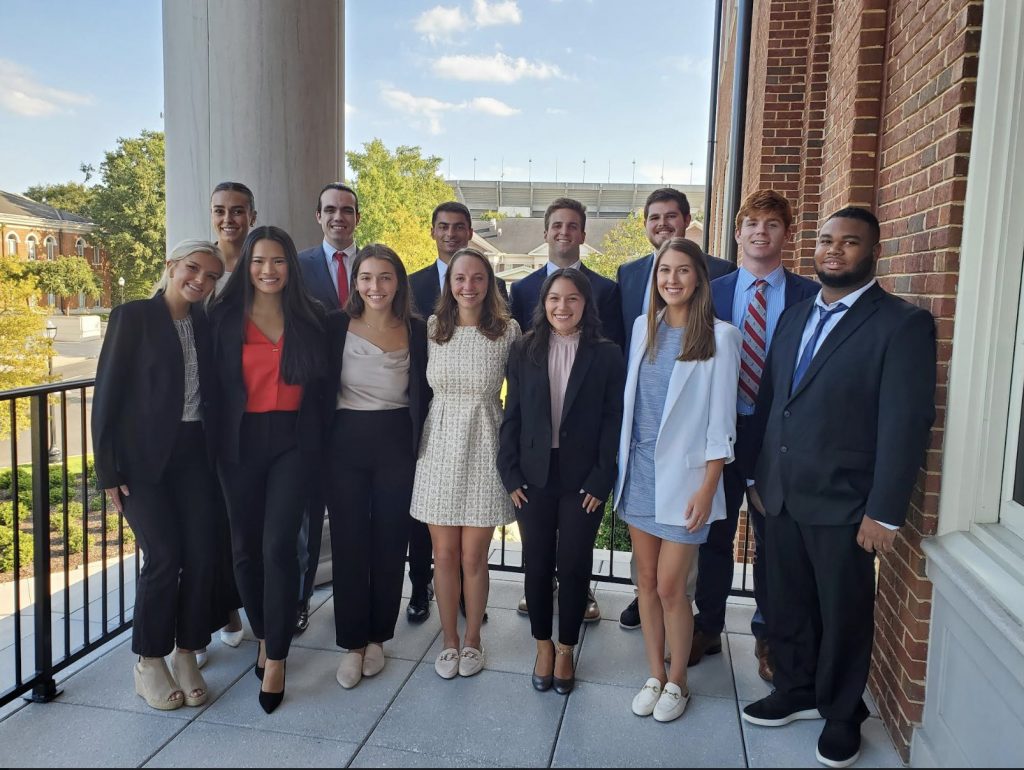 Ethics Advisory Committee (EAC)
The Ethics Advisory Committee (EAC) in the Culverhouse College of Business helps develop and manage the college's ethics program. The EAC works with the Dean, faculty, staff, and students to implement existing ethics initiatives and seek innovative, proactive methods for promoting ethics and character development. Members of the 2021-2022 EAC include:
Bob Brooks, Ph.D; Professor of Finance
Yuanyuan Chen, Ph.D; Assistant Professor of IS, Statistics, and Management Science
Todd DeZoort, Ph.D; Durr-Fillauer Chair in Business Ethics & Professor of Accounting
William Jackson III, Ph.D; Smith Foundation Chair of Business Integrity & Professor of Management
James King, Ph.D; Minnie Caddell Miles-Frank A. Rose Memorial Endowed C&BA Professorship of Leadership
Candace McCain; Clinical Instructor of Marketing
Katherine McDonald; Chief Justice, Culverhouse Academic Honor Council
Robert McLeod, Ph.D; John S. Bickley Faculty Fellow in Insurance and Finance
Lucas Nunn, Culverhouse Academic Honor Council Advisor
Kay Palan, Ph.D; Ex Officio Member and Dean of the Culverhouse College of Business
Troy Pollard, Ph.D; Associate Professor of Accounting (Committee Chair)
Stan Westjohn, Ph.D; Assistant Professor of Marketing
The J. Craig Smith Business Ethics Lecture
The J. Craig Smith Business Ethics Lecture Series brings in select accomplished speakers with unique, personal perspectives on the ethical challenges inherent in business. Previous speakers include Tony Menendez, Kay Palan, Alton Sizemore, Bill Battle, Cynthia Cooper, Walt Pavlo, Alice Martin, John Allison, Drayton Nabers, and Jay Grinney. On April 19, 2023, the Culverhouse College of Business welcomed Samuel Moses as the 2023 J. Craig Smith Business Ethics Lecturer.
Samuel Moses
Vice President of Corporate Systems
The Home Depot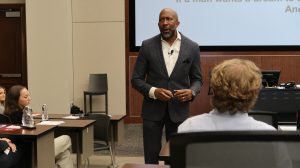 The J. Craig Smith Integrity Award
The J. Craig Smith Integrity Award recognizes outstanding students in the college who consistently exemplify the values of integrity and compassion that J. Craig Smith built in his business career and personal life. The students receiving this annual award exhibit strong character, clear signs of rigorous ethical thinking, and a commitment to advancing the quality of life in the wider community, especially for those less fortunate. Past winners include:
2022-2023: Mattie Bryant, Sydney Helgeson, Katherine McDonald, Gabrielle Odinet
2018-2019: Jacqueline Berg, Abby Greenwell, Destiny Pollard, Erin Washington
2017-2018: Lauren Beers, Whitney Cravens, Becca Gary, Jaiden Gonzalez
2016-2017: McKenzie Gravitt, Caroline Morrison, Paige Sims, Emily Zapinski
2015-2016: Kaitlyn Haefer, Grace Hudgins, Polly Rickets, Shirin Torabinejad
2014-2015: Sarah Kim, Nathan Miklovic, Kendall Roden, Abby Snyder
2013-2013: Hayley Ginn, David Hose, Erika McCalpine, John Pounders
Personal Code of Ethics
The College has a Personal Code of Ethics (PCE) program that requires all students to consider and communicate their personal assortment of virtues, vices, and ethical priorities as they develop personally and professionally. The PCE is a critical part of the Ethics Program because it provides a formal opportunity for all students to develop personal standards of conduct that they can apply both in and out of class.