The Manderson Case Team took first place in the 19th annual Race & Case competition, hosted by the Daniels College of Business at the University of Denver. The team was comprised of MBA students Justine Groeber, John Pelham, Brianna Pniak, and Jen Pride, advised by director of experiential learning, Quoc Hoang.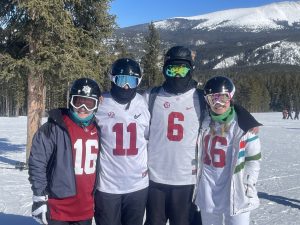 "I am so proud of my team for securing the gold in true Alabama fashion," said Groeber, a CREATE Path to the MBA student. "This first-place win validates the work my team and I put in leading up to our final presentation, and it was an honor to work alongside such a dedicated group of individuals."
Race & Case is named for its unique combination of a business ethics case competition and a timed ski race held in Breckenridge, Colorado. Over two days, teams presented their case solution on Friday, February 25, and participated in the ski race on Saturday, February 26. The case presentation accounts for 90% of each team's score, and the other 10% came down to the ski race. 
Pelham, STEM Path to MBA student, touched on the ski format and travel experience, "I'm incredibly grateful to Manderson for sending us to this case competition. To show our school pride, all 4 of us wore Alabama jerseys over our ski gear. It was a truly unforgettable experience."  
This year's competition challenged the ten participating teams to create a metaverse entrance strategy for a retail company looking to dominate the US athleisure market. The team worked diligently to understand emerging technology and effectively leverage it in their solution.   
"Initially, our team was overwhelmed with the amount of ambiguity with regards to the metaverse," said Pride, STEM Path to MBA student. "However, the more we researched the metaverse, the more we learned that we could approach our solution in a creative way, which led to a recommendation we were passionate and confident about."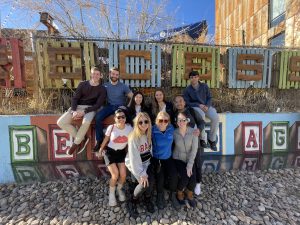 The 2022 Manderson Race & Case team wrapped up the weekend by celebrating with several Manderson Case Team alums living in the Denver area, including Christin Spencer (2018), James Ramsey (2018), Esther Workman (2019), Raegan Swartz (2020), and Brandon Smith (2020). The group of current and former students shared memories and lessons from their time on Case Team. Excitingly, Ramsey and Spencer also placed first at Race & Case in 2018.   
"Meeting other Case Team alums that are new to the city is so exciting since we're all trying to settle in, make friends, and further our careers, and for us to get to meet and celebrate with the newest Race and Case champions is the cherry on top!" said Spencer. "It makes me immensely proud to see Manderson's continued success, and I know these Case Team members and alums are people I'll see in future board rooms, executive roles, and back in Tuscaloosa for years to come."  
Relatedly, Pniak, current STEM Path to the MBA student, sees the value of the Case Team's culture. "Case Team is all about connection. The alumni we met finished their MBA the same year I graduated high school; that said, the conversation just flowed. Whether I'm in Denver or anywhere a Case Team member has moved post-grad, it's comforting to know I have this network of people I can reach out to." 
The Manderson Case Team shared an all-SEC podium with the University of Florida Warrington College of Business and Auburn University Harbert College of Business.  
"It's clear that our collective commitment to advance the academic reputation of the Southeastern Conference and provide an unparalleled student experience is making a big impact here at Alabama and on the campuses of our fellow SEC schools," said Hoang.   
For more information about Manderson Case Team, contact Quoc Hoang at qhoang@culverhouse.ua.edu.