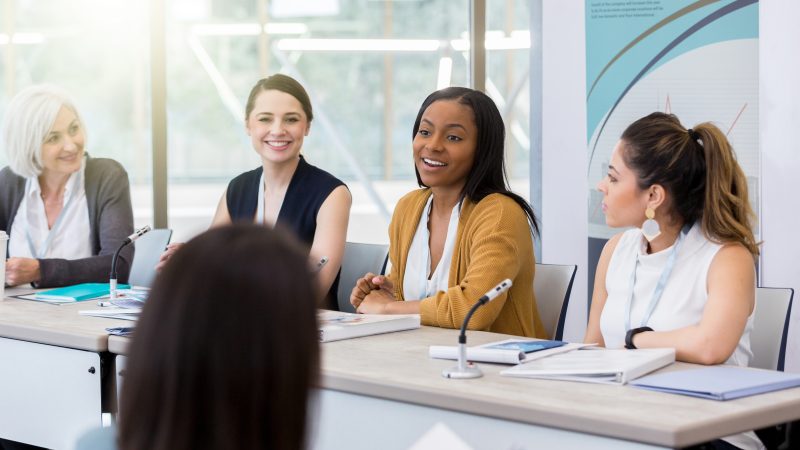 Culverhouse to Host Women in Business Conference and Women's Leadership Initiative Recognition Dinner
Event on March 25-26 to connect and inspire accomplished women professionals, alumnae, and female students at Culverhouse
CONTACT:
Cherie Moman
cmoman@culverhouse.ua.edu
TUSCALOOSA, AL – A series of events on The University of Alabama campus intend to connect – and inspire – accomplished women professionals and alumnae and female students of UA's Culverhouse College of Business.
Hosted by the Culverhouse College of Business Office of Diversity, Equity and Inclusion, the inaugural Women in Business Conference on March 25-26 will feature topics and perspectives to benefit women at all career levels including sessions on how to answer personal questions in interviews; getting the most out of personality assessment tools; pioneering in unique career spaces; the art of networking and branding; entrepreneurship; and handling gender discrimination and harassment in the workplace.
The conference will also feature an overview of the Culverhouse Women's Initiative by Dr. James King, Culverhouse associate dean of diversity, equity, and inclusion, and a panel of Culverhouse professors showcasing the implications of research on women in leadership.
In summarizing this effort Dr. King said, "We have so many highly accomplished alumnae who should be highlighted and celebrated. I believe that them sharing their knowledge and wisdom with each other, and with our current students, is of great benefit to them, our College and beyond."
The conference will be held in conjunction with the inaugural Culverhouse Women's Leadership Initiative Recognition Dinner, which will take place on March 25 at 6 p.m. The dinner will be an annual gathering to highlight the professional and societal contributions of exemplary alumnae of the Culverhouse College of Business. The 2022 honorees are Lt. Gen. Gwen Bingham, Kathryn Hornsby and Sherrie LeMier-Potts. The honorees will share about the careers during a conversation moderated by Cindy Martin, president and CEO of Birmingham Now and former president of the Alabama Media Group.
Proceeds from both events will support the Women's Leadership Initiative and the Minerva Summer Program, a week-long residential camp for young women interested in business. Tickets for the conference are $50 for regular admission and $25 for student admission. Dinner tickets are $50 individually. Sponsored tables (seating 8) can be reserved for $1,000 – other sponsorship levels are available.
Purchase tickets for each event on the Culverhouse DEI website here.
For information about sponsorship opportunities, contact Sherry Bellan at srbellan@culverhouse.ua.edu or 205-348-9618.
Culverhouse Women's Leadership Initiative Recognition Dinner Honorees
Lieutenant General (LTG) Gwen Bingham is a US Army retired 3-star General and a native of Troy, Alabama. She graduated from Army ROTC as a Distinguished Military Graduate from The University of Alabama in August 1981 with a Bachelor of Science degree in Commerce and Business Administration. LTG Bingham also has a master's degree in Administration from Central Michigan University and a Master's degree in National Security Strategy and Resources from the National Defense University. She has been a trailblazer serving as the first woman to hold numerous positions as a general officer. She culminated over 38 years of service in her final assignment as the HQDA assistant chief of staff for installation management, The Pentagon.
Kathryn Hornsby is a retired managing director from Citi after a career of 33 years. Kathryn held global leadership roles supporting corporate, financial and government institutions in service, operations, technology, consulting, and implementation. Kathryn spent 10 years overseas as the senior country operations officer in Senegal, Cote d'Ivoire and Hungary. She was a member of the Citi Transaction Services Women's Council from 2001 – 2013 and served 9 years on the Executive Planning Committee and 2 years as co-chair of the council. Kathryn graduated with a bachelor's degree in Finance from The University of Alabama's Culverhouse College of Business. Kathryn served as executive-in-residence at the Culverhouse College of Business from 2005-2011. She has been a member of the Board of Visitors since 2011 and was on the Executive Committee from 2012 – 2021.
Sherrie LeMier-Potts graduated with a bachelor's degree in accounting from The University of Alabama's Culverhouse College of Business and also received a master's degree in business administration from the University of Phoenix. She retired from Blue Cross and Blue Shield of Alabama from 31 years serving as its controller and chief financial officer before moving to its government affairs contracting to perform Medicare, Medicaid, and Veterans Administration benefits. She is a member of the Culverhouse Student Enrichment Committee to place students with corporations for internships and co-ops and serves on the college's Board of Visitors.
---
About the Culverhouse Office of Diversity, Equity, and Inclusion
Culverhouse DEI's mission is to support the Culverhouse College of Business in its efforts to enhance diversity, promote inclusiveness, and develop leadership as the College cultivates an inclusive community by increasing faculty, staff, and student engagement in diverse, inclusive and equitable practices, and by enhancing recruitment of retention of diverse faculty, students, and staff.
About the Culverhouse Women's Leadership in Business Initiative
This initiative involves a collection of efforts designed to bolster and support the presence and success of female students and professionals, focusing on supporting the development of pre-college and college women who are interested in or are majoring in business with an emphasis on areas where women are underrepresented.  This features similar elements and the same approaches that define the DEI Leadership and Mentoring Initiative, but with a specific focus on Leadership Development, where young women often lack consistent encouragement, mentoring and sponsorship.