The Angelo Bruno Business Library and Sloan Y. Bashinsky Lab is undergoing a comprehensive renovation.
The building will get new paint, carpet, ceilings, and light fixtures. A sprinkler system and HVAC improvements are also planned.  New features will include a gender-neutral bathroom and a mother's nursing room.  New furniture will be configured in a variety of ways, with an emphasis on facilitating collaborative work.  While renovations are being made, the building will be closed during the Spring and Summer 2022 semesters.  The library will reopen for the Fall 2022 semester.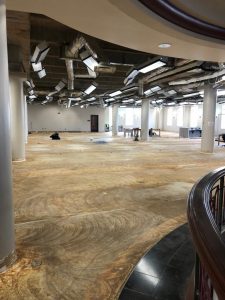 Bruno Library services continue to be available while Bruno Library is closed.  Librarians and staff can be reached at their usual phone numbers and email addresses.  Librarians continue to provide research support and classroom instruction, and the Bruno Library website provides access to our generous array of business-related databases, e-journals, and e-books.  Two Bloomberg terminals are being installed on the first floor of Gorgas Library. Circulating laptops and group study spaces are available in Gorgas, McLure, and Rodgers Libraries.
Bruno Library print materials have been delivered to the University Libraries' Archival Facility (formerly known as the Annex), where they will be processed into that collection, and circulating books will be made available for borrowing.  A large selection of recent and high-use print materials (both circulating and reference) will be brought back to the renovated facility in the fall.
If you have books checked out from the Bruno Library collection, they can be returned to any library location (Gorgas, McLure, Rodgers).  Questions about fees and fines can be sent to Donna Minor, Circulation Services Manager, Branch Libraries, atdminor@ua.edu.
Bruno Library books that have been processed for the Archival Facility will show a location of Archival Facility in Scout and the Libraries' Catalog and may be requested in the usual manner.  (Use the "Request Item" button and the "Document Delivery-Loan" option on the Interlibrary Loan form.)
Bruno Library books that are still in process will show a location of Business Library in Scout and the Libraries' Catalog.  You can request a copy from another library using Interlibrary Loan. (Use the "Loan" option on the Interlibrary Loan form.)
If you have any questions about library services and materials during the renovation, please don't hesitate to reach out to the Bruno librarians and staff.
Curious about the progress of construction? Check out photos here on the UA Libraries website.