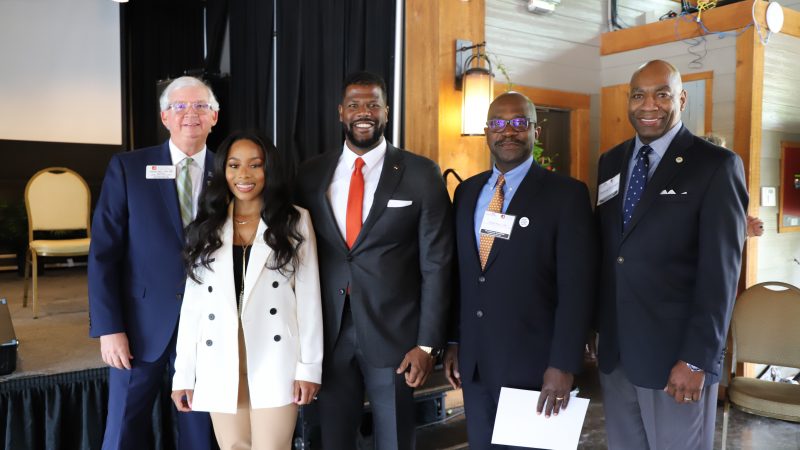 UA Center Unveils Initiative to Improve Diversity in Real Estate Industry
TUSCALOOSA, Ala. – Alabama Center for Real Estate (ACRE) at The University of Alabama has announced its ground-breaking REimagined diversity initiative, designed to bring more people from underrepresented groups into entry-level positions in the real estate industry.
"While industries like healthcare and education have been quick to adapt and embrace a diverse population and workforce, the real estate industry is lagging," said Cherie Moman,  ACRE director of education, marketing and communications. "To this point, only 16% of respondents in the 2020 CREW Network Benchmark Study: Gender and Diversity in Commercial Real Estate responded that 25% or more professionals in their workplace are BIPOC. As our country continues to diversify, we believe the industry can benefit greatly from a workforce that mirrors national demographics."
There have been a lot of conversations and articles written on the need for diversity in real estate, but there are no initiatives designed to prepare and increase the participation of Black, Hispanic, Asian, Indian or multi-racial people in real estate careers at scale.
"While diversity has been part of ACRE's outreach program through industry career panels and real estate curriculum development at Alabama HBCUs for a number of years, we have now set the bold goal to empower over 100,000 young adults of color in the field of real estate by 2030 through our REimagined initiative," said Grayson Glaze, ACRE executive director.
The first REimagined program under development is CORE: Career Opportunities in Real Estate. CORE is an online credentialing program that will provide remote life and skill-based coaching, preparing participants for entry-level jobs in the real estate industry under the tenets of awareness, readiness, and connection.
ACRE has strategically partnered with LifeRamp, a leading-edge coach-powered betterment technology company that provides college students and young professionals all the support and tools they need to transition into a career and life they love, to deliver targeted life and career coaching to CORE participants to explore careers, build competencies and succeed in all facets of real estate.
"It's really exciting to be a part of the REimagined initiative, and to see the vision and commitment of ACRE and local leaders coming together on this effort to create more diversity, equity, and inclusion in such an important part of the U.S. economy," said Michael Huckaby, LifeRamp founder and CEO. "We hope CORE will have not only a significant positive impact on young people in the state and in the South, but ultimately across the country."
Internationally recognized real estate professional Debbie Phillips, CPM, Ph.D., will bring her expertise in real estate career exploration to the program curriculum. Her Atlanta-based human capital outsourcing company The Quadrillion provides leadership development and training, workforce development and performance assessment.
"The opportunity to create awareness and prepare high potential talent for opportunities in the real estate industry utilizing LifeRamp's platform is truly a game-changer," Phillips said. "Students today are seeking relevant resources and real-life experiences when it comes to career exploration. This program is the most holistic solution available to make meaningful connections and literally change the face of real estate."
The first CORE cohort will launch in September 2021 and scholarships will be awarded so that there is no barrier to entry for the program. Visit reimaginedre.org for more information about the initiative and support opportunities.
CONTACT: Cherie Moman, Alabama Center for Real Estate
PHONE: 205-348-3324
EMAIL: cmoman@culverhouse.ua.edu
About ACRE
The Alabama Center for Real Estate is housed within the University of Alabama's Culverhouse College of Business. ACRE is organized to provide national thought leadership and relevant resources in the areas of research, education, and outreach that enhance Alabama's real estate industry. The heart of ACRE is advancing relationships by providing servant leadership with a passionate, adaptable, and humble spirit. It was established by legislative act in 1996 with the support and guidance of its founding partners, the Alabama REALTORS®, the Alabama Real Estate Commission, and the University of Alabama. For more information, visit acre.culverhouse.ua.edu.
About Liferamp
LifeRamp is a next-generation college and career support company delivering on-demand life coaching, mentoring, and market intelligence to help students and young professionals "Be Their Best" on their paths toward fulfilling and successful futures.  LifeRamp's coaches, career experts, and experiential events help students build personal competencies identified by the National Association of Colleges and Employers (NACE) as key to career and organizational success, such as leadership, communication, and global and multicultural fluency.  For additional information visit, visit liferamp360.com.
About Debbie Phillips, CPM, Ph.D.
Debbie Phillips is an entrepreneur and real estate professional with over 30 years of industry experience. Debbie has a multi-faceted career managing diverse real estate assets including developing world-class leadership development programs and talent management strategies.  She was recognized in 2019 as a Woman of Influence in Real Estate by Globe Street and was awarded the first Real Estate Award of Excellence as a Certified Property Manager (CPM) in 2015 by the Institute of Real Estate Management (IREM). Debbie believes in the philosophy, "you can dream, build and create the most beautiful place in the world, but it takes PEOPLE to make the dream a reality." Debbie's mission is developing top-tier talent that adds value to an organization through increased employee engagement.