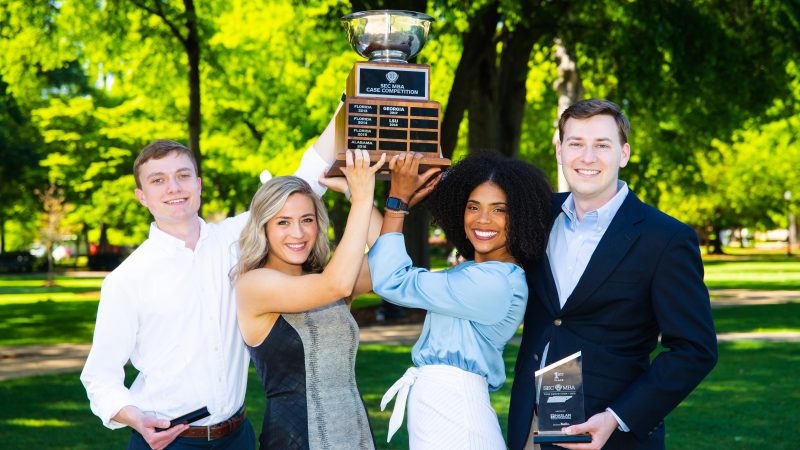 The Manderson MBA Advantage –5 reasons to get your MBA from The University of Alabama
If you came here looking for another reason to pursue a Manderson MBA, here are a few.
1. National Recognition
Gold-standard publications like U.S. News & World Report regularly rank the Manderson MBA program among the top-50 in the country.
2. Post-Graduate Success
Our students are highly successful in securing employment with prestigious companies after graduation. Our dedicated MBA career services team provides students with access to 1:1 advising, training workshops, networking events, career fairs, and more. The Manderson MBA class of 2019 achieved a 93.3% employment rate within 90 days of graduation, accepting job offers from high-level employers such as FedEx, Southwest Airlines, PwC, Regions Bank, and Lockheed Martin.
3. Something for Everyone
There are seven areas of focus Manderson MBA students can explore, ensuring anyone can pursue the career-accelerating topic that interests them most. Students can choose to concentrate in business analytics, finance, financial risk, real estate, strategic management and marketing, supply chain and operations management, and cybersecurity/MIS, making its debut for the fall 2021 semester.
4. The Case Team
The Manderson Case Team has achieved incredible success over the past few years, most recently winning second place at the 2021 SEC Case Competition and both first and second place at the 2020 Florida Southern MBA Case Competition. Manderson MBA Case Team members have the opportunity to learn from and work alongside knowledgeable mentors and fellow students to refine their strategic communication and problem-solving skills.
5. STEM/CREATE Pipeline
The unique STEM and CREATE Path to the MBA program allows undergrad students to earn their MBA with one additional year of study, giving them a leg up on their peers for those first post-graduation jobs.
To learn more about the Manderson MBA, visit our website or apply today.