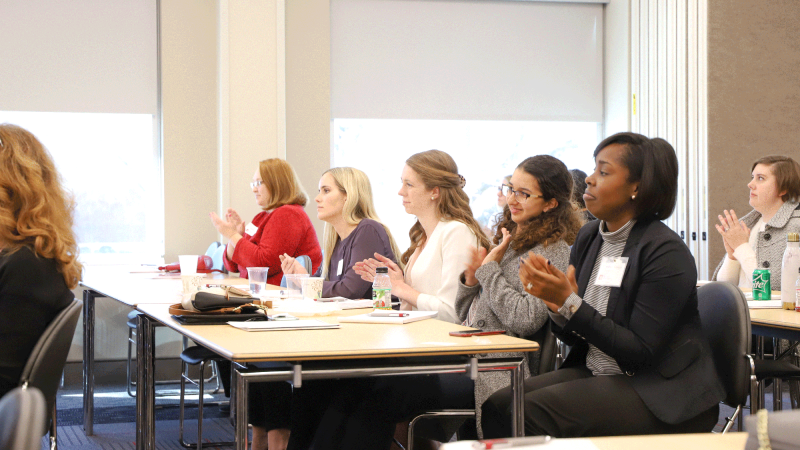 Culverhouse Women's History Month Speaker Series Starts March 2
In recognition of Women's History Month, the Culverhouse College of Business is presenting a Women's History Month (WHM) DEI Speaker Series. The series provides students the opportunity to listen and learn from phenomenal women alumni who are business leaders about how they navigated their careers to reach their current levels of success. Additionally, the speaker series will illuminate women professionals in various industries so that students may gain a greater appreciation for diversity in the world of business.
The speaker series begins on Tuesday, March 2nd and continues through the month of March.
The entire schedule of speakers can be found on the Culverhouse website.
To register for a speaker's presentation, click on the register button underneath the speaker's name and title. If you are interested in hearing a speaker but unable to attend at the given time, recordings will be available on the College's website for Diversity, Equity, and Inclusion.
Speakers include*:
Caitlin Jones, Global Director of Talent & Development Delivery, The Coca-Cola Company, Hosted by Larry Baldwin
Leslie O'Harrow Partner, PWC, Hosted by AKPsi Business Fraternity
Stephanie Hill Alexander, External Relations and Diversity & Inclusion Manager, Honda Manufacturing of Alabama, Hosted by Black Business Student Association
Wendy Boyd, Senior Vice President & Head of AGBA, Lincoln Financial Network, Hosted by Professional Women in Communication and Business
"Women's History Month is a perfect time for Culverhouse to feature some of the great businesswomen the University has produced. Their success is inspiring and makes us proud. It also attests to the importance of providing encouragement, developmental, and especially leadership, opportunities to all our students, so they can reach their greatest potential. I am thankful these outstanding alumnae are now willing to contribute to our efforts by discussing their career journeys with our current students, staff and faculty,"

Dr. James King, Jr., Culverhouse Associate Dean for Diversity, Equity, and Inclusion.
The Culverhouse College of Business is dedicated to crafting a diverse and inclusive environment, and the Women's History Month (WHM) DEI Speaker Series was initiated to further this goal for our current students, staff, faculty, and our alumni. Our efforts are cross-generational, and we express our gratitude to our alumni, corporate partners, and friends for their support.
*Additional speakers may be added to the schedule, and all updates will be reflected on the Culverhouse website.