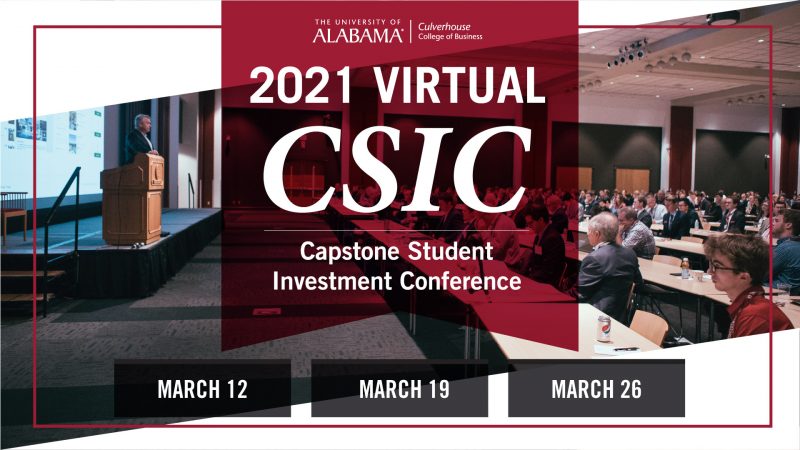 Registration Open for Virtual CSIC
The Capstone Student Investment Conference, the country's preeminent collegiate investment conference, is a one-of-a-kind event, bringing together students and professionals from around the country who are passionate about investing and finance. The Conference, or CSIC, this year will take place virtually over the course of three Fridays in March.
Attendees will learn from and interact with a distinguished panel of speakers who will share their expertise and insight, providing timely ideas for today's turbulent investment environment and offering timeless wisdom for navigating ever-changing financial markets to come.
2021 CSIC Speakers
Brian Bythrow, Portfolio Manager, Wasatch Global Investors
Dan Davidowitz, Portfolio Manager, Polen Capital
James Davolos, Portfolio Manager, Horizon Kinetics
C.T. Fitzpatrick, Founder, CEO, Chief Investment Officer, Vulcan Value Partners
Laura Geritz, Founder, CEO, Co-Chief Investment Officer, Rondure Global Advisors
Billy Hwan, Portfolio Manager, Parnassus Investments
Christopher Kiper, Co-Founder, Managing Director, Legion Partners
Yen Liow, Managing Partner, Aravt Global
Dan O'Keefe, Managing Director, Portfolio Manager, Artisan Partners
Mitch Rubin, Co-Founder, Co-Chief Investment Officer, RiverPark Capital
Clifford Sosin, Founder, CAS Investment Partners
Will Thomson, Founder, Managing Partner, Massif Capital
In addition to the formal speaker presentations and Q&A, each day of the event will also include multiple breakout sessions which will allow attendees to network with each other, as well as to meet with representatives from prominent firms throughout the financial-services industry who see the conference as an ideal way to make contact with those who by their presence show their interest and engagement in the field.
The individual student registration fee to attend all three sessions of the conference is a tremendous value at just $25! The VIP/Professional registration fee to attend all three sessions of the conference is a tremendous value at just $99. This special rate for non-students is a fraction of the fee charged for professional conferences of comparable quality.For more information, please visit csic.culverhouse.ua.edu. Registration is now open.
If you have any other questions or would just like to learn more about this year's CSIC, including how to register as a group, please call 205-348-0214 or e-mail csic@culverhouse.ua.edu.