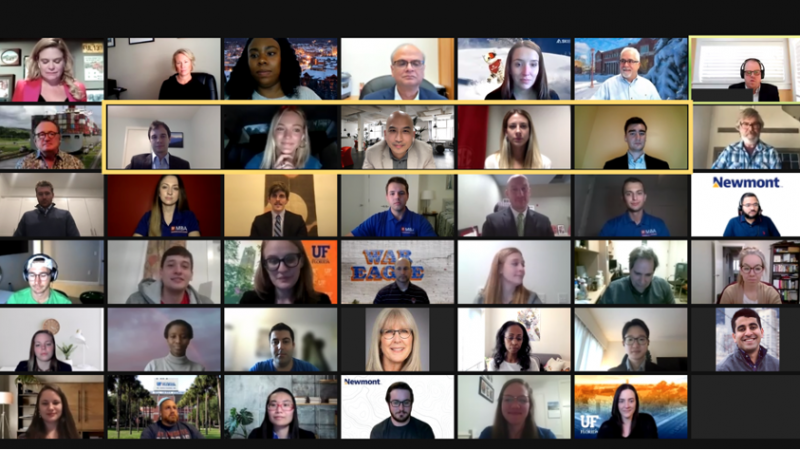 Early Spring Wins for Case Team
By Justine Groeber and Diana Boone
From Colorado and Maryland to Ohio and back to Alabama, the Manderson Case Team has covered significant ground "traveling" this spring. Case Team has made its appearance virtually across the US at several national competitions. Check out what they've been up to:
Kicking it off in Colorado, Case Team competed in the Race & Case Competition at the end of February, achieving a top-three win accompanied by $2,000. Hosted by the Daniels College of Business at the University of Denver, Race & Case is a business ethics case competition and race challenge all in one. Due to the virtual nature of the competition, the usual ski challenge was instead a race to complete a virtual escape room. The team consisted of MBA students Chappell Alex, Connor Funck, Kelli Kuharich, and Kyle Raburn, who placed 1st in the "race" portion of the competition for the first time. 
Lockheed Martin Ethics in Engineering Case Competition
STEM Path to the MBA seniors James Steinman, Nicole Arnold, Parker Shikle, Ryan Wilczynski, Trevor Miller "headed" to Bethesda, Maryland next where they advanced to the second round of the Lockheed Martin Ethics in Engineering Case Competition. The team, guided by instructor Mike Pope, pitched to Lockheed Martin in early rounds and negotiated with teams from other universities as they advanced through the competition.
Keybank Minority Case Competition
Next up: a "trip" to Ohio State University to compete in the Keybank Minority Case Competition. After four weeks of preparation, team members Abreya Gibson-Sledge, Julian Giakis, and Peter Do are currently awaiting their results after submitting a video detailing their comprehensive recommendation. 
Case Team adviser Quoc Hoang reflected on the successes and learnings of the season so far:
"I've enjoyed working week-after-week with Case Team students. We have primarily interacted through virtual means during this academic year and have adopted new tools and practices to help us learn and grow together during this trying time. I'm proud of how these students have met this unique moment – committing to learning through experience. Their consistent success is icing on the cake."
Manderson is located within the Culverhouse College of Business. For more information about Manderson Case Team, contact Quoc Hoang at qhoang@culverhouse.ua.edu.