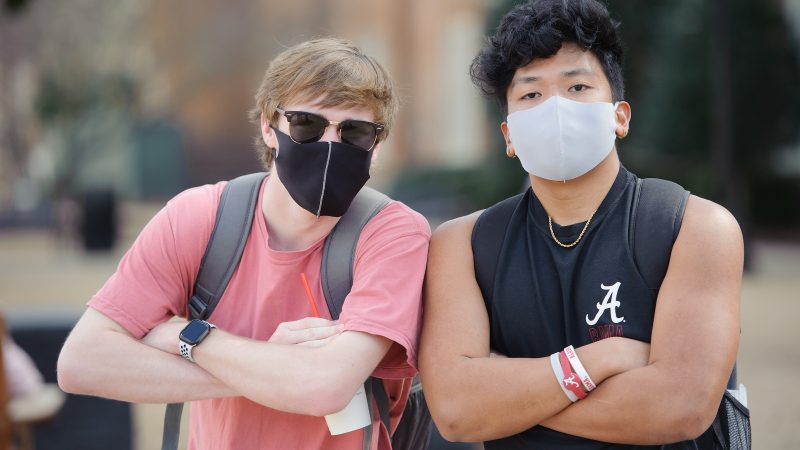 Gimme a Break! Kicks-off Monday, March 15
UPDATE: due to the likelihood of severe weather on Wednesday, March 17, the Shamrock the Quad event has been postponed to a later date.
"What we wanted to do was give our students a cognitive respite and opportunity to recharge, even though the official UA Spring Break 2021 was cancelled," said Dr. Lou Marino, explaining the genesis of the Gimme a Break! Initiative. 
Dr. Marino, the Culverhouse College of Business Department of Management chair, professor of strategic management, and James D. Nabors Instructional Excellence Faculty Fellow, helped lead planning for the Initiative in late fall 2020 when word came down about the changes to the spring 2021 semester owing to the coronavirus pandemic. Spring break was eliminated as a way of reducing travel and thus the spread of COVID-19 amongst The University of Alabama campus community. "The day it was announced we had an MBA class and the topic was corporate culture. The students suggested that if Culverhouse cared, we would give them a break. I pitched the idea in a Dean's leadership meeting and the idea received strong support. Thus, the program was born!"
To Dr. Marino and his team, students –– as well as faculty and staff –– still deserved a pause to refresh, even if there was not a formal, sanctioned break.
A team of staff and faculty dedicated to our students volunteered and worked to brainstorm on what that break would look like with required social distancing and safety measures. With support of the college and university, the team formalized the "Gimme a Break! Initiative" agenda of activities that in large part take place right on the UA Quad. Pop-up surprises are also planned throughout the week to give students and staff little break.
The day-by-day breakdown of events:
Monday, March 15:
Quad Games: noon to 1 p.m.
Yoga on the Quad: 10 a.m. and 1 p.m. –– registration required
9to5: The Story of a Movement: 3:30 p.m. in Bidgood 110 or virtually here
The Divines at Druid City Social: 9 p.m. –limited capacity, tickets required in advance, available on Monday at events on the Quad
Tuesday, March 16:
Quad Games: 11 a.m. to 1 p.m.
Virtual LEAD Talks: 11 a.m. and 1 p.m.
Yoga on the Quad: 1 p.m. –– registration required
Wednesday, March 17
Shamrock the Quad with the Manderson MA's: 11 a.m. to 2 p.m. –– POSTPONED
Virtual LEAD Talk: 11 a.m.
Snack Break: noon to 2 p.m.
Thursday, March 18
Quad Games: 11 a.m. to 1 p.m.
Yoga on the Quad: 1 p.m. to 2 p.m. –– registration required
Snack Break: noon to 2 p.m.

More info about the respective activities can be found on the Culverhouse Calendar.
Questions? Please contact Kim Gilbert at kgilbert@culverhouse.ua.edu, who is the lead event organizer and media contact for the program.
COVID-19 safety protocols will be in place. More info here about those protocols here.