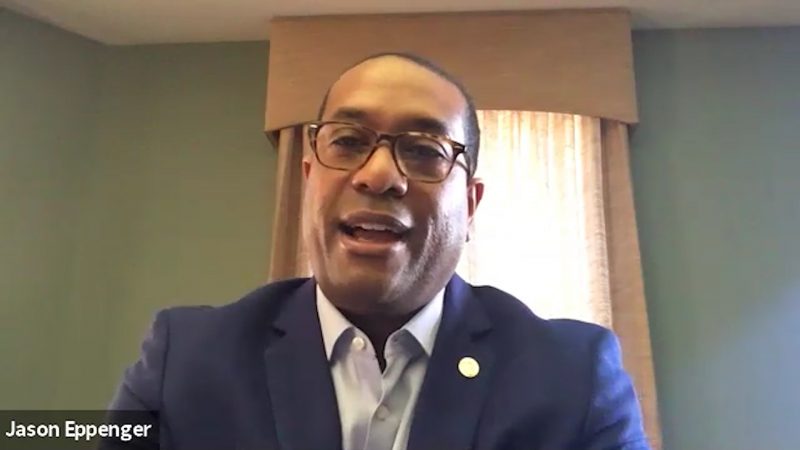 Culverhouse Celebrates Diversity during BHM 2021 Speaker Series
Above: Jason Eppenger, one of the guest speakers for the BHM Speaker Series, discussed his career path in a virtual Zoom session.
By Stephanie Cohen
To commemorate Black History Month, Culverhouse College of Business invited African American alumni to present at the College's Black History Month (BHM) Speaker Series, which concluded on Feb. 24. Students were able to tune-in to 10 different sessions throughout the month of February. During these sessions, the alumni shared stories of perseverance and how they each found success across various fields in the business world.
Each of these sessions was highly accessible to students, who, if unable to attend, could watch them later through the College's diversity, equity, and inclusion website. Speakers included Korey Campbell, CFO, Birmingham Airport Authority; Stacey Hill, manager of global talent acquisition, Boeing; Jacqueline Jones, founder and CEO, One Degree Marketing; and BJ Stabler, director, A-Club Alumni; among others.
Jason Eppenger, president of the Alabama division of Citizen's Trust Bank and graduate of the Culverhouse School of Accountancy, spoke to graduating seniors about several things he has learned throughout his business pursuits. In recalling a particular experience that helped to propel his career forward, he emphasized that "your internal reputation is key." He spoke about a time that his mentor told him he "gained the highest level of trust" of a credit committee, which consisted of the CEO and other senior leaders in the bank, because he admitted that he did not know the answer to a question instead of making something up. Eppenger finished his session by paying tribute to the people who had helped him advance in his career.
"When you have an opportunity to help somebody else and to give back, do it. It is your obligation, in my opinion, and your life will be far more enriched when you can see that you have been able to help somebody else, because at the end of the day, somebody else helped you get where you are."
This speaker series is part of Culverhouse's continued commitment to providing students with opportunities to hear diverse voices while at the Capstone. Through exposure to successful minorities, Culverhouse students will hopefully develop a greater appreciation for diversity in all aspects of life.
These ongoing efforts toward a more inclusive Institution are organized in part by Dr. James King, the College's Associate Dean for Diversity, Equity, and Inclusion. He said, "Our impressive alumni are diverse and span many areas.  Hearing from and engaging with the alumni provides additional role models for the success the students aspire to along with a broader preview of the people they will work with and for as they navigate careers in the global workplace."
If you are interested in learning more about the BHM Speaker Series or Culverhouse College of Business's commitment to diversity, equity, and inclusion in general, please go here.