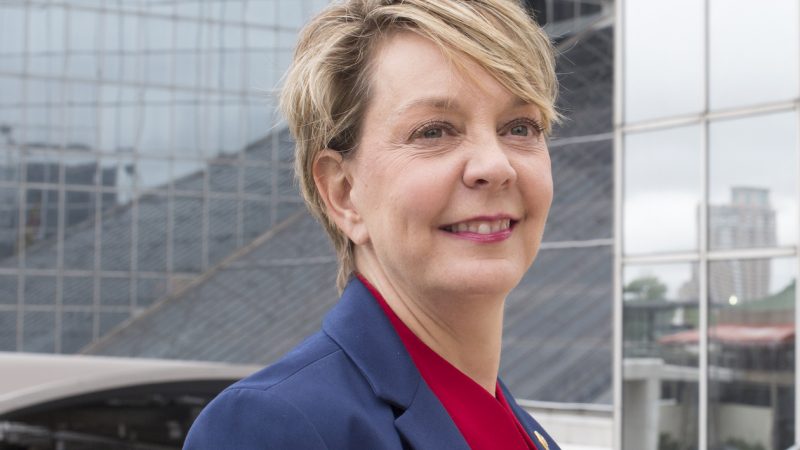 Hale Joins Culverhouse Leadership as Associate Dean for Faculty and Operations
The Culverhouse College of Business at The University of Alabama is pleased to announce the appointment of Dr. Joanne Hale as Associate Dean for Faculty and Operations. Dr. Hale, a professor of management information systems in the college's Department of Information Systems, Statistics, and Management Science, has decades of leadership experience both as an educator and as an information technology expert.
She is the first person to serve in the Associate Dean of Faculty and Operations role. The position, which reports to the college dean, was created to oversee the day-to-day operations of the college and to ensure that its programs, faculty, and staff have the resources needed to meet their strategic goals.
Culverhouse College of Business Dean Kay M. Palan said that, "I am thrilled that Joanne will be joining the College's leadership team. She has the ability to view an organization at a high-level, while also not being afraid to talk operational details."
"I look forward to her inputs as we continue improving the College's operations, especially as we integrate more data-driven processes into what we do."
Dr. Hale's professional biography is marked by several key roles.
As a member of the Culverhouse College of Business faculty, she served on the college's strategic planning task force, which developed the Culverhouse mission, values, and assessment measures.  She co-developed and led one of the premier management information systems programs, which as a result, has become a preferred source of IT graduates for partner firms not only in the southeast, but across the country.
Dr. Hale led The University of Alabama's MIS program's external corporate and alumni relations efforts for 15 years, building strong and lasting collaborative partnerships and developed its experiential learning program in which student teams solved real problems for industry partners, with a diverse portfolio.
Furthermore, Dr. Hale promoted student diversity and inclusion by co-leading the Information Technology Workforce Resource Centers, a consortium between The University of Alabama and State of Alabama Historically Black Colleges and Universities (HBCUs) with the goal of increasing participation of underrepresented groups in STEM disciplines. In 2005, Dr. Hale was a recipient of The University of Alabama National Alumni Association Outstanding Commitment to Teaching Award.
Dr. Hale said "I am excited to broaden my impact in the Culverhouse College of Business. I share Dean Kay Palan's vision for the college and her high confidence in our team.  I am most passionate about my charge from Kay to assist in identifying and developing the next generation of Culverhouse leaders."
Dr. Hale's expertise in leveraging the management of information technology and processes within large multi-layered organizations led to her being appointed to the Governor of Alabama's cabinet as Secretary of Information Technology and Chief Information Officer (CIO) from 2015 to 2017. As CIO, she led the state's Office of Information Technology.
In this role, she collaborated with state agency leaders to understand their mission, identify technology innovations, and meet their information technology needs.
As state CIO, Dr. Hale governed the activities of all 1,400 IT employees in state service through policy, compliance, and statewide planning. She established the state's first enterprise cybersecurity program to protect the confidentiality, integrity, and privacy of citizen data.  Within this program, she worked with agencies to create customized, risk-based roadmaps to address their specific cybersecurity posture.
Dr. Hale managed an annual $65 million operational budget, with oversight and compliance monitoring of all State of Alabama IT expenditures, which totaled $376 million annually.  She controlled the budget for all enterprise business application, and led a major ERP upgrade initiative, spanning budgeting, financials, procurement, and HR.
She also modernized the state IT job classifications to reflect today's business and technology environment and processes. She established the statewide Data Analytics program to enable enterprise and inter-agency data driven decision making, co-chairing the governance board and serving as the chief policy officer for the State Longitudinal Data System.  She led state efforts to explore and expand the use and impact of machine learning and artificial intelligence in improving service to Alabama citizens and found ways to use improved technology to save taxpayer dollars.
In recognition of these accomplishments for the State of Alabama, Dr. Hale was named to StateScoop's Top Women in Technology in 2017.  Furthermore, while serving as State of Alabama CIO, Dr. Hale was appointed or elected to serve as:
Executive Committee Member, National Association of State CIOs
Executive Committee Member, Alabama CIO Council
Co-Chair, State Longitudinal Data System Governance Committee
Acting Chief Policy Officer, State Longitudinal Data System
Chair, State of Alabama Office of Broadband Development Executive Committee
Chair, Alabama Geographic Information Systems Executive Council
Member, Board of Directors, Alabama Supercomputer Authority
Member, State of Alabama Homeland Security Task Force
Dr. Hale's research has been published in Journal of MIS, IEEE Transactions on Software Engineering, Communications of the ACM, International Journal of Human-Computer Studies, IEEE Software, ACM DATA BASE for Advances in Information Systems, Journal of Software Engineering and Applications, among others.