March 2022 | Updates from the Culverhouse College of Business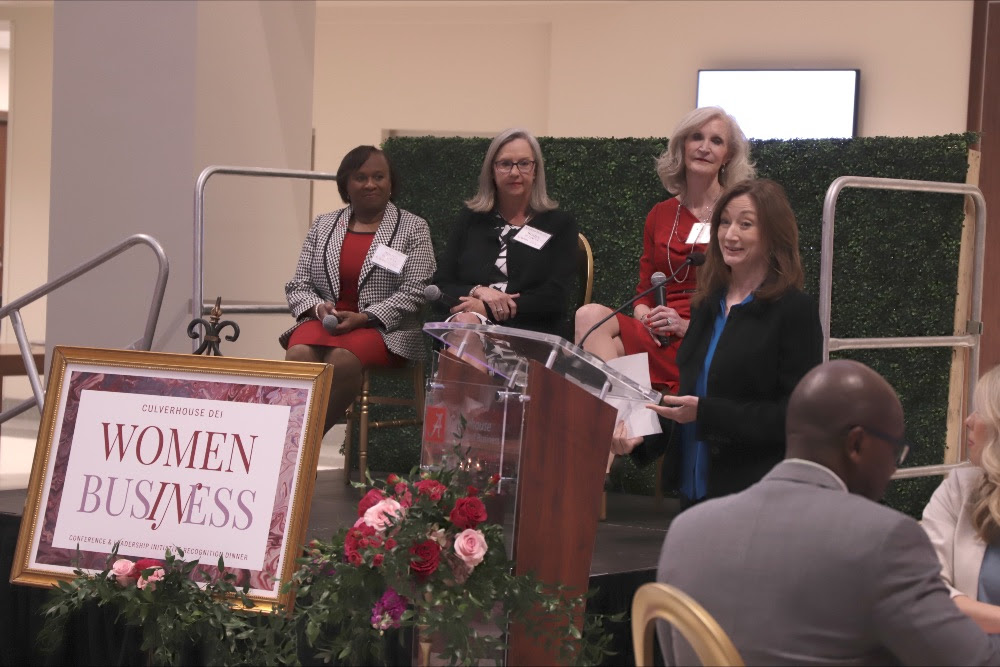 Earlier this month, the Culverhouse College of Business Office of Diversity, Equity, and Inclusion hosted the inaugural Women in Business conference and Leadership Initiative Dinner, the latter of which recognized the professional and societal contributions of several Culverhouse alumnae.
Above, the 2022 honorees, from left to right, Lt. Gen. Gwen Bingham, Kathryn Hornsby, and Sherrie LeMier-Potts, are recognized by Cindy Martin, a fellow Culverhouse grad.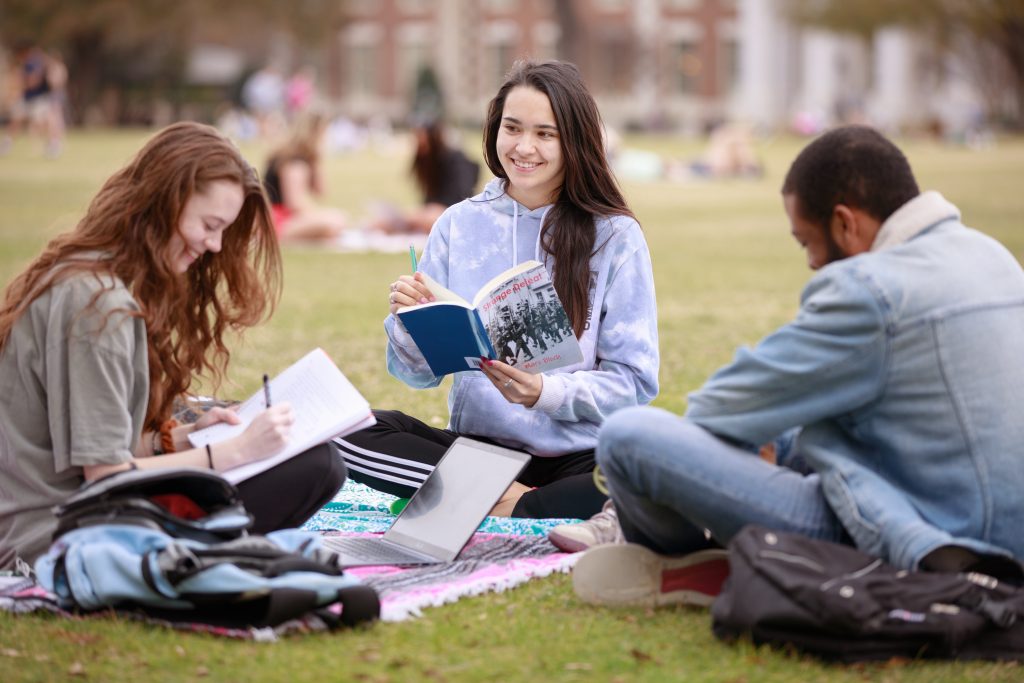 Announcing New Summer Programs for High School Students
Parents looking for ways to introduce the college experience to their high school students have additional options thanks to Culverhouse.
Registration is now open for the Minerva Young Women's Business Summer Program, Diversity in Business Bridge Program, and Marillyn A. Hewson Cybersecurity Summer Camp and we encourage you to share this info with the students and parents in your life.
---
Diversity in Business Bridge Program
June 19th – 25th, 2022
The Diversity in Business Bridge Program (DBBP) provides additional college preparation, with a specific focus on business as a major/career, thereby promoting postsecondary success for underrepresented minority students by helping them make a smoother transition to college. Dedicated college financial support will be available to program graduates who enroll at UA to pursue a degree in business.
---
Minerva Young Women's Business Summer Program
June 12th – 17th, 2022
Minerva is designed to introduce young women who are rising seniors to the college experience and business career opportunities. During the week, students will participate in informative sessions with Culverhouse College of Business faculty and staff, learn about career opportunities in business, build leadership and communication skills, complete a service project and take field trips for experiential learning. Additionally, students will experience campus life and connect with like-minded women interested in business.
---
Marillyn A. Hewson Cybersecurity Summer Camp
Camp 1: June 6th – 10th, 2022
Camp 2: June 10th – 17th, 2022
The Marillyn A. Hewson Cybersecurity Summer Camp will host high school 9th to 12th graders for two sessions and is connected to CyberPatriot, the National Youth Cyber Education Program created by the Air Force Association to inspire K-12 students toward careers in cybersecurity or other science, technology, engineering, and mathematics (STEM) disciplines. At the core of the program is the National Youth Cyber Defense Competition, the nation's largest cyber defense competition that puts high school and middle school students in charge of securing virtual networks.
Summer Learning Opportunities at Culverhouse
---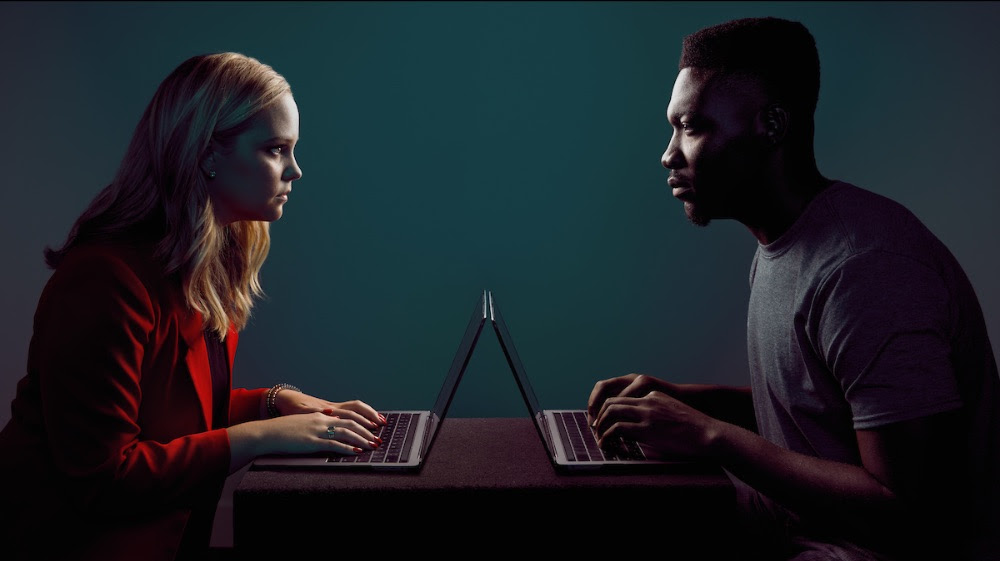 Counter Cyberattacks with Culverhouse
Our Business Cybersecurity Executive Education Certificate Program Starts April 23!
Build organizations resilient to cyberattacks by learning about technical best practices and procedures from our expert faculty: register now for the virtual business cybersecurity certificate program offered by Culverhouse.
Designed for IT administrators and executives, as well as technical practitioners, this program offers six distinct modules that will help participants understand how to develop and sustain a cybersecurity program and mitigate current and future cyber threats for their organizations.
With modules starting April 23, time is short to register for this career-advancing program.
Details About the Business Cybersecurity Certificate Program
---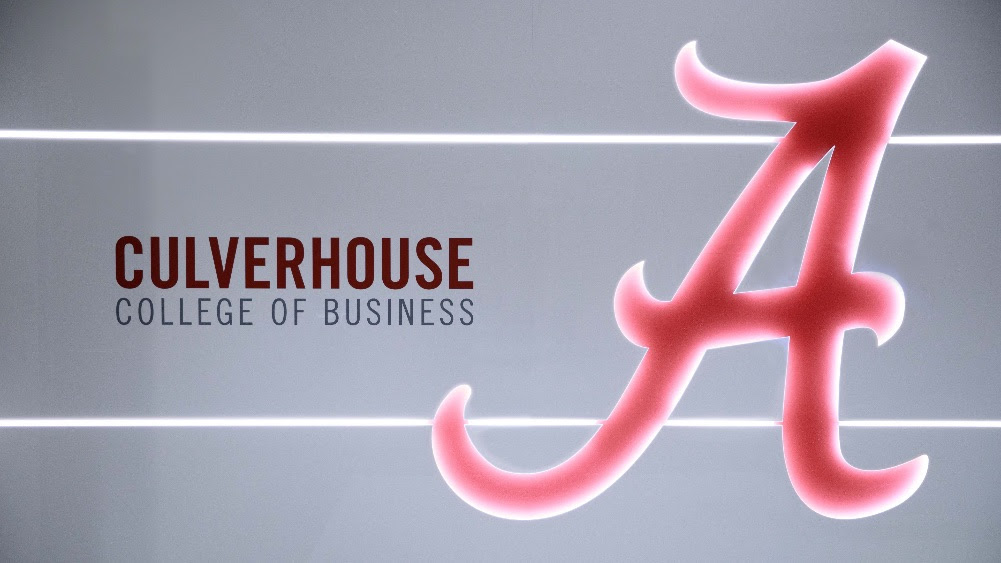 Culverhouse Makes UT Dallas Research Productivity List
Among b-schools, one of the chief metrics of research productivity and quality is the protocol established by the University of Texas at Dallas' Naveen Jindal School of Management. On a rolling basis, the school measures publications, including their authors and affiliations, in 24 leading business journals across major business disciplines.
The result is a ranked list of the top business schools by their contributions to research, with separate top 100 lists for the worldwide and North American business school communities, as well as a list of rankings by journal.
For the first time, the Culverhouse College of Business is on the list of the top 100 in North America, ranking #96. At 88th place in the United States, Culverhouse is also the only college in the state of Alabama to make the list.
Research Excellence at Culverhouse
---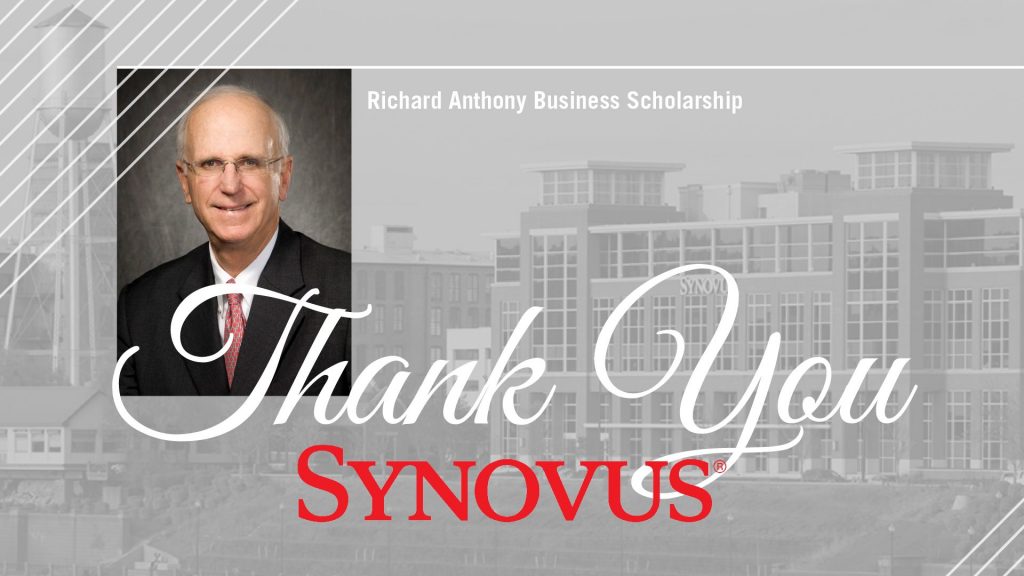 Scholarships in Honor of an Alum
Culverhouse College of Business students will benefit from scholarships established by a gift from Synovus Financial Corp. in honor of retired executive and University of Alabama graduate Richard Eland Anthony.
Anthony is a 1968 graduate of The University of Alabama's Culverhouse College of Business and over the course of his decades-long career, made a positive and lasting impact on the regional banking community.
To honor Anthony's accomplishments, Synovus Financial Corp. established two generous scholarships for $10,000 each at the Culverhouse College of Business. Each spring, one male and one female student will be selected to receive the award for the following fall semester.
More About Synovus and Richard Anthony
---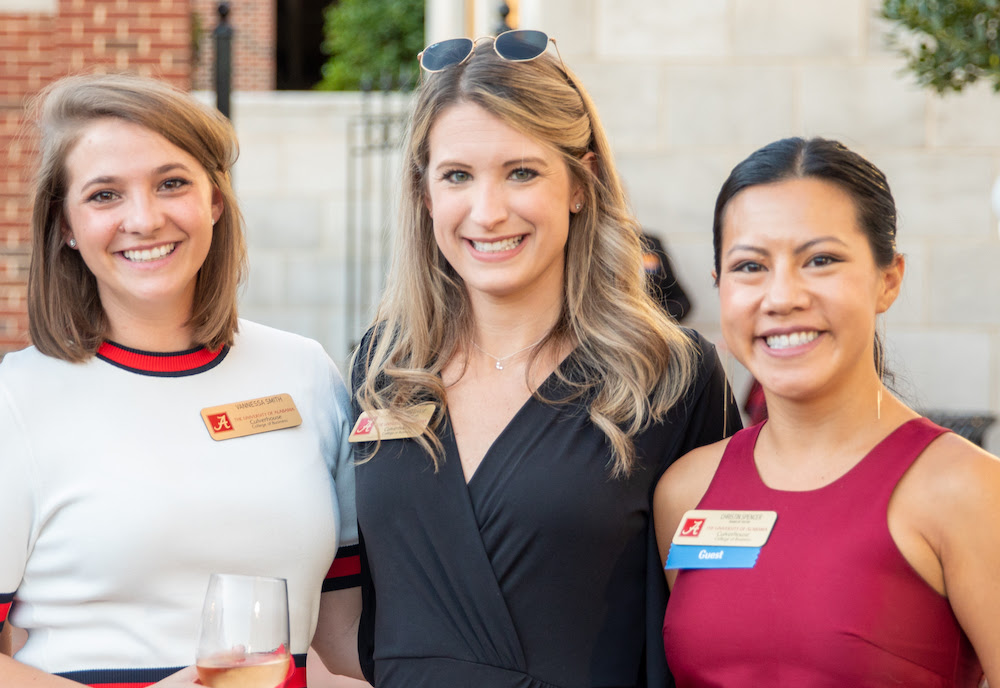 Birmingham Young Alums: Join Us May 3rd!
Are you a recent grad and live in the Birmingham area? If so, join us at the Birmingham Young Alumni Reception on Tuesday, May 3 from 5:30 to 7:00 p.m. at Avondale Brewing Company (201 41st Street South Birmingham, Alabama 35222). This event was originally planned for March 22 and rescheduled due to severe weather.
You will be able to reconnect with your fellow alums and learn about all the exciting things happening now – and on the horizon – at the Culverhouse College of Business.
RSVP by April 26 to events@culverhouse.ua.edu.
Looking to get involved with Culverhouse? Join the Culverhouse Executives Society and stay in the loop on when Culverhouse will be in your neck of the woods.
Get Involved with the Culverhouse Executives Society
---
Upcoming Events & Key Dates
March 31-April 1: Culverhouse Board of Visitors Spring Meeting*
April 9: Malone Awards | Details About the Awards
April 15: MBA Fourth-Round Deadline | Apply Now
April 19-21: Bama Blitz
April 21: Culverhouse Faculty and Staff Awards*
April 22: Culverhouse Alumni Awards*
May 6-8: Spring 2022 Commencement
* Contact Emma Bliss Darling at edarling@culverhouse.ua.edu for more info.
---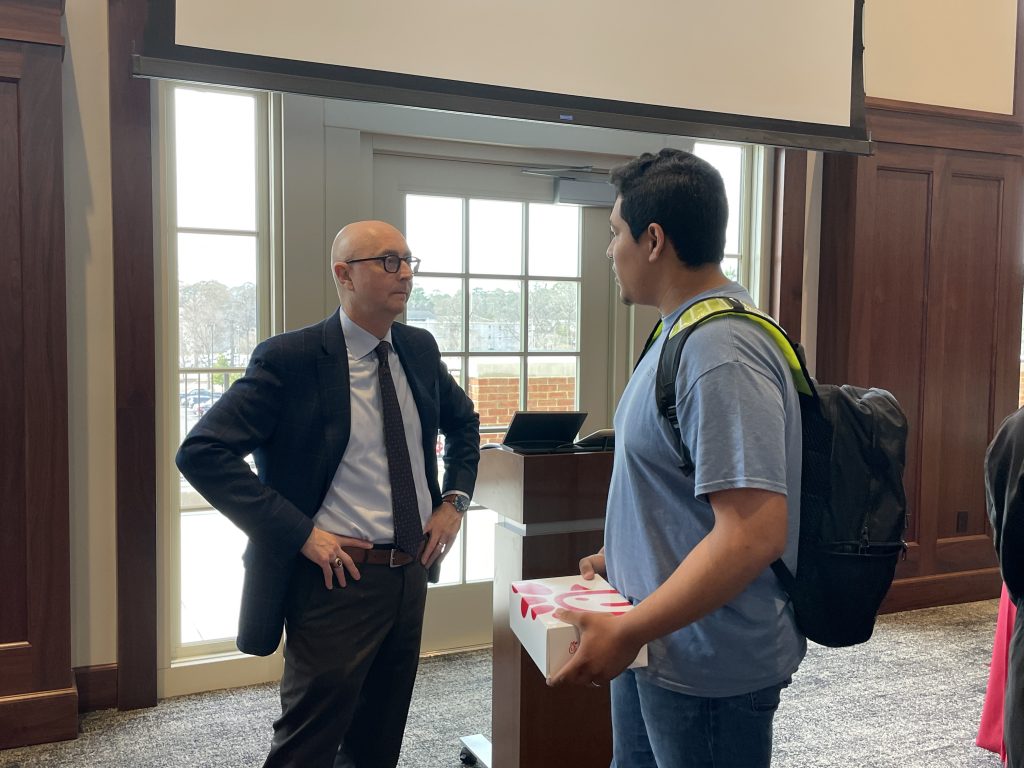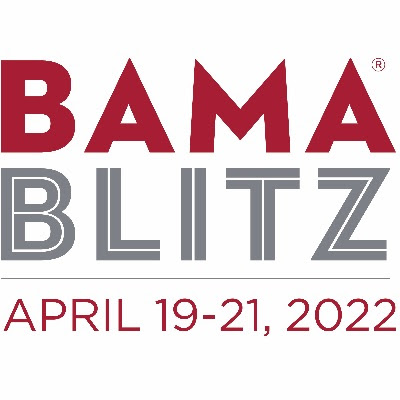 Bama Blitz Returns to Support Study Abroad
A study abroad experience can be a singularly transformative event for a student, exposing them to new cultures and new ways of thinking – and opening the door to opportunity. Join us for Bama Blitz April 19-21 and help us grow our study abroad program. More info to come!
---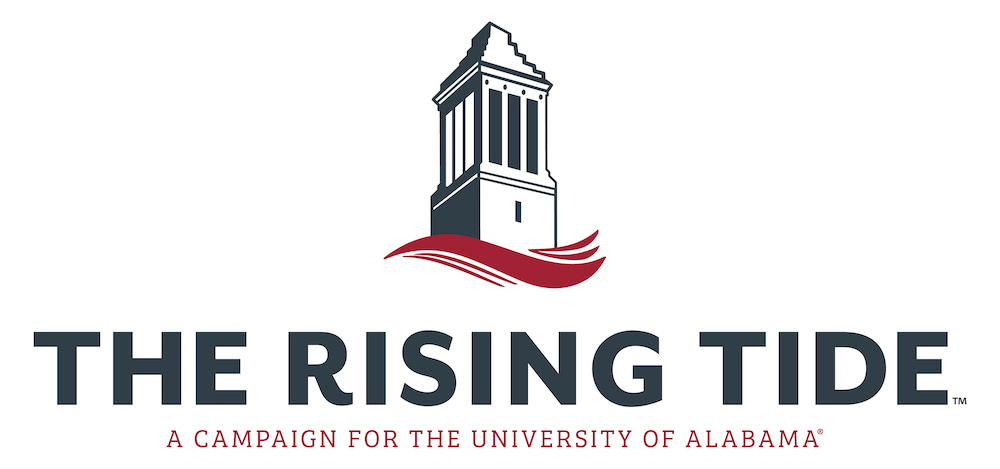 Our vision as part of The University of Alabama's $1.5B Rising Tide Capital Campaign is for Culverhouse to be recognized as a world-class business college, delivering on a promise to equip future leaders with the tools needed to launch and lead ventures of major impact.
Give Today to Culverhouse
---