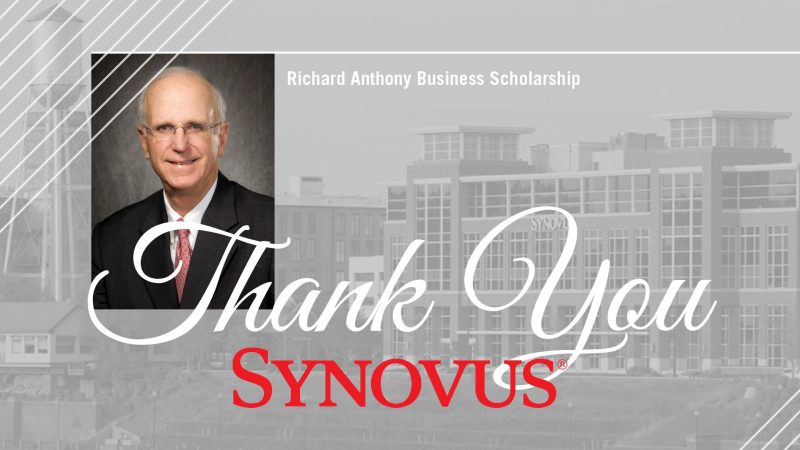 Synovus Financial Corp. Honors Retired Executive with Gift to UA Business School
CONTACT:
Zach Thomas
Culverhouse College of Business Director of Marketing and Communications
zthomas@culverhouse.ua.edu
TUSCALOOSA, Ala. – Students at The University of Alabama's Culverhouse College of Business will benefit from scholarships established by a gift from Synovus Financial Corp. in honor of a retired executive and University of Alabama graduate.
Bearing the name of Richard Eland Anthony, the scholarships will support the business education of those students who demonstrate high moral character and servant leadership capabilities.
Anthony is a 1968 graduate of The University of Alabama's Culverhouse College of Business and over the course of his decades-long career, made a positive and lasting impact on the regional banking community.
The retired chairman and chief executive officer of Synovus Financial Corp. began his banking career at AmSouth Bank where he served as executive vice president. In 1985, Anthony co-founded First Commercial Bank and was president when it merged with Synovus in 1992.
He became vice-chairman of Synovus in 1996, overseeing Synovus' banking operations. In 2003, he became president and chief operating officer, then took over CEO responsibilities in 2005. In 2006, he was named chairman and CEO. His service at Synovus concluded in April 2012, when he retired as a board member.
While American bankers are sometimes painted as a tough bunch, Anthony embraced a servant leadership style, stating, "We try to do more than just compensate people. People want more from an employer than just compensation." Synovus employees call it a "culture of the heart."
To honor Anthony's accomplishments, Synovus Financial Corp. established two generous scholarships for $10,000 each at the Culverhouse College of Business. Each spring, one male and one female student will be selected to receive the award for the following fall semester.
Priority consideration will be given to rising juniors majoring in finance who show high moral character and servant leadership abilities. The scholarship is renewable through graduate school if the recipient pursues a master's degree in Culverhouse's Manderson Graduate School of Business.
Eligible students may submit an application with an essay explaining what servant leadership means to them. Upon reviewing the applications, the scholarship committee will invite select applicants for an interview and award the scholarship to two recipients.
Along with leadership from the college, Synovus and Mr. Anthony, the scholarship will be commemorated at an annual luncheon hosted by the Culverhouse College of Business. First-time scholarship recipients will be presented a certificate of scholarship. The inaugural luncheon is tentatively planned for fall 2022 on campus in Hewson Hall.
The Culverhouse College of Business is grateful to Synovus for this generous gift.
About Synovus
Synovus Financial Corp. is a financial services company based in Columbus, Georgia, with approximately $57 billion in assets. Synovus provides commercial and retail banking and a full suite of specialized products and services, including private banking, treasury management, wealth management, mortgage services, premium finance, asset-based lending, structured lending, and international banking through 277 branches in Georgia, Alabama, South Carolina, Florida, and Tennessee. Synovus is a Great Place to Work-Certified Company and is on the web at synovus.com, and on Twitter, Facebook, LinkedIn, and Instagram.