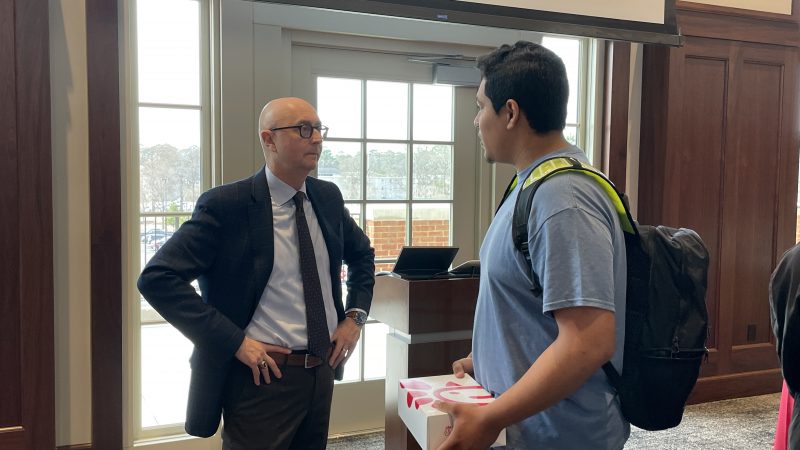 Culverhouse First-Generation Community Hosts Lunch & Learn with Guest Speaker Brian Rankin
Brian Rankin, Vice President and Senior Deputy General Counsel for Comcast, spoke at the Culverhouse First-Generation Community's Lunch & Learn Series on Feb. 24. 16 first-generation students, as well as Culverhouse faculty and staff, attended the event.
As an alumnus of UA's Executive MBA Program and a first-generation student himself, Rankin provided an engaging and motivational session on several topics relevant to first-generation students, such as imposter syndrome, law and MBA programs, career success, mentorship, and the importance of positive study habits.
Madison Dunn, a sophomore first-generation student at UA, enjoyed her experience at the luncheon.  She spoke with Rankin about his law and MBA degrees because she hopes to pursue a similar route. Dunn also inquired about best practices for seeking internships.
Throughout the luncheon, Rankin offered attendees an inspiring perspective regarding the idea of success and how to achieve it. He stressed the significance of creating and sticking to goals in finding success.
"Goals are promises you make yourself," said Rankin. "The fact that you are here and thinking about all of this shows you are going to be successful. Believe in yourself and know you earned all of it."
Rankin warned students against comparing themselves to others and encouraged them to focus on their own stories when determining success. He grew up in a small farming town in downstate Illinois and joked that comparing his own journey and successes to those of a prince would make no sense.
Quoc Hoang, Culverhouse's director of experiential learning, said, "We are thankful for engaged Alabama alums, like Brian, who share their time and insights in support of first-generation student success. We are committed to growing our first generation community by strengthening our partnerships with the Capstone Center for Student Success and other UA first-generation organizations."
We sat down with Rankin to discuss his career, his journey to The University of Alabama, and how his experience as a first-generation student helped provide him with invaluable insights.
Up next, the Culverhouse First-Generation Community will host an open lunch meeting for students on March 9 from noon-1:30 p.m. in Hewson 3074.