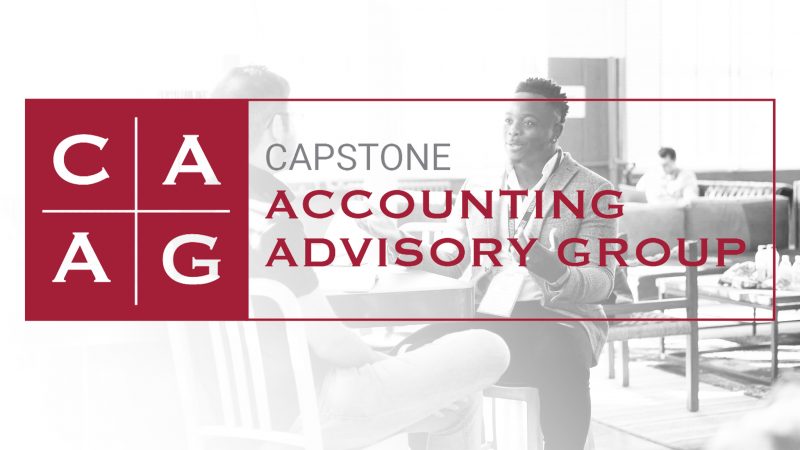 Capstone Accounting Advisory Group Leverages Student Talent to Help West Alabama Small Businesses
Across the country, the coronavirus pandemic has landed blow after blow on the economy. For small businesses especially, the pandemic has proved to be outright devastating: data from online review site Yelp shows that by mid-August nearly 100,000 small businesses had permanently shut their doors.
A new student organization from the Culverhouse College of Business at The University of Alabama aims to offer relief to area small businesses.
The Capstone Accounting Advisory Group, or CAAG, ​is an elite student organization composed of top undergraduate and graduate level accounting students at UA, all of whom have a passion for making a difference in their communities. ​ More info about CAAG and its services are available on its website.
Mark Conlee, founding president of CAAG, said, "While 2020 has been an unprecedented year characterized by social and financial turmoil, I think it speaks volumes about the culture of UA that a group of students identified a problem and is taking action to positively impact in our community."
"Furthermore, this creates a tremendous opportunity for our members to invest in their own professional and technical development."
After talking to small business owners over the span of the pandemic, Conlee and many of his classmates found that many business owners were experiencing financial hardships. Those hardships, magnified by the effects of the pandemic, shed light on a core issue: a lack of accurate accounting records and financial statements.
In its inaugural year, CAAG has selected 35 students at the Capstone to service seven small businesses in the West Alabama area. The organization will not only provide services to update accounting records and produce accurate financial statements, but will also equip the small business owners with the training needed to maintain their own accounting records after their engagement period concludes.
CAAG has is pleased to partner with Ernst & Young and Western Communities Redevelopment Alliance (WRCA) to support UA students in this initiative. Members will also receive technical & professional development from EY professionals. WCRA is an economic development organization in the Birmingham area that supports CAAG by vetting and providing us with clients in need of accounting solutions.
Goals of CAAG include, providing sustainable financial accounting solutions to the small business community of West Alabama, providing technical and professional development opportunities for its student members, and adding value to the University by increasing the Culverhouse School of Accountancy's social footprint.
Corey Bishop, owner of Refresh Clothing in Birmingham, has worked with earlier iterations of the CAAG group. He said, "When we used to hear people talk about their business accounting practices, we would pretend that we knew what they were talking about to continue the conversation. It wasn't until we went through [an accelerator program] that we fully grasped the concept of accounting and how it works."
Get Involved
If you are student and would like to learn more and / or apply, please email caag@cba.ua.edu. Also, be on the lookout for emails about application deadlines in November.
To partner with or support CAAG, contact Mark Conlee by phone at 901-299-6450 or email via mcconlee@crimson.ua.edu.