Embrace The Case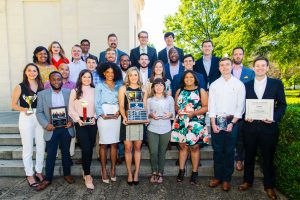 $100,000 for 100 students in Culverhouse's 100th Year
This year, the Culverhouse College of Business celebrated its centennial anniversary of transforming business and Manderson's Case Team reached one hundred students competing in cases across the country and $100,000 in scholarship prize money.
Case Team is a signature experiential learning experience in the Culverhouse College of Business' Manderson Graduate School of Business.
In the Spring semester alone, the team grabbed back-to-back-to-back first place finishes at IDEAcorps Consulting Challenge, SEC MBA Case Competition, and the Iowa Business Analytics Case Competition. These first place victories came hot off the heels of placing second at Katz Invitational and a third at Race & Case.
Manderson Case Team operates like a travel baseball team. Each week, a group of approximately 30 graduate business students hone their business acumen through engaging in skill and team building activities on campus. These include strengthening public speaking, building financial models, generating marketing strategies, and general conversation over lunch. Members even brainstorm innovative strategies to disrupt industries in anticipation for future competitions. Maruka Walker expresses, "Our think tank breeds creative, out of the box ideas, rooted in a substantive business case designed to solve a company's problem and generate revenue."
The hard work from weekly meetings culminates in competition teams traveling to venues to compete against other teams across the nation, and even the world. Nathan Butler had never competed on a team prior to his first place finish at the Iowa Business Analytics Case Competition. However, he felt "all of the presentations that [he] had the opportunity to watch, or look at, in case team meetings and all of the presentations [he] had to give in [his] courses really prepared [him]."
For each competition, the team assesses the particular case's focus, expertise needed, and team mix to determine which students will compete (typically 3-4 students per competition). Corporations task teams with a complex business problem often based on a strategic challenge the company currently faces. Students have between 24 hours and one month to generate a solution and deliver a presentation to C-suite professionals and industry thought leaders. After the team gives their recommendation, they engage in a 'Shark Tank' style Q&A session with judges.
Sam Greene, SEC Champion, comments that the opportunities provided by Case Team, "gave [him] the confidence to step into any situation, think creatively and boldly, and share [his] ideas with corporate leaders." Known as the financial guru to his teammates, Greene also supported his Case Team peers outside of competitions through hosting topic-specific workshops.
For some students, Case Team is an exciting opportunity discovered during Launch, Manderson's orientation for graduate students held the week prior to the start of the program. Other students, like Everette Dawkins, chose to pursue an MBA through Manderson because of Case Team's storied success. She shares, "Manderson Case Team was one of the main reasons I was interested in the MBA program. Members from past years are known for landing great internships and later jobs." Dawkins, who joined IBM as a Senior Client Manager in June, is no exception. She found, "Case Team to be an incredible topic of conversation during interviews" in addition to "the skills [she] developed from presenting." Like Greene, Dawkins is a SEC Champion and leverages her adaptability in cases well. Respected for never neglecting the prompt, she always encourages her teammates to align with the bottom line. Dawkins competed in case competitions across the country from Pittsburgh, Pennsylvania to Denver, Colorado.
Quoc Hoang, Director of Experiential Learning and Case Team Advisor notes, "research shows that high-quality learning experiences in colleges have a lasting impact on graduates' productivity at work and overall well-being." Students' ability to apply what they are learning in the classroom to real-world business cases enhances their ingenuity. Further, cases encourage students to develop personal relationships with Culverhouse's professors and staff to expand their skill sets when working through a difficult problem set.
The solutions that students generate offer innovative strategies for corporations and can make an immediate impact. At this year's IDEAcorps Consulting Challenge, the Manderson team provided RentCheck's Marco Nelson with pragmatic ideas that he used at New Orleans Entrepreneur Week's IDEA Pitch. The result? RentCheck won $50,000 to launch their start-up. Through leveraging design thinking concepts, these students led The Tide to finish on top, and also influenced the trajectory of Nelson's company.
Advisor Hoang builds teams to allow each member's personality to shine. This culminates in temporal successes like the Katz team winning 'Most Spirited' and lasting ways like giving Greene confidence to share his ideas in any setting. Hoang shares with students at meetings, "find something to do and do it well."
For students, being a member of Case Team is more than an avenue for connecting with industry leaders and developing their problem solving skills. Walker adds, "along with the pride of representing Manderson on a national stage, I cherish the 3 a.m. nights spent prepping in the lounge, the hysterical adventures of  traveling, shared meals, and the unreal thrill of rocking a presentation in complete synergy with my team members."
"These experiences were the fruits of all the hard work and investment into Case Team and are on the highlight reel of my MBA journey." 
For more information on Manderson's Case Team, contact Quoc Hoang, Director of Experiential Learning and Case Team Advisor.