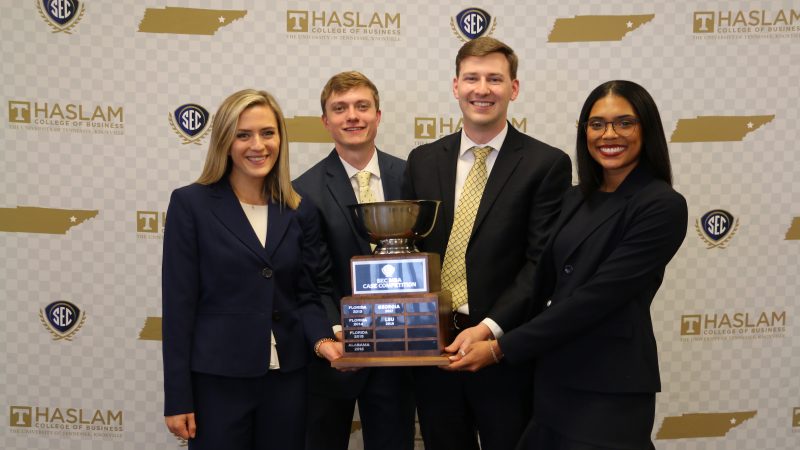 Manderson Team Wins SEC MBA Case Competition
A team fielded by The University of Alabama's Manderson Graduate School of Business won first place in the 7th annual SEC MBA Case Competition held at the Haslam College of Business at the University of Tennessee on Saturday. The winning team was composed of Everette Dawkins, Samuel Greene, John Clary and Bryonna Rivera Burrows. Quoc Hoang was advisor for the Manderson team, which secured its second SEC competition championship, the first coming in 2016. The Manderson Graduate School of Business is located within the Culverhouse College of Business.
The win comes hot off the heels of other recent MBA case team successes including first at IDEAcorps Case Competition in New Orleans, third at Race & Case in Denver, and second at the Katz Invitational Case Competition in Pittsburgh.
"We wanted to win this, and we were willing to do whatever it took, including staying up until 5 a.m., then getting up early to make sure we had our lines down," said Greene. "Honestly, I couldn't ask for a better team. We are all good friends, so it never felt like we were working. We were just having fun." 
Executives from FedEx Corporation presented SEC teams with a challenge currently facing the company on Friday morning. The four-person teams were randomly drawn into four divisions, had approximately 24 hours to outline an approach to the challenge and to organize a related presentation. A panel of judges from FedEx considered each presentation and the top four teams advanced to the finals.
The University of Kentucky finished second in the competition, followed by the University of South Carolina and the University of Georgia. In addition to the team title, Alabama's Rivera Burrows also received the Best Q&A Award for Division C, as determined by the judges.
"Once we were able to get over the hump in establishing our strategic approach, it was smooth sailing in a way," said Rivera Burrows. "We had a mock-up of where we wanted to be at any given time during the day, and we would check the clock and then check it off when we hit those markers."
Also during the competition, advisors from each team, though not able to communicate with their students after the case was outlined by FedEx, were on hand to provide support during the actual presentations.
"There were a lot of students we could have chosen for this team, but it kept coming back to these four," said Hoang, who is Director of Experiential Learning at the Culverhouse College of Business. "What I realized is that individually they are phenomenal students, but seeing how they have come together, especially during the last two weeks to prepare, I have been surprised but then not surprised. They delivered today."
The SEC MBA Case Competition began in 2013 and provides opportunities for SEC business schools to showcase their students' skills at solving simulated or real-world problems. The 2020 competition will be held at Auburn University.
"You always hear about the SEC tied to sports or sporting events, and that's really the only front-facing thing that people associate with Conference," said Clary. "But, the reality is we go so much deeper than just sports. We show excellence in everything we do, and we are proud of the work we do. It's so amazing that the SEC has this academic experience for us."