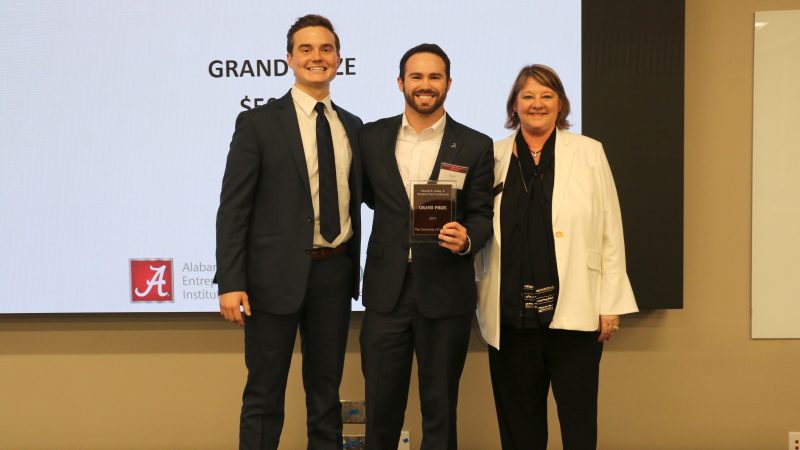 Trips4Trade Grand Prize Winner in 2019 Edward K. Aldag, Jr. Business Plan Competition
TUSCALOOSA, Ala.— Students representing majors across The University of Alabama campus pitched their business plans to judges in the Edward K. Aldag, Jr. Business Plan Competition on March 26 in the Bryant Conference Center.
The top ten teams competed for a Grand Prize of $50,000 and services as well as a working space at the new EDGE incubator and accelerator.
Additionally, the first-, second-, and third- places winners received cash prizes of $5,000, $3,000, and $2,000, along with co-working membership at The EDGE.
Photos of the winners can be downloaded here.
Started in 2014 by Edward K. Aldag, Jr., CEO and chairman of Medical Properties Trust Inc., the business plan competition cultivates entrepreneurship by allowing UA students to turn their business plans into reality through a daylong series of pitches to panels of judges. This year, 34 student teams competed.
The Alabama Entrepreneurship Institute, an outreach center in UA's Culverhouse College of Business hosted the competition.
"Our theme for this year's competition was: 'Sometimes you win – Sometimes you learn,'" said Dr. Theresa M. Welbourne, executive director of the AEI and the EDGE. "Our goal is to help people start and grow businesses. Teams presented and received feedback on their ideas, watched their peers, and learned how to improve their own pitches. Many came in for workshops and coaching prior to the competition, and they made important connections and improved their ideas."
2019 Edward K. Aldag, Jr. Business Plan Competition Winners
Grand Prize
Trips 4 Trade is a peer-to-peer based service that allows users to trade trips and experiences pertaining to outdoors, adventure, vacation, and sports. The members include: Slade Johnston, MBA student, from Butler, Alabama; Andrew Johnson, mechanical and aerospace engineering student, from La Grange, Kentucky.
First Prize
Blenz Bowls is a new type of local food truck selling "smoothie bowls" and smoothies with different bases and fresh fruit toppings. The members include: Riley Voce, marketing major, from Cullman, Alabama; Zach Rogers, UA graduate, from Alexander City, Alabama.
Second Place
Locality is an app intended to help people connect by being the bridge between screens and face-to-face interactions. Members include: Lily Prater, creative media major, from Calhoun, Georgia; Bryant Mathis, metallurgical engineering major, from Calhoun, Georgia; Alex Tidwell, mathematics major, from Panama City, Florida; Ethan Reeves, electrical engineering major, from Milford, New Hampshire.
Third Place
Rottweiler Security aims to reduce theft and loss by providing customers with the ability to be alerted the second they leave their item behind or when a thief steals their item. Members include: John R. Zimmerman, chemical engineering major, from Lancaster, Pennsylvania.
City of Tuscaloosa and Community Affairs Competition Winners
Additionally, AEI in association with the Alabama Small Business Development Center, hosted a community business plan competition.
There was a first place prize of $5,000, a second place prize of $3,000, and a third place prize of $2,000. Community members also received a free membership at the EDGE and business consulting.
First Place
Victory Garden Center is a community garden canter that will sell home gardening products and encourages residents to plant their own gardens. CEO: Leah M. Taylor.
Second Place
KinkyCurly Revolution makes 100% natural human hair wigs to match various textures of natural African-American hair. CEO: Nimi Ighofose.
Third Place
KLG Creative Consulting is a creative firm specializing in everything from merchandise to digital content. CEO: LaShay Gray.