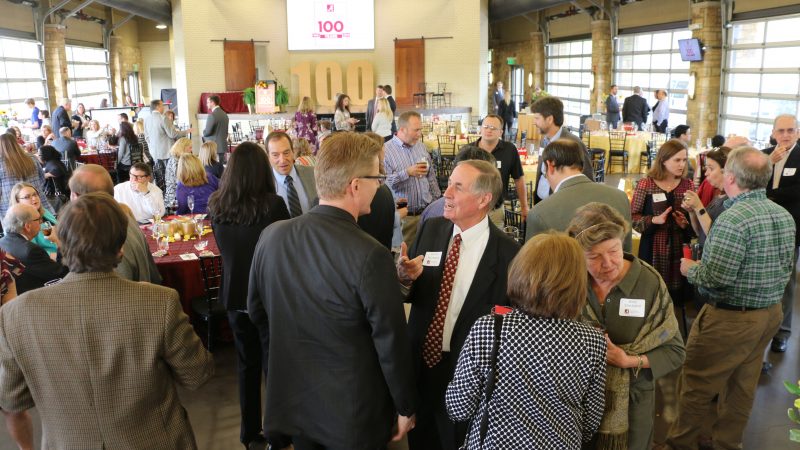 2019 Culverhouse Faculty and Staff Awards Recognize College Excellence
In a festive, colorful celebration at Tuscaloosa's River Market on Wednesday, April 3, the Culverhouse College of Business recognized the hard work and excellence in teaching, research, and service of its faculty and staff. The event's theme was aligned to the college's centennial. The emcees for the evening included Drs. Lonnie Strickland and Ron Dulek, reprising their roles from the recent college centennial gala. Dean Emeritus Dr. J. Barry Mason spoke at length about the college's evolution during his time as dean. Dean Kay Palan introduced all the award recipients.
View and download photos of the event here.
Award recipients included:
Instructional Excellence Award for Renewable Contract Faculty: Susan Fant
Instructional Excellence Award for Untenured Tenure-Track Faculty: Kevin Mullally
Thomas DF. Moore Endowed Teaching Award: Paan Jindapon
Culverhouse College of Business Board of Visitors Teaching Achievement Award: Ed Schnee
Culverhouse College of Business Early Achievement in Research Award: Nick Freeman
Culverhouse College of Business Board of Visitors Research Achievement Award: Peter Harms
Culverhouse College of Business Board of Visitors Outstanding Service Award: David Ford
Outstanding Service Award for Professional Staff: Keely Latopolski
Outstanding Service Award for Staff: Nancy Perrine
Culverhouse Spirit Award: Keith Norton
Culverhouse Teamwork Award: Brandy Frost
Culverhouse Student Impact Award for Professional Staff: Susan Cowles
Culverhouse Student Impact Award for Staff: Kim Diano
John S. Bickley Innovation and Creativity Award: Jennifer Cooper
Work anniversaries:
45 years                                         
40 years                                         
Robert McLeod
Nisa Miranda                                                                     
20 years                                         
Heather Davis                                
Joyce Meyer
15 years                                         
Ruth Ann Hall
Lottie Burleson
Michael Avant
Jan Jones
Teresa King
Junsoo Lee
Lisa McKinney
10 years
Lisa Burgess
Erin Coleman
Tiffany Labon    
Seth Miesse
Jason Parton
Marcus Perry
Shawn Mobbs
5 years
Amber Summers
Angel Oswalt
Barbara Fowler
Emily Moore
Jan Ingenrieth
Morgan Cordle
Lauren Bennett
Reggie Allison
Vicki Baggett
Other honors and recognitions:
Brian Gray and Ron Dulek received the James F. Cashman Faculty award for their teaching in the Huntsville and Tuscaloosa EMBA programs, respectively.
Don Minyard and Gary Taylor received the Faculty Excellence Award for their teaching in the Huntsville and Tuscaloosa EMBA programs, respectively.
Mary Stone was honored with The CPA Journal's 2017 Max Block Award for the outstanding article of 2017.
Eric Williams received the Myron Fottler Distinguished Service Award from the Academy Division, given to a member who has distinguished themselves through long-term, exceptional service to the division.
Nancy Sirianni received the 2018 Emerging Service Scholar Award from the Service Marketing Significant Interest Group, SERVSIG.
Kimberly Stowers was named as a 2019 Innovation Scholar in Residence by the College of Continuing Studies here at UA.
Peter Harms received the Joyce and Robert Hogan Award for Personality and Work Performance Award from the Society for Industrial and Organizational Psychology. Peter was also an honorable mention for the William A. Owens Scholarly Achievement Award from the same organization. Both awards are related to the innovation and impact of his research.
Jim Cochran received the Institute for Operations Research and the Management Sciences (INFORMS) President's Award in November in recognition of his contributions to the welfare of society. Jim is also receiving the Distinguished Alumni Award from his alma Mater, the University of Cincinnati in a few weeks.
Bryan Hochstein, along with Willy Bolander, Alex Pratt, and Ben Britton won best conference paper at the recent National Conference in Sales Management. Ben Britton, one of our doctoral students, earned best doctoral paper award at the same conference.
Stan Westjohn, Peter Magnusson, and Yi Peng (a doctoral student) won Best Paper Award at the Consortia for International marketing Research Conference.
Sugata Ray had two papers winning an award:  "Prime (Information) Brokerage" won the Yihong Xia Best Paper Award CICF, 2018  and "Sensation Seeking, Sports Cars, and Hedge Fund Managers," won the Q Group Jack Treynor Prize in 2018
Daniel Henderson: was named Fellow in Advances in Econometrics,  http://faculty.smu.edu/millimet/AiE.html#Fellows  and Scientific Chair of the FWO (Research Foundation – Flanders) https://www.fwo.be/en/
Our marketing & communications team received the Award of Excellence for Branding/Identity Program or Campaign from CASE for the College's name change campaign.
The Alabama International Trade Center (AITC) at the University of Alabama has been named Member of the Year of the Regional Export Promotion Program of the Export-Import Bank of the United States.
Ron Dulek was honored with the 2019 Sullivan Premier Award, one of the most prestigious awards here at The University of Alabama.
Randi Hamm was recently selected to receive The University of Alabama's 2018-2019 Outstanding Professional Advisor Award.
Dan Bachrach has been named a Fellow of the Society for Industrial and Organizational Psychology, a recognition of unusual and outstanding contribution to the field.
Subha Chakraborti was selected as the winner of UA's Burnum Distinguished Faculty Award for 2018.
Linda Parsons, Volodymyr Melnykov, Austin Reitenga, Gary Taylor, and Emmett Lodree were all recently informed that they are being promoted to professor. And Nancy Sirianni and Mesut Yavuz are being granted tenure, while Shane Stinson, Peter Brummond, Quinn Swanquist, Amanda Ross, and Troy Pollard have all been granted tenure and promoted to associate professor.