Immersive experiences change lives. Culverhouse student Taylor Falls should know: she participated in the KeyBank Leadership & Creativity Undergraduate Minority Student Symposium in the fall, networking with Keybank professionals and presenting a solution to a case study where were given only 24 hours to analyze, formulate recommendations, and create a presentation to present to judges. "Working with a group of students that I just met to solve a complex problem was quite challenging, but it is safe to say that I learned the importance of identifying team members' skillsets and strengths and using those for the betterment of the team," Falls said.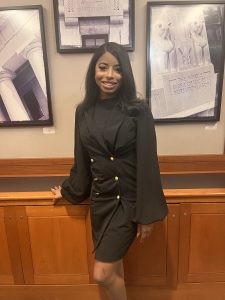 Falls was surprised to be honored with the "Best Presenter" award within her cohort. The award has since given her more confidence in her public speaking ability. "Since then," Falls said, "I have begun to lean more into that ability by hosting more events on campus through my sorority where I have to present in front of large groups of students and by making a valid effort to hone in on and continue to improve these skills through other public speaking ventures."
Falls went on, "The benefits from attending a conference such as this one are immeasurable. The people you connect with and the network you make through events such as this one can truly add incredible value to your personal life and your career. Furthermore, the lessons that you learn through these conferences are some that you can continue to apply throughout your life and then pass down to others."
Yet Falls admits that she would not have known about the symposium were it not for Culverhouse Director of External Relations Emma Bliss Darling and Director of Experiential Learning Quoc Hoang, who told her about the conference and encouraged her to apply. Once Falls was accepted, Culverhouse sponsored the entire trip.
Immersive experiences change lives and build young professionals, and your giving can make these experiences possible. This year, Culverhouse's Bama Blitz passion project is immersive experiences. Culverhouse aims to raise funds to make possible experiences such as this one, or others like these:
Traveling to Wall Street to meet with recruiters at the world's leading investment firms, and securing internships and jobs due to those visits.
Journeying to Panama to explore what it would be like to work internationally, including the opportunities and adventures that only come from leaving one's comfort zone.
Competing overseas as part of an innovation-focused team, showing the world that Bama truly means business through decisive wins.
Will you consider a gift to Culverhouse today, to support students like Taylor Falls? You can make a gift at the Culverhouse Bama Blitz site. If you wish to support the Culverhouse College of Business in a different way, consider making a gift to the Culverhouse Executives Society by going to bamablitz.ua.edu/annualfunds.