Rosemary Hartline-Neal (MBA, 2023) is getting ready to conquer the world, and she is just as surprised as you are.
To meet her, you might be impressed by her humble and honest demeanor, never suspecting that at only 25, she has won prestigious scholarships, flourished as a member of the successful Manderson MBA Case Team, and beat out competitors from Harvard, Cornell, and Wharton to land a coveted position at one of the most prestigious and selective consulting firms in the world, a firm that doesn't even recruit from Alabama.
Until now.
"I still can't really understand why they chose me," Hartline-Neal admitted, "when there are so many other people who have been through terrible things also, and have so much potential. And didn't get the opportunity because I got it."
Don't mistake her humility for lack of confidence: She knows she is good, because she has worked very hard, and she sees corporate leadership in her future. But she also knows in her career, she owes as much to others as she does to herself.
Hard Beginnings
During 2008's Great Recession, when she was ten, Hartline-Neal's father lost his job in Gadsden, Alabama, and the family lost their home. The loss signaled the beginning of a series of financial catastrophes, including her mother's heart attack five years later that left her unable to work. She was denied disability benefits, which caused the family's income to fall below the poverty line.
But by that time, Hartline-Neal was used to struggle. Born to young parents with a background of drug abuse, she had already been passed between foster homes for over two years. She recalls that the situations in some of the foster homes were worse, even, than that of her birth parents.
Hartline-Neal was six and half when she and her sister were adopted by an older couple, Billy and Melanie Hartline. The family didn't have much money. Billy finished high school, barely, and worked in factories or the trades. The only people the family knew with college degrees were doctors. Still, her parents encouraged education, because they recognized a drive in Hartline-Neal, and knew that a college degree could be a way out of poverty.
A Family Effort
"I took the ACT twice," Hartline-Neal recalled, "because that was all I could afford." The first time, she made a 26; the second time, she scored a 30, which was good enough for a full-tuition scholarship to The University of Alabama. But for a first-generation student below the poverty line, there was still a long way to climb before college could become a real possibility.
Her parents could not afford to help her with living expenses, and she still needed food, shelter, and access to textbooks. So she started applying for scholarships and grants, and, to her surprise, winning them. She won a Coca-Cola First Generation Scholarship, one of only 12 selected per year, and the Annexstad Family Scholarship, one of three per year. She even won the competitive Horatio Alger National Scholar, which selects one winner per year.
Poverty and trauma teach you to expect the worst. So when her mother Melanie got two response letters in the mail, one from Coca-Cola and one from the Dawson Family Endowed Scholarship, she opened them herself, wanting to shield her daughter from disappointment. When Melanie saw that both envelopes contained good news—she got it!—the disabled woman, who couldn't drive, walked half a mile to her high school to congratulate her daughter with an Alabama cup and balloons.
When her parents dropped Hartline-Neal off her first day of college, they gave her $81, which was all of the money they had in savings. "It doesn't seem like a lot, but they bet everything they had on me," she said.
Her family borrowed money for gas to drive home.
Changing Course
At first, college was overwhelming. Hartline-Neal panicked when she received a refund from one of her scholarships; she thought her tuition hadn't gone through, that she would have to go home. When she learned that the extra money was hers to spend as she pleased, she was dumbfounded, then overjoyed. She celebrated with Melanie over the phone.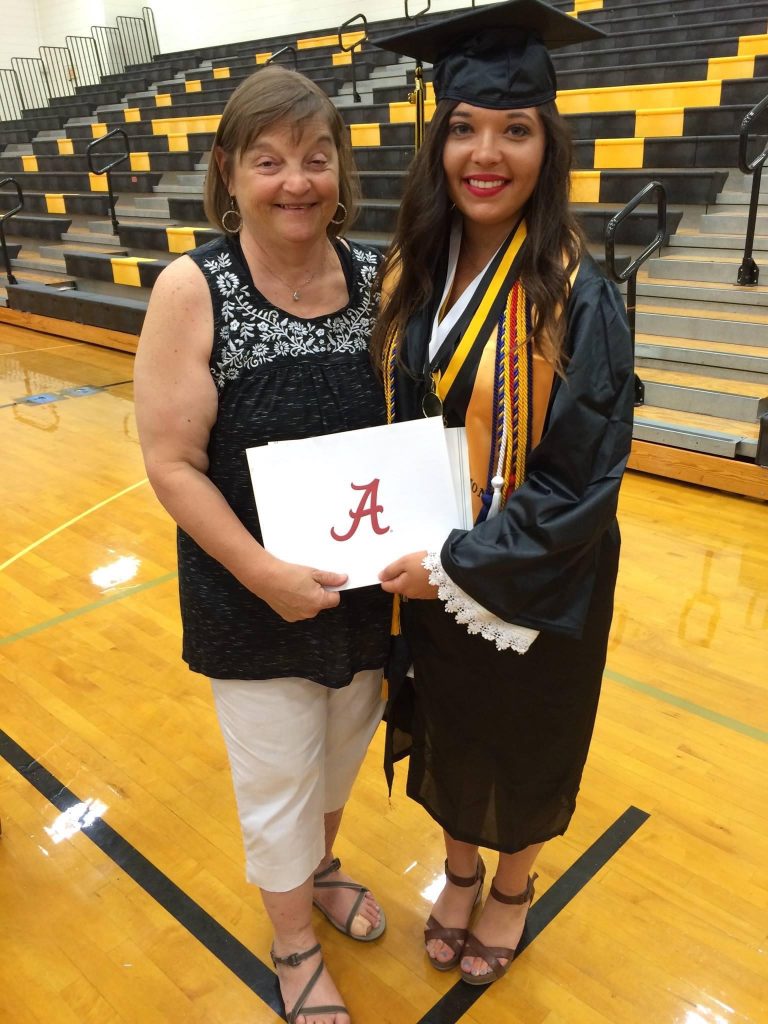 When Hartline-Neal was a junior in pre-med, her mother suddenly died of complications from a routine gallbladder surgery, throwing the young woman into a tailspin. She fell into a depression, and almost quit college twice. But she couldn't stop thinking about what her parents had sacrificed for her education, so she persevered and graduated in 2020.
Although she was accepted into medical school, she couldn't get her head around the $380k price tag. "Coming from a poverty background, that was paralyzing," Hartline-Neal said. "I always wanted to be somebody with an education that could make a difference, but I had a little bit of tunnel vision." She began to wonder if there were other ways to make an impact, so she took a year off to work in corporate operations for an insurance company.
While working at the insurance company, Hartline-Neal was mentored by an associate vice president. One day, the AVP called a meeting, and Hartline-Neal expected the worst. Was she being fired? Far from it, but it was time for some tough love. If she wanted to get ahead, she needed to go back to school. So she applied to Culverhouse's Manderson MBA program.
One More Problem to Solve
She thrived at Culverhouse, concentrating in finance and serving as a keynote speaker and spokesperson for the University, and helping to facilitate $4.7M in endowments, trusts, and quasi-fund scholarship awards. She won competitions with the Manderson Case Team. But now, she had one final challenge to overcome.
As she faced the job market, Hartline-Neal practiced case interviews every day for six weeks. In the final round of interviews with McKinsey, she competed with Ivy League candidates. It was a lesson in humility. But Quoc Hoang, director of experiential learning at Culverhouse, coach of the Manderson Case Team, and an advocate for first-generation students, pushed back. "You've been solving problems all your life," he reminded her. "You're used to being lit on fire, and it doesn't bother you. You just have to do it." She began to see that there were no "right" answers in the interviews; the interviewers just wanted to see how candidates attack a problem.
She passed her interviews with flying colors.
Hartline-Neal starts her role in the leadership development program at McKinsey in July, in Atlanta. She worries about the usual things: traffic, finding an apartment. But something fundamental has shifted. "Not having to worry about my family or myself being in poverty again," she reflected, "having that is a foundation that I've never had before." It means that a car breakdown can no longer derail her life.
And it means she can be in a position to give back. The fact that she got her scholarships means that her family is no longer considered first-generation, so the scholarships would be unavailable to her sisters. She acutely feels that responsibility. "The people who made the most significant impact on my life were people who believed in me and made sure I knew that, and people with access to resources who let me stand on their shoulders," she said.
So she will work until her own shoulders are broad enough for others to stand on. Her sisters, her family, other indigenous women in business and first-generation students who want more for themselves and their loved ones.
But until then, the world had best get out of her way.