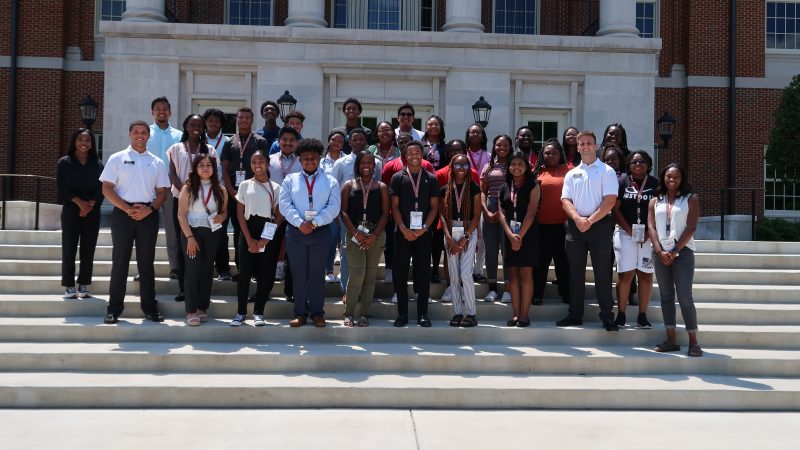 Bridging the Gap-Diversity in Business Bridge Program
"What does business mean?" That is the question that Marcus Cotton and Dr. James King try to help underrepresented minority students answer during the first part of the Diversity in Business Bridge Program, which was held this past June.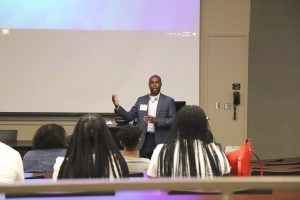 King, who is the Associate Dean for Diversity, Equity, and Inclusion at Culverhouse as well as Miles-Rose Professor of Leadership in the College's Department of Management, explained that the program has three phases. First, rising seniors come to campus for a week to explore the Culverhouse and The University of Alabama, meet professors and students, and begin to build relationships. Then, students who have committed to Alabama come back the summer before their freshman year, where they both give and receive coaching—they receive coaching from students who are currently enrolled in Culverhouse, and in turn, the rising first-year students coach the rising high school seniors who arrive the following week. Finally, King explained, the students receive scholarship money and ongoing mentorship throughout their time at Culverhouse. Director of Diversity, Equity, and Inclusion Initiatives and Director of Diversity in Business Bridge program Marcus Cotton joined King in what King called "cascading mentorship," which is the model of older mentors investing younger mentees, who then turn and invest in their own mentees.

While at the camp, which started in 2021,  the students were given a variety of career-building opportunities. Those include headshot photoshoots, resume prep and personal marketing plan workshops, meetings with professors and key executives in companies like Protective Life, connections with alumni, and visitation of the EDGE business incubator and accelerator. "The EDGE staff, including Dr. Welbourne, did presentations with the students, and that really stood out," Cotton said. "The students really connected with the information she shared, and they really connected with the entrepreneurs who were using the EDGE's resources and facilities to grow their businesses. They were really impressed by that."
And of course, they had fun—game nights, dinner at Bowlero, and a visit to the TopGolf driving range, while in Birmingham visiting with alums and corporations. A partnership with Protective Life Corporation made it possible for all students to attend the camps free of charge. For more information, about the camp and how to get involved, please see (https://diversity.culverhouse.ua.edu/culverhouse-diversity-in-business-bridge-program/)