2021 Culverhouse Business Analytics Symposium Returns Oct. 15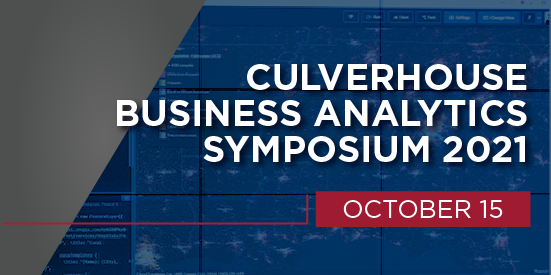 Data-focused practitioners and strategic thinkers are invited to the Culverhouse Business Analytics Symposium on October 15, in-person on The University of Alabama campus.
Speakers from leading companies like IBM, Visa, Delta Air Lines, USAA, and Wyndham Destinations will discuss best practices in practical applications of data and how to establish a robust business analytics agenda. Furthermore, the Symposium offers the opportunity to connect – and build a network – with UA students and fellow colleagues.
Speakers include:
Janine Johnson, Vice President – Visa Predictive Models | Visa
Dot Green, Manager, Operations Decision Science | Delta Air Lines
Jeremy Terbush, SVP, Customer Relationship Management (CRM), Consumer Insights and Analytics | Wyndham Destinations
Matt Hall, Modeling Analyst | USAA
Ilyas Iyoob, Chief Data Scientist and Artificial Intelligence Executive | IBM
Greg Bott, Nickolas Freeman, and Burcu Keskin, Information Systems, Statistics, and Management Science Faculty | The Culverhouse College of Business at The University of Alabama
Registration for the public is $200 and includes admission to the Symposium, lunch, and refreshments throughout the day. Group rates are available. The Symposium will follow all UA-recommended COVID-19 health and safety protocols, as detailed here.
Non-Culverhouse UA faculty and staff can register at a cost of only $40.
The Symposium is a long-running tradition at Culverhouse that is an extension of the College's expertise in data and business analytics, cybersecurity, and management information systems research, education, and outreach.
For more info, contact event organizers at analytics@culverhouse.ua.edu.