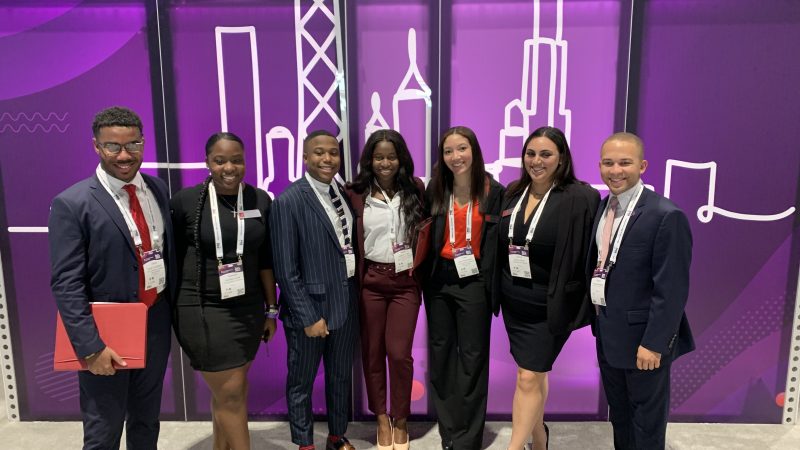 Making Connections in the Windy City
By Stephanie Cohen
27 students in Culverhouse's Manderson Graduate School of Business traveled to Chicago in early September to attend the 43rd National Black MBA Association (NBMBAA) Conference and Career Expo.
This trip was the 15th made by Manderson students over the years to NBMBAA'S annual networking event. Manderson itself has been a Platinum Collegiate Partner of NBMBAA since 2017 and has hosted numerous events over the years to introduce students to the organization.
At the conference, students heard from esteemed speakers such as Angela Burt-Murray, editorial director and screenwriter for Sunshine Media Group; Morgan Debaun, founder and CEO of Blavity Inc.; Ledisi, Grammy Award-winning artist with Benchmark Entertainment; Bakari Sellers, CNN political commentator; among others.
These students also had the opportunity to network and connect with executives representing over 240 corporate and academic partners of NBMBAA during the Career Expo portion of the weekend. Employers from companies such as Accenture, Amazon, American Express, Bank of America, KeyBank, Target, Walmart, Wells Fargo, and more promoted over 17,000 job openings to conference attendees.
"This Career Expo is an amazing experience for our students. I'm proud that the Manderson Graduate School of Business regularly supports students in these efforts," said Lori White, director of student services and alumni relations at Manderson.
"The knowledge gained and the relationships made at this Expo continue long past when we leave the host city, and many of our students will gain employment with these companies. Several recruiters came by our booth to tell me how impressed they are with our students. I'm happy they had this chance to shine."
Haleigh Shaw, a Manderson MBA candidate specializing in strategic management and marketing, enjoyed meeting other likeminded students as well. "The conference is a great experience to network with not only businesses, but others as well," Shaw said.
"It gives you the chance to meet people from different schools, states, and paths in life. It was an experience to remember."
Go here for more information about Manderson Graduate School of Business. To learn more about the National Black MBA Association, visit their website here.