Heggem, Gray Retire from Culverhouse After Decades of Service to the College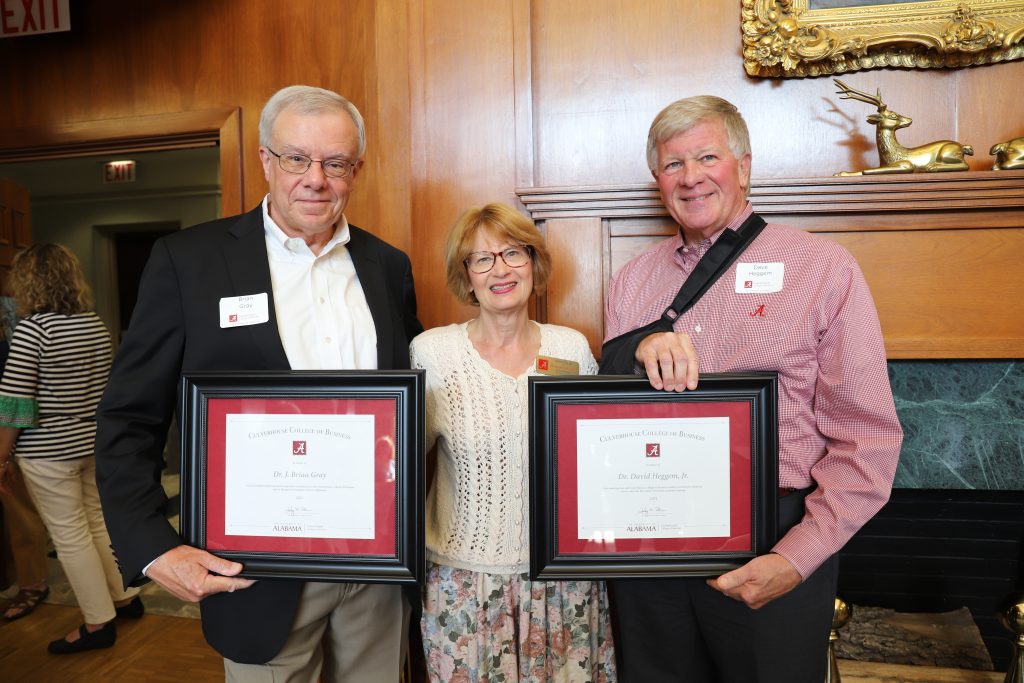 Two beloved mainstays of the Culverhouse College of Business –– Dr. Dave Heggem, the associate dean for students and Dr. Brian Gray, a professor of statistics –– retired this summer after combined decades of service to the College and The University of Alabama. Both men had an impactful role on the College and its faculty, staff, and students through their work in the classroom or overseeing the advisors who guide students through their most important academic decisions.
In the case of Gray, he also served in a highly visible leadership role. After Dean J. Michael Hardin departed to become provost at Samford University, Gray was named interim dean of Culverhouse while UA conducted a national search for a replacement dean. With Dr. Kay Palan being named dean in 2016, Gray returned to the role he held before being named interim dean, that being associate dean of the Manderson Graduate School of Business at Culverhouse.
In 2018, he stepped down from the associate deanship position and returned to faculty, teaching and conducting research in applied statistics, exploratory data analysis, data mining, business analytics, regression analysis, and statistical computing.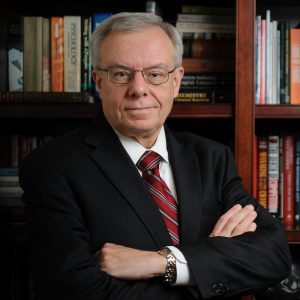 At Manderson, Gray oversaw a team that included then-MBA program director Tut Wilson, who is now UA's director of fraternity and sorority life. She said, "If I had to think of a word for him, it'd be supportive. He empowered me to do my job and most of all allowed me to grow beyond the job description."
Gray's support also allowed one of Manderson's most visible initiatives to flourish, Wilson recalls. "After we hosted the 2nd Annual SEC MBA Case Competition in 2014, I pitched a Manderson Case Team to him. He was fully on board and willing to invest to make it happen. From scholarships to travel budgets and everything in between, without his support, encouragement, and investment the team wouldn't be what it is today!
Gray himself expressed his gratitude to his colleagues, The University of Alabama and Culverhouse, and outlined his plans for retirement:
I've had a wonderful life and career at UA.  The University and the College provided me with the opportunity and means to teach topics of interest to me, to do research in my areas of interest, and to serve in meaningful ways.  My life at UA has never seemed like a "job" to me.  It's the perfect situation when your work lines up with what you love to do.
I've had the good fortune to work with wonderful people in my 31 years at UA.  I'm grateful for the many good friendships that I've had with students, faculty, and staff during my time here, especially those relationships with my Applied Statistics, ISM, Manderson, MBA, and EMBA families.
I'm grateful that my life as a professor allowed me to maintain a good work-life balance with my family.  In retirement, I'm looking forward to having even more time to devote to our family, friends, faith, travel, and, of course, golf.
For decades, Dr. Dave Heggem directed the College's academic advising and planning activities through his oversight of the Asa H. Bean Undergraduate Student Services Center. That center houses the advisors responsible for meeting regularly with the 8,500 or so undergraduate students at Culverhouse –– and Heggem had an outsized impact on the team and students. As a result, he was named the recipient of the 1998 University of Alabama Penny Allen Award for unselfish commitment and service to students.
Furthermore, he helped establish the College's Business Honors Program which is an elite offering that consists of about 60 high-achieving juniors and seniors wherein they work with nonprofit and for-profit clients to resolve business problems.
Heggem himself not only provided expert advice on coursework and careers to student advisees but also offered mentorship and sage life advice to his colleagues.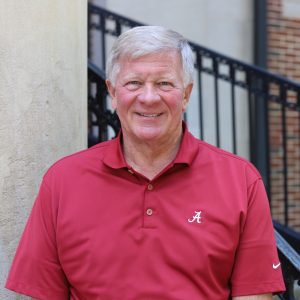 Randi Hamm, an advisor at Culverhouse, said, "From the first moment I met Dave in my interview, I knew I wanted to work for him. It's a unique thing to have a boss who seems to just "get" you but that's what Dave has been for me. I have gone to him to celebrate, to cry, for advice, and most of the time, just because I was walking by and wanted to sit down and talk."
"And if you've met Dave, you know he's pretty easy to talk to. I have never felt the support and encouragement from anyone like I have from Dave. He's given me the confidence to be myself as an advisor while always being someone I could immediately turn to with any question."
That sentiment was echoed by Dr. Keely Latopolski, director of professional development and engagement at Culverhouse, who said, "Dave is everyone's biggest cheerleader, he treats everyone he meets like family and has been a part of many special moments for me big and small.
"I truly would not have gotten to where I am today without him. He supported me through some of the toughest and best moments personally and professionally – from relocating to Tuscaloosa from NY to being a member of my dissertation committee and countless meaningful moments in between – he has supported me every step of the way and I cannot thank him enough."
Heggem was the recipient of the 1998 University of Alabama Penny Allen Award for service and unselfish commitment to students. In 2001, he received the Staff Appreciation Award for his support and dedicated service to his team.
In his own words, he recounts his journey through Culverhouse:
When I look back when I first visited The University of Alabama in the spring 1974, I saw a very beautiful campus aesthetically.  I ended up staying a few extra days because a blizzard had hit Lexington, Kentucky and we could not get back.
During those days, I studied in the Gorgas Library and walked the halls of Bidgood.  I finished my undergraduate career and then knew that I wanted to continue my graduate education at The University of Alabama.
Coach C. M. Newton afforded me the opportunity to continue my education and work with the basketball team.
I was with Coach Newton his last three years as the UA basketball coach but earned my master's and was well on my way toward the completion of my classwork for my doctorate. At the same time, I met my wife, who is a Culverhouse alumnus, and we decided to remain in Tuscaloosa.
In 1989, the opportunity to come to Culverhouse presented itself.  From that point on, it was a very refreshing and challenging career serving its students and working with a recognized faculty.  I always felt "at home" in Culverhouse.  I have worked with several thousand academically talented students who have gone on to impact this state and country.  Just having a small impact in their lives has been the most rewarding part of being here.
Heggem and Gray were celebrated at a gathering in June 2021 with friends and colleagues from across UA. Culverhouse Dean Kay Palan was grateful for their respective contributions to the College saying, "Dave and Brian will be sorely missed and the impact they have had on our students is immeasurable. Furthermore, the leadership that they have provided to the College has allowed us to grow and prosper."
"Best of luck to the two of them in the next stage of their lives."