Manderson Grads Bring It Home to Alabama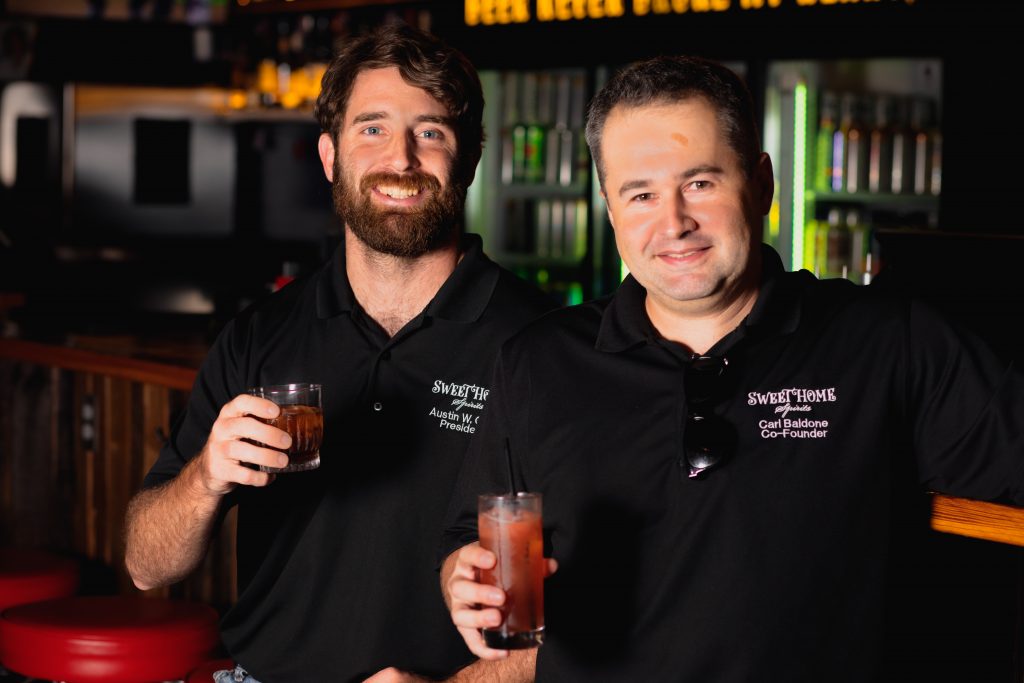 By Justine Groeber
"We wanted to create something that truly embodied the essence of Alabama."
So starts Manderson Graduate School of Business alum ('13) Austin Creel in a conversation where he explained the origins of Sweet Home Spirits, a company he co-founded that pays homage to the Yellowhammer State through distinct whiskey and vodka products.
"At its core, the concept of Sweet Home Spirits is of pride for one's home and to what comes to mind when we think of the state of Alabama."
Backing up Creel was Carl Baldone, a Manderson MBA grad from the same cohort and fellow co-founder, who said that the brand is "an extension of Alabama."
"It can be a mechanism that people can toast and have good spirits with and a source of pride for Alabama."
While Sweet Home Spirits is fairly new – officially launching in May 2021 –  it leverages the hard-earned professional experience and entrepreneurial inclinations of its founders. However, the journey really starts at Manderson, where Creel, Baldone, and Jeff Tullis, who is helping launch the company, all met.
At Manderson, Creel specialized in supply chain management and after graduation went to work for a Fortune 300. A period spent as a Domino's Pizza franchisee in the United States Virgin Islands and founder of several other ventures gave him the skills to manage and grow a business, but it also left him wanting more.
In 2019, Creel divested from these ventures to focus on Sweet Home Spirits, "I wanted to leverage my own experiences to make an Alabama whiskey, a brand that is truly Alabama-centric."
With the concept of "Sweet Home Alabama" driving this venture, Creel approached fellow Manderson grads, knowing their success within and beyond the program, and enlisted Baldone. During his time at Manderson, Baldone specialized in strategy and was passionate about marketing research and entrepreneurship. "I liked the ability to be able to play around and not just be focused on one path," Baldone said.
"It allowed me to explore my interests, especially spending a couple of months in China immersing myself in international business."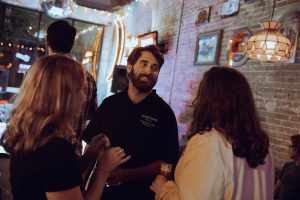 What excites Baldone about launching Sweet Home Spirits is the idea that the brand will be "an extension of Alabama in a way where we can create a brand for the state," he said.
"A mechanism that people can toast and have good spirits with and something that we think could be pervasive throughout the state."
Creel reiterated that Sweet Home Spirits is making a toast to the great state of Alabama, "We want to showcase the good parts of our home; how we're progressing, what we're trying to do, and what we're achieving."
The founders know the name recognition of Alabama is strong and is a brand with mass appeal. Baldone recounts the times that he heard loud and resounding "Roll Tides!" while traveling internationally wearing University of Alabama gear.
For this reason, they feel confident that even people who have not even considered visiting Alabama can enjoy something that is imbued with the spirit of the state.
And so far, the company is on a fast upward trajectory: Sweet Home Spirits and has already made its way to 32 Alabama ABC stores and 25 private package stores across the state, all the while selling out three times.
More info about Sweet Home Spirits can be found on their website at sweethomespirits.com.