Aldag Gifts to Help Entrepreneurship at the Capstone Go Bigger
A longtime supporter of entrepreneurship at The University of Alabama has committed an additional $1.75 million to help UA students pursue their dreams of starting their own businesses.
Entrepreneurial-minded students have come to rely on UA's annual Edward K. Aldag Jr. Business Plan Competition to help provide the funding needed to bring their business ideas into reality. Since 2017, the annual competition has awarded a $50,000 grand prize to the best business pitch and additional cash and in-kind prizes to other top teams, with a number of those companies becoming growth-focused enterprises.
Now the namesake of the competition has gifted an additional $250,000 to provide five more years of grand prize support and committed $1.5 million to support a variety of initiatives related to entrepreneurship at UA.
"Mr. Aldag has helped create for us an annual tradition where we get to see the best and most transformative business ideas that students can conceptualize," said UA President Stuart R. Bell. "With the support made possible by these gifts, I am excited to see what our students do next."
A native of Eufaula, Alabama, Aldag is deeply passionate about helping others become entrepreneurs—after all, it is a lived experience for him.
He has carved out a career around identifying new opportunities. In 2003, he established Medical Properties Trust, or MPT, in Birmingham, which is the nation's only real estate investment trust to focus exclusively on hospitals. The Birmingham Business Journal named him as CEO of the Year among mid-sized companies and as one of Birmingham's "Most Influential Executives" in 2015.
"In the years since establishing the competition, I am proud to see that we have generated a culture of entrepreneurship on The University of Alabama campus," said Edward K. Aldag Jr., who is the founder, chairman and CEO of Medical Properties Trust, Inc. "And now is the time to further sustain and grow that culture so that more students can launch businesses of their own."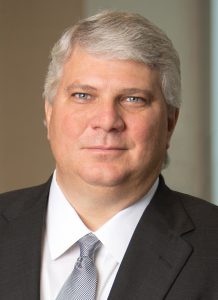 The $1.5 million gift, given over five years from the Medical Properties Trust Charitable Fund, will provide students with coaching and workshops to help them develop their ideas during the academic year. The MPT gift also is helping support the new Crimson Accelerator program and other priorities at the Alabama Entrepreneurship Institute.
These gifts figure large into fulfilling a goal on the UA campus: championing activities that make positive economic and societal impacts.
The Edward K. Aldag, Jr. Business Plan Competition is overseen by the Alabama Entrepreneurship Institute, an outreach arm of UA's Culverhouse College of Business, of which Aldag is an alum. The Alabama Entrepreneurship Institute, or AEI, is tasked with developing a culture of entrepreneurship not only across the entire University of Alabama campus but in the community as well.
"Year after year, we have seen some incredibly innovative business ideas pitched at the Aldag Competition," said Dr. Theresa M. Welbourne, the executive director of AEI. "For this year's event, we had our greatest number of participants. That tells me that Mr. Aldag's investment is paying off.
Previous grand prize winners of the Edward K. Aldag Jr. Business Plan Competition include Trips4Trade, a peer-to-peer outdoor experience trading platform and PrepHQ, a college admissions test prep service. A list of the 2021 winners can be seen on the competition's website.
"Were it not for Mr. Aldag's generous initial gift and this further commitment from him and Medical Properties Trust, we would not have been able to witness a number of exciting and innovative student-led companies test their business concepts and enter into the marketplace," said Culverhouse Dean Kay M. Palan. "We are grateful to him for his continued support of student entrepreneurialism."