Second Place for Manderson at 2021's SEC MBA Case Competition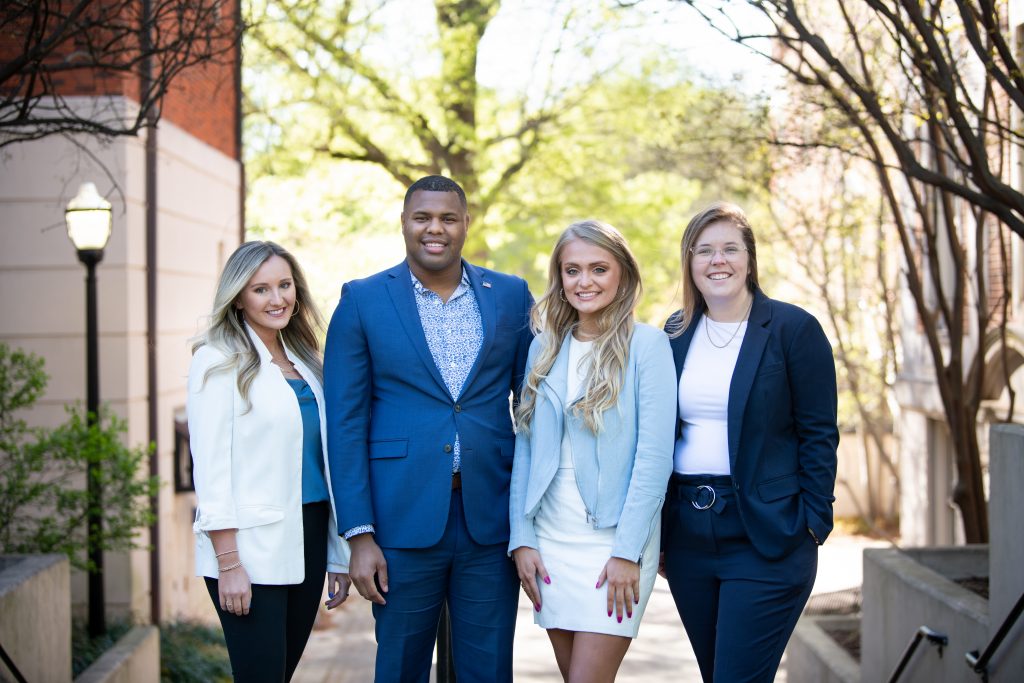 The Manderson MBA Case Team came in second place in the 8th SEC MBA Case Competition, conducted virtually for the first time in SEC history and facilitated by the Raymond J. Harbert College of Business at Auburn University. The team, all of whom are second-year students, was comprised of Diana Boone, Oliver Robinson, Savanah Hiers, and Savannah Middleton. Quoc Hoang, who is director of experiential learning at Culverhouse, served as advisor to the team.
The event spanned three days, April 15-17, and began with the four-person SEC teams randomly drawn into four divisions on Thursday evening. On Friday morning, a representative from Aflac, the case company, presented a real-world challenge to the students, who then had approximately 24 hours to outline an approach to the challenge while also organizing a related presentation.
Advisor Quoc Hoang explained the process behind the formation of the team, "I use my head and heart when selecting a competition team and SEC is no different. Since Case Team is a two-year learning experience, I have the privilege of working with these students for their entire time in grad school."
"It's very fun for me to get to know them on a deeper level – not just their knowledge and skills, but what brings out the best and worst in them."
Once Hoang selected the team, they got to work. Team member Diana Boone said that "As soon as the case sponsor was released in the first week of March, our team began meeting regularly."
"We split up tasks that we've been trained to do when preparing for a competition and brainstormed ideas in an attempt to identify the direction in which Aflac might steer the case prompt." They also did extensive research to help them better understand the insurance industry and Aflac's role within it.
A valuable part of any case competition is the team camaraderie forged by the pressure of traveling to a new location and competing in a physical space with students from other campuses.
With this year's SEC MBA Case Competition taking place in a virtual format, some of that was lost, according to Savanah Hiers. She said, "Competing virtual definitely had its pros and cons. I thoroughly enjoyed having spaces to operate in that I was comfortable in and familiar with. However, I think if we had been actually on Auburn's campus, [the competition may have felt]   a little more intense."
"That being said, we still never slept so the pressure was definitely felt."
Boone echoed that sentiment, "The virtual competition experience was surprisingly enjoyable. We were able to work in the comfort of a familiar building and setting and being on our own campus allowed us to avoid focusing on the other competing schools."
Senior executives from Aflac made up the judging panels, including President and Chief Operating Officer, Frederick J. Crawford. Michael DeVore, Vice President for Corporate Development at Aflac and a leading coordinator with Auburn, notes his colleagues were truly impressed by all the SEC teams. The judges considered each presentation and the top four teams advanced to the finals on Saturday afternoon.
After the pressure of the competition came the wait for the results announcement: Manderson ended up behind first-place winner Ole Miss, with the University of Kentucky finishing third, followed by the University of Tennessee in fourth. While not winning was initially disappointing, Hiers said "Watching the announcement in Bidgood was kind of a unique experience and made my college career feel like it really came full circle."
"Knowing we were able to successfully pitch expanding into a new country, in an industry I knew almost nothing about until a few weeks ago was exhilarating and affirming of how exceptional our education and case team experience has been."
Furthermore, Hiers had the distinction of being named among the competition's best presenters and said, "To be named best presenter in our division was an incredibly proud moment for me."
"Honestly, the only reason I was able to present so confidently was because I knew everything my team and I had worked on together was solid."
Although team advisors were not able to communicate with their students after the case was presented, they did observe the presentations and were able to offer support and suggestions for improvement after the competition concluded.
The 2021 result is a continuation of the Manderson MBA Case Team's strength at the SEC Case Competition: in 2019, Manderson finished first. The 2020 iteration of the competition was canceled due to the coronavirus pandemic.
To Hoang, this year's result is redemption for a lost year, "I can vividly remember my excitement when our name was called as the 2019 SEC Case Competition winner. Contrast that with the low I felt when the decision was made to cancel the 2020 competition, knowing my students wouldn't get a chance to compete."
"In light of the highs and lows of the past two years, particularly the last 12+ months, finishing second in this year's competition is particularly sweet for these four students and gives me hope that there is more positive on the horizon."
The experience was bittersweet in the same way for Oliver Robinson, "Although we did not get the result we wanted, I submitted my interest for joining the SEC team because I wanted one "Last Dance" for Manderson, for Case Team. I definitely got that out of this experience."
"I saw each one of my teammates shine and shine so naturally. I am excited to see how high they can go [after graduation]."