Seehase Named Austin Cup Winner for 2020
When it comes to student achievement, there's exceptional and there's utterly stratospheric.
For a newly-minted Culverhouse alum, who recently graduated not only with a double major in finance and mathematics, but also a master's in finance concentrating in financial engineering, all the while earning a 4.00 GPA, the latter is the more apt categorization.
Daniel Seehase was recognized by Culverhouse with its 2020 Austin Cup award, which represents the College's highest student honor. He received the award not only because of his academic achievements but also the following, which represents just a sampling of his many accolades:
Was Presidential Scholar and was on the President's List six semesters at UA and on the Dean's List all semesters at Culverhouse.
Was a member of the University Honors College and as a junior, he was the recipient of the Gladys M. Poe & Tom Canterbury Academic Achievement Award for outstanding juniors.
Was President and Vice President for Membership of the Alabama Finance Association.
Was a member of UA's Academic Honor Council.
A founding member of the Mercedes-Benz Student Co-Op Board and founding member and secretary of the Alabama Chapter of the Financial Management Association, National Honor Society.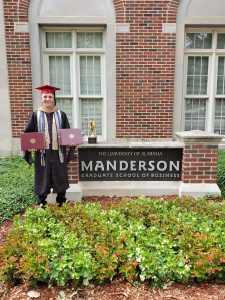 Furthermore, he selflessly gave his time to the Tuscaloosa-area community, having served as a weekly SAT tutor and as a participant the READ Alabama Program, which works to increase literacy levels for second and third-grade students.
"It is remarkable how Mr. Seehase was able to accomplish so much during his time at the Capstone," said Culverhouse Dean Kay Palan. "On behalf of all of us here at Culverhouse, we are very proud of his achievements and wish him the best of luck on life's journey."
His professors also spoke to his desire to learn and grow.
Dr. Emmett Lodree, Seehase's research advisor through the Culverhouse's Faculty Scholars program, said: "Danny is one of those students that makes me think 'Maybe I did choose the right profession after all.'"
"His analytical ability and intellectual curiosity enabled him to make valuable contributions during our weekly meetings that helped shape one of my research projects."
Dr. George Zanjani, who taught Seehase in FI 519 said that he was, "Fully engaged, asking deep and challenging questions."
"I knew that I had better be prepared when I came to class, because Daniel's penetrating questions were liable to force me to explore the full extent of any class topic."
Now a resident of Birmingham, Seehase has begun working at Protective Life as a financial analyst, focused on trading derivatives for hedging purposes. He got on Protective's radar when he interned there in 2019; as an intern he won that year's Protective Life Intern Hackathon. Additionally, he is studying to become a chartered financial analyst (CFA).