Jeff Clark Named Outstanding Advisor
Jeff Clark, an academic advisor in Culverhouse's Asa H. Bean Undergraduate Student Services Center, received the Outstanding Advisor Award for 2019-20 from The University of Alabama Academic Advisors Association (UA-AAA).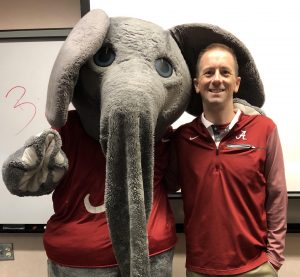 The Outstanding Advisor Award recognizes the importance of academic advising at The University of Alabama by celebrating outstanding academic advisors. For this past year, 424 advisors were put forward as candidates for the most outstanding faculty or professional advisor. 
Clark said that, "It's a privilege to work with such amazing students as they navigate their academic careers. My relationship with each of them is of paramount importance to me and I value them as unique individuals."
"It was an honor to be recognized by UA-AAA for work that I find to be so rewarding."
This is the second year in the row that a Culverhouse advisor received this award. In 2019, Randi Hamm, now corporate development and engagement director in the college's sales program, likewise was named Outstanding Advisor.
On this fact, Clark remarked, "I believe that the College's dedication to student success is proven by the fact that in consecutive years an individual from the Student Services office has received this award."
Due to the coronavirus pandemic, the formal awards ceremony was delayed indefinitely.