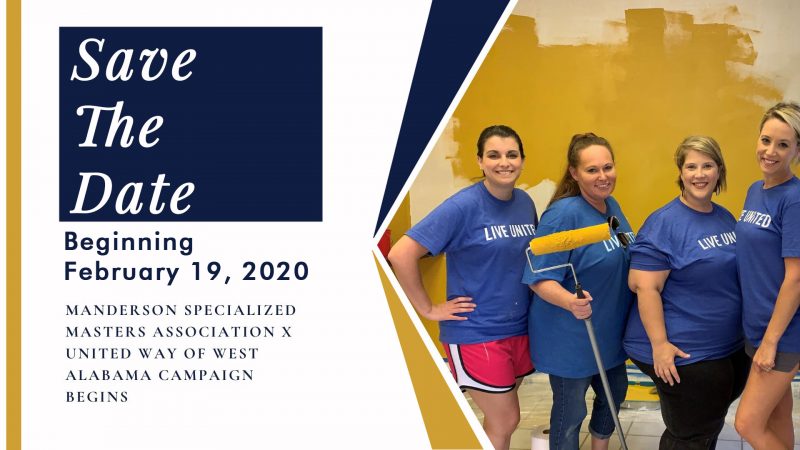 First Ever Manderson United Way Campaign Kicks-off Feb. 19
TUSCALOOSA, Ala.—The Manderson Specialized Masters Association will be partnering with The United Way of West Alabama (UWWA) from February 19th to March 11th in the first-ever student-run fundraising campaign for UWWA.
United Way West Alabama is a non-profit organization local to Tuscaloosa that does work within the community, such as assisting local nonprofits and schools through donations and in-kind support. For Manderson and Culverhouse students, this presents an opportunity to give back to an organization that has done so much good work in the area.
There will be several opportunities to donate at campus tabling events in both the Bidgood lobby and the Ferguson Student Center.
Ferguson Student Center: February 19th, 26th, March 5th and 10th all from 10 am -2 pm
Bidgood First Floor Entrance: February 19th, 26th, March 4th, and 11th all from 10 am – 2 pm
People will also be able to donate via Venmo to @MandersonSMA with the caption "MSMA x UWWA".
For more details contact MSMA's President, Sarah Beth Stickland at sbstrickland2@crimson.ua.edu or the Director of Service, Hayley Tolley, at hntolley@crimson.ua.edu.