Manderson Master's Students Form Networking and Outreach Org
Students in the Manderson Graduate School of Business's specialized master's programs can now join a new group that seeks to help them hone their professional skills, network with employers, learn from their fellow students, and give back to the community.
The Manderson Specialized Masters Association (MSMA) brings together students from the following programs: Accounting, Tax Accounting, Economics, Applied Statistics, Finance, Marketing, Operations Management, and Management. 
MSMA will host various career development opportunities including workshops in various topics, guest speakers, as well as lunch-and-learns. Furthermore, the chance to be in a group of diverse individuals will give these students the ability to learn from one another on various topics within their respective programs.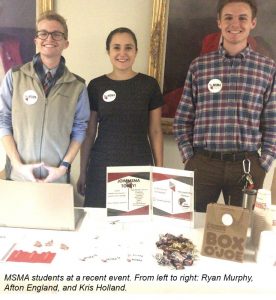 MSMA will also have social events for the students as a way to create cohesion between individual programs, which will take the form of holiday parties and casual hangout nights. The goal is that members will get to know one another in a more relaxed setting than in the classroom.
Lastly, MSMA will have community service opportunities within Tuscaloosa. They are partnering with a local philanthropy and will do service events throughout the semester with the group.
To join MSMA, simply email manderson.sma.ua@gmail.com to find out more information. From there, a Google form will be sent to you to fill in basic information including your t-shirt size, of which you will get from signing up. The dues are $25 to join. We hope you'll join!
More info
Kelly Fator
(949)226-4326