How Business Meets Engineering in this Culverhouse Student's Life
Written by Breanna Pianfetti
Culverhouse student Easton Davis is spearheading a team of University of Alabama students from several campus programs in a premier automotive design competition aimed at changing the industry.
Sponsored by General Motors, the U.S. Department of Energy and MathWorks, the EcoCAR Mobility Challenge is a four-year competition that consists of 12 collegiate teams across the country who build their best version of a hybrid electric-gas, energy-efficient 2019 Chevrolet Blazer. This year, Davis leads the University of Alabama team.
A product of the STEM Path to MBA program, Davis graduated last year with his undergraduate degree in aerospace engineering and mechanics. Now in the first year of his MBA and project manager of the EcoCAR team, Davis looks to lead his team to victory, preparing them to compete to the best of their abilities.
"I first heard about the program from friends," Easton said, "but one night I walked out of my lab super late and I looked across the courtyard and saw [the] EcoCAR [team] putting in the same level of energy into their building and creating that I do."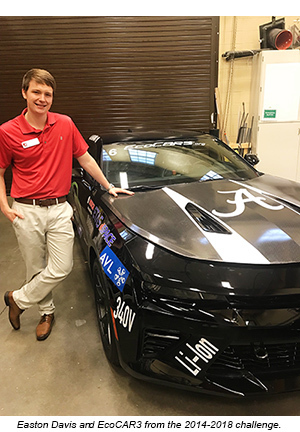 Davis's team is broken up into three disciplines: engineering, business and communications. Led by the project manager, the team also consists of an engineering manager and a communications manager, as well as eight engineering leads that oversee anything from hybridization to vehicle autonomy.
In his role, Davis is responsible for overseeing the entire project. Throughout the year, the team works together to complete several deliverables. They also complete many youth outreach events, encouraging young adults to pursue a higher education in STEM related fields no matter their race, gender or socioeconomic background.
Overseeing the entire project can seem like a daunting task, but Davis has broken it down into four main areas: timeline, financial, personnel and stakeholder. He takes it upon himself to make sure the team meets their deadlines, is fiscally responsible, has a solid relationship with their faculty, advisors and sponsors, and everyone up and down the roster is happy, content and fulfilling their responsibilities.
"Without my business background from Culverhouse, I would not be where I am today," Davis said. "I would not have known the financial part of EcoCAR or how to even manage the team. Overall, what I learned, managing the team and the people, is what you don't get from just an engineering education. What I learned in Culverhouse is so necessary for what I do in my job."
In fact, Davis credits the STEM Path to MBA program as the reason for why he decided to attend The University of Alabama.
"When I came to college I was stuck between business and engineering," Davis explained. "I had no idea what I wanted to do, but through this program, I was able to do business and engineering at the same time. Then, throughout the four years of participating in the high amount of high volume projects through Culverhouse, I was prepared to take leadership positions that I wouldn't have gotten with just an engineering degree."
As of right now, Davis has no set plans for after graduation, but knows that EcoCAR will undoubtedly help him get to where he wants to go. Whether it is product or project management or running a company, "Culverhouse and EcoCAR have prepared me for a leadership role in any capacity."
Interested in joining the team? Davis would recommend this program to any Culverhouse student that understands the "wide-scope of business and how there is a cost with each decision."
More information on the STEM Path to MBA Program.
To follow Davis and his EcoCAR team along on their innovative journey you can follow them on social media or at www.avtcseries.org