Quoc Hoang Wins UA Premier Award
The University of Alabama established the Premier Awards to recognize UA students, faculty and staff who exemplify the highest standards of scholarship, service, leadership and character.
For 2020's iteration of the Premier Awards, Quoc Hoang, Culverhouse's director of experiential learning, received the Judy Bonner Presidential Medallion Prize. This award recognizes a member of the UA community who has gone above and beyond normal expectations to change the culture or implement new initiatives designed to advance the Alabama experience for all undergraduate students or a segment of the undergraduate population.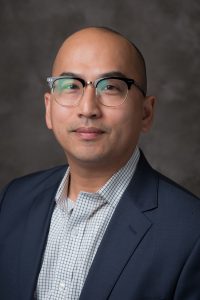 Born in a refugee camp in Malaysia after his parents, Thao and Anh Hoang, fled Vietnam as boat people after the end of the Vietnam War, Quoc Hoang didn't waste his opportunities and the sacrifice his parents made to give him a better life.
Raised in Toronto, Canada, with his brothers Richard and Andrew, he earned degrees from the University of Waterloo and today is an accomplished scholar living in Tuscaloosa with his wife, Dr. Kris Hoang, and 4-year-old daughter Evelyn.
As director of experiential learning in the Culverhouse College of Business and affiliate graduate faculty in Culverhouse's School of Accountancy, Hoang works with various student populations and external partners to create experiences for students that develop their thinking and grooms their hearts with the goal of building a community and culture that supports students' transition from college to career.
An example of Hoang's accomplishments in his field includes working with the Management Consulting Academy to establish the University as a premier recruiting destination for top strategy consulting firms that used to exclusively recruit at Ivy League schools. They achieved this by developing a two-pronged approach to create a pipeline of talent from UA to these top-strategy consulting firms by preparing students for their unique interview process and building relationships with the firms by taking students on the road.