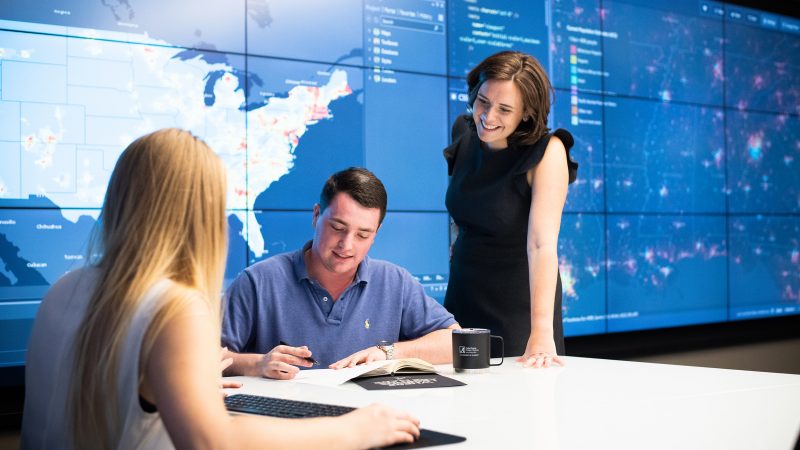 At No. 10, UA Online Business Master's Among Best in Nation
One of the best online business programs in the country retains its position in the top echelon. According to U.S. News & World Report's 2020 list of Best Online Graduate Programs (non-MBA), offerings in the Manderson Graduate School of Business at The University of Alabama are ranked No. 10 in the country and No. 2 among schools in the Southeastern Conference.
"Maintaining our spot in the top-10 for another year shows that the hard work that we've put into building our programs has paid off," said Sharif Melouk, Associate Dean of Manderson. "We're all very grateful to the faculty, staff, and students who have been a part of that process."
The Manderson degree options assessed together for U.S. News & World Report's 2020 list of Best Online Graduate Programs (non-MBA) included the following: the Master of Science in Operations Management and that degree's decision analytics concentration, the Master of Arts in Management with the global market focused area of study, and the Master of Science in Marketing, which is available with a marketing analytics concentration.
193 schools were included in the 2020 rankings.
Factors that the publication used to decide rankings for 2020 include opportunities for students to engage with instructors and other students, surveys of employers and academic officials, faculty credentials, student excellence, and incorporation of diverse online learning technologies.
The Manderson Graduate School of Business is housed within UA's Culverhouse College of Business. Culverhouse itself is one of the largest colleges on UA's campus with a student body of over 9,000 students and 60,000 alumni.
Culverhouse Dean Kay M. Palan said that "It's gratifying to see that our online graduate programs are again ranked among the best in the nation according to U.S. News & World Report's metrics."
"Students should know that in addition to top academics, they also benefit from being a part of an inclusive community that emphasizes personal growth as well as professional development, whether or not they are enrolled online or on-campus here in Tuscaloosa."
Manderson's online business programs also present a significant value at a cost per credit hour of $420.
In addition to its online specialized master's options, Manderson offers a variety of other on-campus degree programs, including an all-new Master of Science in Business Analytics and a Master of Science in Management Information Systems.
Manderson is also home to an acclaimed on-campus MBA, that was ranked as 50th in the nation and 26th among public programs last year by U.S. News & World Report.
Interested in Joining Manderson?
For more info contact Jan Jones, Director of Specialized Master's Programs at Manderson, at jjones@culverhouse.ua.edu or 205-348-6517 and apply today at manderson.culverhouse.ua.edu.