Academia and Industry Comes Together at First Annual Manufacturing Forum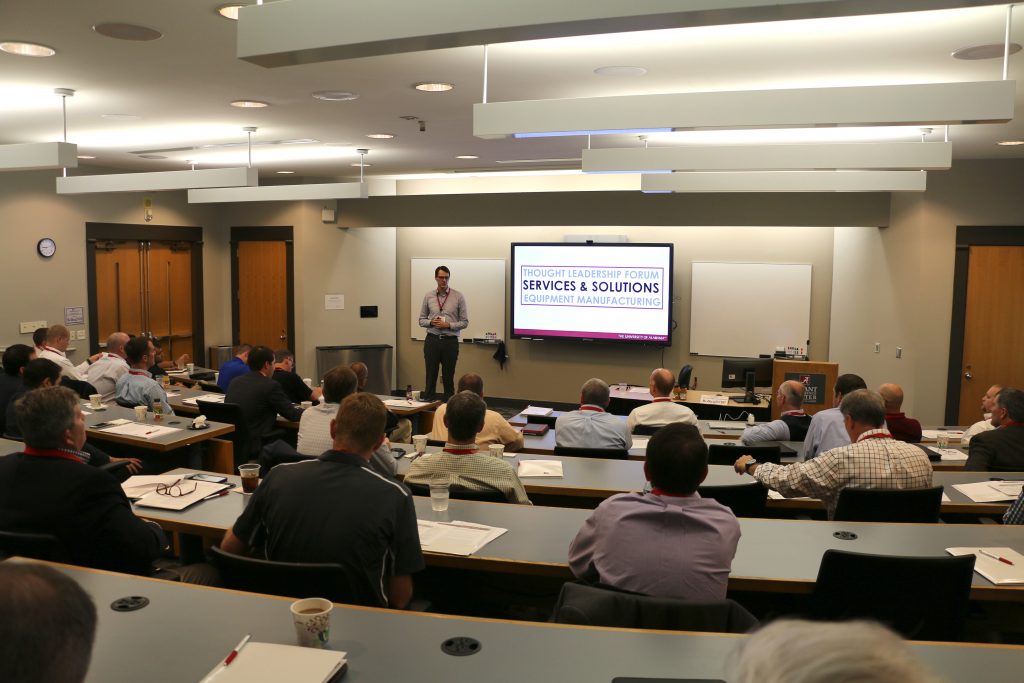 On August 7, 2019, the Marketing Department in the Culverhouse College of Business hosted the first Thought Leadership Forum on Services and Solution. The Forum, which presented a day's worth of discussion about the competitiveness and future challenges of the manufacturing sector, included 50 industry leaders and academics from across the world and from within the state of Alabama.
The purpose of the Forum is to provide stimulus for a continued dialogue between industry and academia on topics important to the competitiveness of Alabama industries.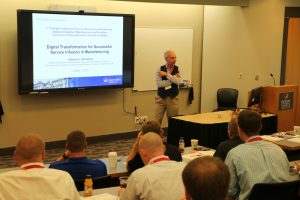 This year's forum centered around the increasing role of services and solutions for business models in manufacturing driven by the continuing digitalization of production, assembly, and logistics as part of Industry 4.0. Industry speakers shared knowledge about best practices in the incorporation of services and solutions into business models and operations. The academic experts presented some of the latest research on digital transformation and service-led growth in manufacturing.
Culverhouse Assistant Professor of Marketing Dr. Sebastian Forkmann, an expert in industrial marketing, organized the Forum and introduced the speakers, which included the following experts:
Andreas Eggert, Professor of Marketing at the University of Paderborn, Germany
Stephan Henneberg, Professor of Marketing and Strategy at Queen Mary University of London & Cambridge Service Alliance, UK
Tray Ivey, Executive Vice President, Services, at DESHAZO, AL, U.S
Markus Weber, Project Manager at Mercedes-Benz US International, AL, U.S
Furthermore, Culverhouse faculty Tom Baker and Nancy Sirianni discussed sales and service delivery through the customer's perspective. The conversation concluded with a discussion moderated by Dr. Forkmann about identifying and developing engagement formats that facilitate knowledge creation as well as sharing between academia and industry in Alabama. Out of the discussion emerged several important topics for the future such as the role of data analytics in manufacturing, and its implications on sales/service/channel management, and workforce development and retention.
See speaker bios below:
Speakers
Tom Baker, Ph.D. is Professor of Marketing and Doctoral Program Coordinator at The University of Alabama. Tom's research interests relate to the management of the interactions between front line employees and customers in service settings. In addition to having worked with multinational organizations, he has taught graduate, undergraduate, and Executive Education courses at multiple universities in the United States as well as in Spain, England, Belgium, Croatia, Italy, and Latvia. Tom has published research articles in the top journals in the Marketing discipline and is an Associate Editor for the Journal of Service Research and the International Journal of Management Reviews, two highly ranked journals.
Andreas Eggert, Ph.D. is Chair Professor of Marketing at The University of Paderborn in Germany. He has been a Visiting Scholar at the University of Sydney in Australia, the University of Toulouse in France, and the University of Ljubljana in Slovenia. Andreas' research interests focus on strategies for the creation and appropriation of value in business relationships. With more than 9.000 Google Scholar citations, his articles are among the most influential research publications in their domain. Andreas has consulted and trained large corporations as well as mid-sized companies and he has taught academic courses at the Ph.D., Executive, Master, and Bachelor level in Germany, France, Australia, Slovenia, and Finland.
Sebastian Forkmann, Ph.D. is Assistant Professor of Marketing at The University of Alabama. His research primarily focuses on business relationships, in particular with business customers or suppliers, and how firms can leverage these relationships in order to stay competitive in fast-changing business environments. One main strand of his research focuses on industrial services in the context of innovative business models of traditionally manufacturing-oriented firms. He is currently collaborating with several industry partners on those topics. Sebastian has published in leading international journals and he has received awards for both his research and teaching.
Stephan Henneberg, Ph.D. is Chair Professor of Marketing and Strategy at Queen Mary University of London, UK. He is a Visiting Academic Fellow at the Cambridge Service Alliance, University of Cambridge, UK. Before coming back to academia, he worked in senior positions as a management consultant with A.T. Kearney and McKinsey & Co. Stephan's research interests are in the areas of business marketing and supply chain management, as well as business strategy, e.g. covering topics such as business relationships and networks, supply chain integration, and business model innovation through solutions and digitalization (industry 4.0). He has published more than 150 academic articles in leading international journals on these topics.
Tray Ivey, is Executive Vice President at DESHAZO with responsibility for the Company's Service and Automation Groups. His duties include the development and execution of the Company's strategic goals related to industrial equipment service, automation, installation and modernization. Mr. Ivey has identified geographic and strategic business development opportunities and recruited, hired and trained sales and operational personnel to improve equipment service coverage, market share and profitability. Mr. Ivey is a Certified Public Accountant and received his Master of Accountancy degree from the University of Alabama in 1998. Prior to being appointed as Executive Vice President, Mr. Ivey has served in various roles during his fifteen years with the Company, including Service Group President and Chief Financial Officer. DESHAZO is an industry-leading OEM of heavy-duty industrial overhead bridge cranes and fully integrated automation systems. With four manufacturing facilities in Alabama and over twenty service locations throughout the United States, DESHAZO provides material handling solutions to customers through a comprehensive program of custom equipment manufacturing, inspection, preventative maintenance, repair and upgrade.
Nancy Sirianni, Ph.D. is Associate Professor of Marketing and currently holds the Jones Endowed Chair in Services Marketing at The University of Alabama. She is also a member of the Research Faculty of the Center for Services Leadership at Arizona State University. Nancy's current research focuses on understanding and innovating the customer experience. She enjoys working closely with companies to help solve their pressing issues and has run field experiments with firms including IKEA, A&W Canada, Virgin Pulse, and Carpe Vino. Her industry background includes eight years of combined experience in consulting, marketing research, and service management with Accenture, BSI Consulting, and Insperity.
Markus Weber, M.S. in Mechanical Engineering and Business Economics, is a project manager at Mercedes-Benz US International. Over his 20-year tenure with Mercedes-Benz, Markus has worked at locations throughout Germany, Hungary, and the USA. Across his different roles, Markus has specialized in assembly integration of new vehicle types, ramp up support as well as equipment integration in assembly shops worldwide. Most recently, Markus is working on a first-time integration of a Sedan platform and an SUV platform within an existing assembly shop as part of the preparation phase for the production of electric vehicles in Alabama.