Written by: Breanna Pianfetti
Fifteen days completely out of their comfort zone with strangers from around the world, students from The University of Alabama consistently overcome a diverse set of challenges at the European Innovation Academy, or EIA.
The European Innovation Academy challenges young professionals to think outside the box, testing their entrepreneurial mindsets. During their stay abroad, students have the ability to network with peers, international faculty and industry-leading professionals from all over the globe, including 90 speakers and mentors from Fortune 50 companies like Amazon and Alphabet, the parent company of Google.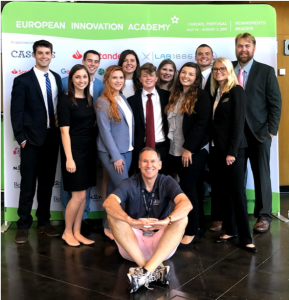 Students from the University of Alabama who attend the program have the ability to receive study abroad course credit for their studies. Applications to attend EIA next summer open up in late 2019.
This past summer, nearly 500 students from 75 countries met in Cascais, Portugal, for the three-week intensive acceleration program centered around entrepreneurship and innovation. At the 2019 convention, EIA challenged 11 Culverhouse College of Business students, including some on the STEM Path to MBA, to build an entire business from concept to company in under three weeks.
"EIA is a global entity that brings together students for start-up businesses in a global environment," explained Harold Wright, professor in the STEM and CREATE program and faculty advisor for the EIA trip. "It is a great exercise that teaches students to be comfortable with ambiguity."
This is The University of Alabama's third trip to EIA –– and each time, students from the Capstone pile on the previous year's successes. This year's EIA team traveled to Cascais, Portugal and stayed from July 14 to August 2, 2019.
Every EIA participant begins their trip speed-dating style, meeting with potential team members from all over who have great ideas for the next big startup, like Uber, DoorDash, or Airbnb. Each team includes a chief executive officer, chief business officer, chief marketing officer, chief technical officer and chief development officer. Diversity and international representation are important factors in how teams are composed. For example, Jack Zimmerman a chemical engineering student on the STEM Path to MBA, which is offered through Culverhouse's Manderson Graduate School of Business, led a team at EIA in 2018 with members from Italy, Russia, Canada and Texas.
The first step from concept to company is creating a solid team with a solid idea. Pivoting, as it's referred to, is a fundamental change to a business, and, in this case, students often found themselves pivoting on their ideas constantly, fine-tuning them to create a better, more marketable idea.
"Both your team and your idea need to be approved simultaneously within the first 48 hours," Macey Shirah, a participant from this year's cohort, explained. "… and even when you think you've found your team, where everyone's committed and you have all five people on board, you go to get approved, there's a possibility that your idea can be denied. Which also happened to me even after dating almost 12 teams."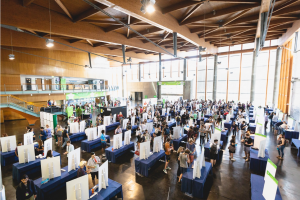 Shirah and her team had several ideas, ranging from pots and pans to wine to, finally, utilizing a NASA patent for maritime transportation.
"It took until the last 20 minutes before the final deadline for my company to finally be approved," Shirah said.
Once an idea is established and a team is found. Students are faced with the next challenge: validation. Any product or service must have a coinciding market with interested consumers. This led to a few days where teams conducted research on validating the market, testing consumer and product market fit, and making sure their ideas meet consumer needs. To accomplish this, many students conducted deep market research, reached out to top executives at Fortune 50 companies, and met with subject matter experts relevant to their product.
"When my team settled on the maritime transportation idea, I reached out to the director of communications for the European International Shipowners Association of Portugal," explained Macey. "Through email, we set up a lunch meeting at Apeadeiro in Cascais, Portugal with their technical director and director of communications…. My team and I had just arrived at EIA, but there a couple of us were a few days later, eating lunch with these two directors about our new business idea."
For Macey and her team, that lunch meeting helped establish their market entry. She received a letter of intent from the shipowners association, allowing her to begin contacting the shipowners.
Idea established. Team found. Market validated. Next was the prototyping process. A prototype is a preliminary model of an idea that leads to future developed forms and, eventually, the final product. Considering most of the ideas at the European Innovation Academy were digital, many teams set up web-based applications.
"Team's set up fully functioning websites with landing pages that were made available for potential customers," Madeline Rogers, a two-time past participant and chemical engineering student, explained. "Every team's product essentially became available online where customers had the chance to get a comprehensive understanding of the product, input their contact information for more information, give feedback and sign up for when the beta testing process begins."
Idea established. Team found. Market validated. Prototype available. Students are now at a point in the trip where the program becomes more of a competition. During the final week, participants find themselves facing a room full of venture capitalists, fellow students and executive-level professionals. Their next steps include pitching their ideas and asking for funding. Typically, the chief executive officers of these new startups assume the role of lead pitch person, becoming the one who stands in front of the entire room, asking investors to open their checkbooks and invest in their team's new business idea.
That trend, though, is not always true when there is an Alabama student on the team.
Advisor Harold Wright explains: "Chloe Denorme was not supposed to be the pitch person for her team, but a day before the presentations, she approached me and effectively said 'I am going to pitch. I am the only one equipped with the knowledge of what we are doing.'"
Denorme had just celebrated her 19th birthday during her time at the program. The other four people on her team were, on average, late twenties to early thirties, all with several years of work experience.
"Following the pitch," Wright continued. "I went up to the venture capitalist and thanked him for listening to Chloe who had just turned 19 and finished her freshman year. He looked at me and said 'that was easily the best pitch I have ever heard.'"
Apart from the program rules, there is also a "Wright Rule," which allows for only one Alabama student per team.
Per the "Wright Rule," Paige Harris, a chemical engineering major, was the only Alabama student and female on her team. The rest of her team included participants from Switzerland, Denmark, Singapore and Michigan who all voted Harris in as their chief executive officer and lead pitch person for their startup tech company, Bippy, that helps find parking in Europe. In three minutes or less, Harris pitched her entire company from idea to business plan to market strategy to two investors: one who invested a lot of money in Disney and one who is the vice president of Alchemist Accelerator in San Francisco, California.
Harris's company was selected as a top 10 team and was awarded the HAG Venture Building Program and Expedited Interview with Alchemist Accelerator awards. The Alchemist Accelerator award, which is known as one of the "most prestigious awards" at the program, grants Harris a direct line to an interview with Alchemist Accelerator anytime she submits an application on a potential investment idea.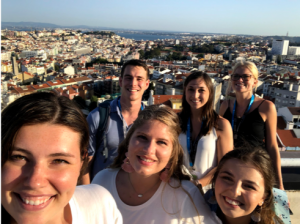 "The entire three-week experience was incredible," Harris noted about her time abroad. "When am I ever going to be in another room with 11 venture capitalists that can write me a check for a quarter of a million dollars?"
Harris and her team's company, that they created in July, recently received stage one funding and are currently up and running.
Zimmerman, who attended EIA in 2018, is still acting chief executive officer for his company, Rottweiler, a security company that protects personal items. Zimmerman and his team received the provisional patent award from Nixon Peabody, covering any and all fees when it comes to filing for a patent.
"The chief technology officer and I are currently in product development," Zimmerman said. "He is from Italy, but is soon moving to America."
Shirah, who went through several ideas and found herself on several teams before settling, finished the European Innovation Academy a part of the program's top team. The company, AME, LLC, creates a biocide-free product for the maritime industry.
"There are new regulations imposed by the International Maritime Organization that have banned most common biocide products that are used in killing off biolife on the ship hulls," Shirah explained. "Our superhydrophobic, biocide-free product coats ships hulls and repels water at the surface to prevent bioaccumulation as opposed to the current method of relying on harmful chemicals to kill off the biolife after they accumulated."
Shirah and her team's idea won them a fully-expensed trip to Greece for the Funny Money Training Course, where they will learn about entrepreneurship, funding and succeeding as a startup.
Whereas, senior chemical engineer, Madeline Rogers, is a featured alum of the EIA Program, leading webinars as a successful student story from the program. She discusses her experiences and what the program offers to faculty and students, answering their questions in hopes that they will register and go.
"The European Innovation Academy is an invaluable experience to any and all participants," Rogers said. "It's something you can't get anywhere else."
For more information about the European Innovation Academy click here.