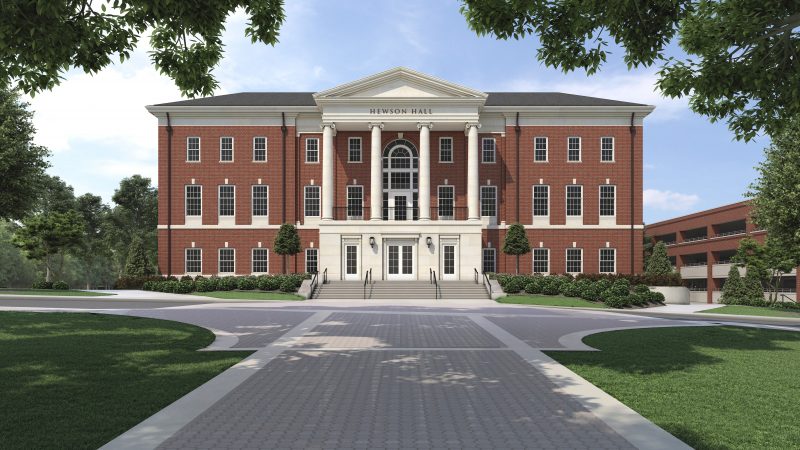 More than $25 Million Raised for UA's Hewson Hall
Push to raise final $5 million begins
The Culverhouse College of Business at The University of Alabama announced today that its goal of raising $30 million to construct Hewson Hall is within sight. The building campaign was initially announced in September 2018 and more than $25 million has been committed to the project to date. This means the University needs to raise $5 million more before requesting authorization from its Board of Trustees to commence construction.
Hewson Hall, named in recognition of a $15 million gift from two alumni, Marillyn and James Hewson, is a projected $60 million project. Half of that cost will be borne by UA and the other half will come from charitable contributions.
"The enthusiasm we've witnessed for Hewson Hall from our alums and friends has been truly remarkable," said Culverhouse Dean Kay M. Palan. "We are so very grateful to have such committed partners in this project that is critical to help accommodate the College's future growth."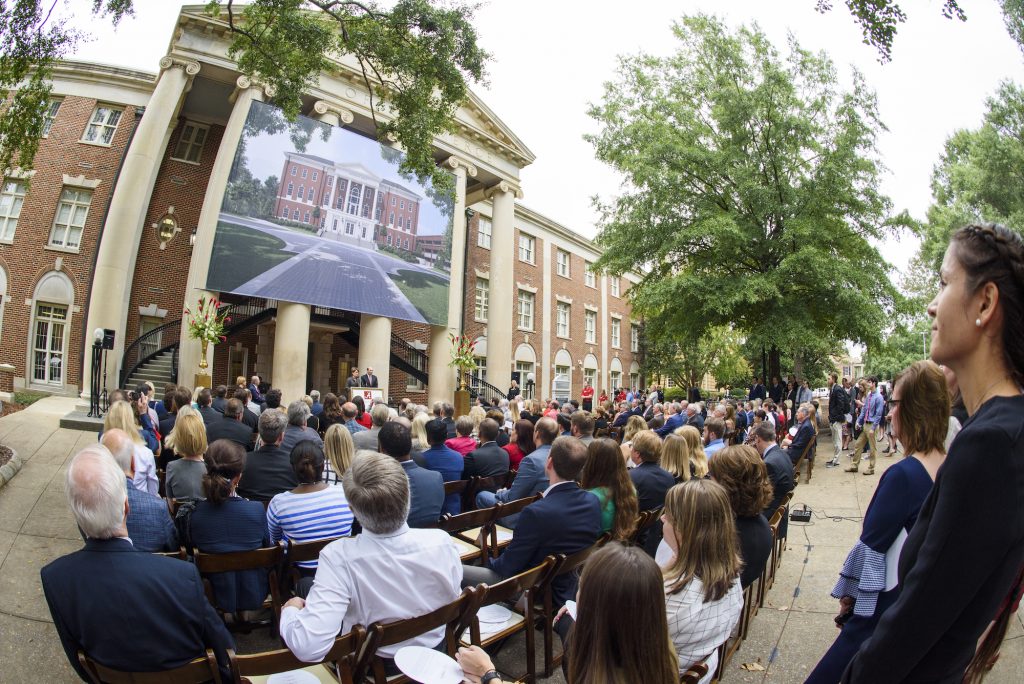 "However, as the finish line comes into sight, we ask those who have not yet considered making a gift to help us in this final sprint so that we can break ground for Hewson Hall and open the doors for classes in the fall of 2021."
Hewson Hall will be constructed adjacent to Mary Hewell Alston Hall on the western edge of UA's campus. It will be centered around a three-story atrium – a light-filled, dynamic space designed to connect faculty, staff, and students. Plans for the 108,000-square-foot building include 22 classrooms, 31 team collaboration rooms, and several conference rooms and other gathering spaces.
The Hewsons are pleased by how well the campaign for the new building has progressed since the project was first announced.
"James and I appreciate the opportunity to be part of this effort, and we are grateful for the generous giving of our fellow alumni," said Ms. Hewson. "We are confident that this innovative and transformative building will help the University prepare students to compete and win the jobs of the 21stcentury. We look forward to reaching the final fundraising milestone so the University can begin construction on this new building and ensure Culverhouse is a leading business college for decades to come."
Marillyn A. Hewson, the chairman, president and CEO of Lockheed Martin Corp., is an alumna of Culverhouse and serves on the College's Board of Visitors. Her husband, James, is also a graduate of The University of Alabama.
In addition to the lead gift from Marillyn and James Hewson, other major gifts to the campaign include:
$1 million from The Anderson Family, of Florence and Charleston
$1 million from Clay Smith, of Dallas, and his mother Linda Smith, of Huntsville
$1 million from Rance Sanders, of Birmingham
$1 million from Vulcan Materials Company, of Birmingham, honoring Don James
"For those who have already given to help construct Hewson Hall, I express my deepest gratitude," said Bob Pierce, UA vice president for advancement. "To have $25 million committed in less than a year is astounding. Now, we just need to raise the final $5 million before Homecoming in October to stay on track for a fall 2021 opening."
"Hewson Hall is going to be a magnificent facility and a crown jewel for the entire University. Every donor who participates in this campaign will be very proud to have their name associated with this beautiful and important building."
More information about Hewson Hall, including naming opportunities, can be found at culverhouse.ua.edu/hewsonhall.