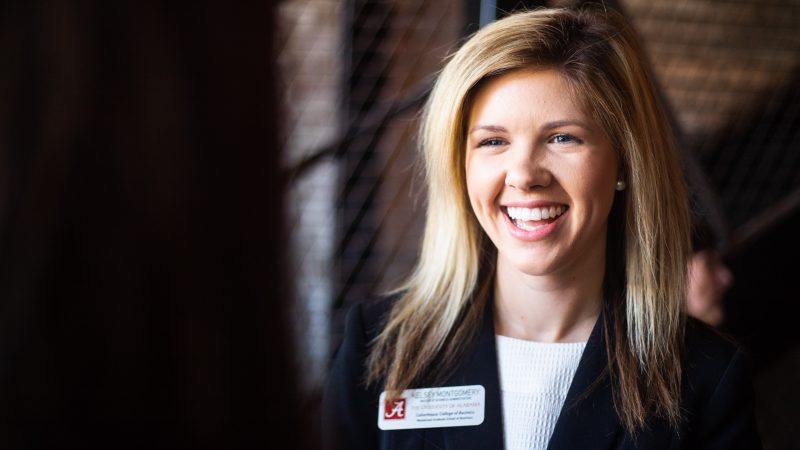 Speaker's Edge Concludes MBA Launch Week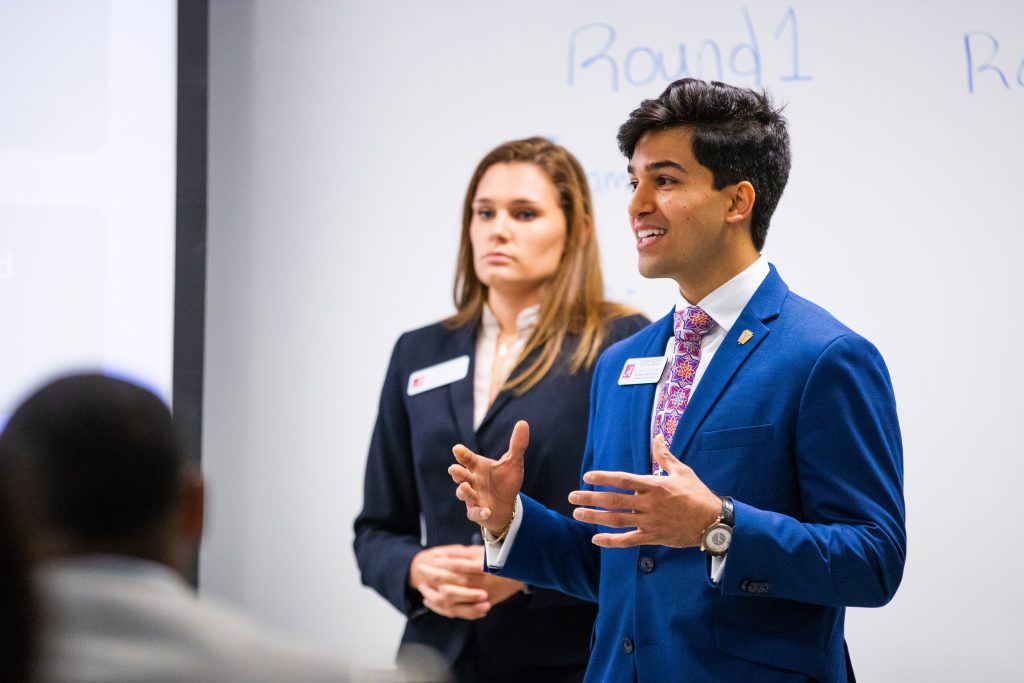 The Manderson Graduate School of Business at The University of Alabama wrapped up its week of orientation activities with the Speaker's Edge competition and awards ceremony on Friday, August 16, 2019. Manderson is part of The Culverhouse College of Business.
Orientation, formally known as "MBA Launch," welcomes first-year MBA students to campus with a series of professional development and networking sessions and team-building exercises.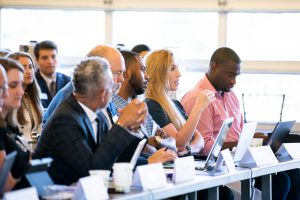 Manderson welcomed 158 students this year, 111 on the STEM path to the MBA and 47 in the Traditional program. Launch began with a welcome lunch at Cypress Inn. The Manderson MBA program celebrates women in business and are pleased to announce 53.19% of the traditional class is female.
Info about the Manderson MBA program can be found here.
Speaker's Edge is an annual competition for all incoming MBA candidates where student teams are tasked with presenting business solutions. The teams are given 48 hours to develop their plans and then present their proposals to a panel comprised of faculty and corporate partners. This year's first place winner was Team 21 represented by Garrett Hoard, Savannah Middleton, Mary Margaret Monistere, and Tyler Stamm. Savannah Middleton was named both best individual presenter and best Q&A response. 
For the first time, Individual Presenter and Best Q&A Response awards were given to students who won their divisional rounds during Thursday's preliminary round. This honor was made available by Magen Gamble of Delta Air Lines. Divisional Best Presenters are Jack Bender, Diana Boone, and Savannah Middleton. Manderson's Best Q&A response to divisional winners are Amanda Eure, Kelli Kuharich, and Mary Margaret Monistere.  
Some students share anecdotes about what made the week and Speaker's Edge so special:
"I made some genuine professional connections right off the bat."
"Even though preparation for Speaker's Edge was stressful, it was an incredible opportunity to get to know my classmates immediately upon entrance into the program. Throughout presentations, the judges really challenged our teams to look at our respective company's problems from a variety of angles and pushed us to form a bulletproof recommendation supported by research. I thoroughly enjoyed getting to meet and network with the judges after the competition, and it was a wonderful opportunity to make some genuine professional connections right off the bat." – Diana Boone
"Speaker's Edge was an amazing opportunity."
Our guest speakers at Launch had interesting and rich backgrounds. Their presentations on entrepreneurship were both encouraging and informative for our future endeavors. I am very grateful they came to share their experiences with us. 

Speaker's Edge was an amazing opportunity to work in a team setting early on. Interacting with all your classmates to create your presentation was both challenging and rewarding. Ultimately, it brought us all closer together as a group.

I look forward to the application of the newly acquired skills my team and I gained from Speaker's Edge to our future projects. It has set us up early for success. – Will Varnell
"Through Speaker's Edge I was able to improve my ability to speak in a public setting."
Speaker's Edge was a great experience. One of my fondest memories was being able to bond with my fellow classmates. Getting to go through something like Speaker's Edge really allows for everyone to come closer and get through it together.

Another important aspect of Speaker's Edge is that it thoroughly improved my ability to speak in a public setting. Practice is the best thing to do when it comes to public speaking, and through Speaker's Edge, I was truly able to do just that.

The guest speakers, such as Mr. Gary Ward and Mr. Harry Long really allowed me to see the importance of resiliency and determination when it comes to becoming successful. Overcoming adversity is a characteristic that everyone who has succeeded has to master, and through the talks that they gave us, this was further reiterated.

As the year goes by, I look forward to getting to know my classmates more and I also look forward to seeing what all we can accomplish. This group will accomplish many great things, and as a class I cannot wait to be a part of it. – Pedram Maleknia