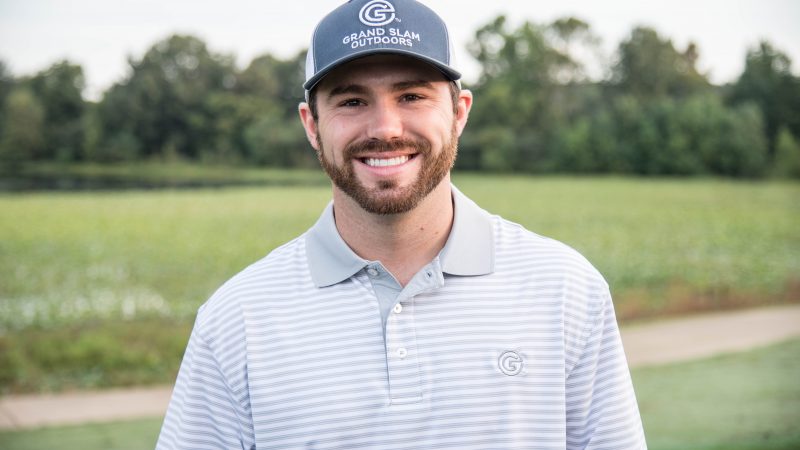 Trading on Adventure
A love for the outdoors and travel, coupled with an intuition for untapped markets, is at the core of Slade Johnston's entrepreneurial endeavors.
By: Zach Thomas
Slade Johnston is an outdoors enthusiast, with a deep passion for hunting and adventuring that is at the very core of his identity. This graduate of Culverhouse (Marketing, Management, and Sales specialization '16; Manderson MBA '18) is also a serial entrepreneur, starting and growing companies that tap into new and emerging markets within the outdoors sector.
Growing up in the small town of Butler, Alabama and in close proximity to the great outdoors, Johnston would go hunting and fishing every chance he got. Turkey hunting especially was something that he looked forward to because it was his grandfather's favorite activity and it meant he could spend hours in the woods with him developing strategies for hunting the birds.
Among the greatest feats in turkey hunting is the completion of a "grand slam," which is the bagging of one of each of the four subspecies of turkey in the United States. Gary Fortenberry, Johnston's grandfather and a hunting role model, was on track to complete his grand slam with one bird left while Johnston was finishing middle school. Johnston was too young to tag along on that boys' trip, so together they planned to start Johnston's own grand slam once he got to college. However, during Johnston's first semester at UA, Fortenberry unexpectedly passed away. "He was my best friend and hunting buddy, so that was the toughest thing I have ever went through," said Johnston. "Plus, I never got to start my pursuit of the grand slam with him."
However, Johnston's father suggested that they start his own grand slam in memory of his grandfather and to do that they needed to travel across the country to areas where the different turkey subspecies reside.
Instead of paying an outfitter, Johnston started making hunting trip arrangements with people he met online and offered up an Alabama hunting experience in return. He said, "I connected with a guy in Colorado on social media. He and his son came out to our place to go hog hunting and my father and I went out to his place for turkey hunting."
This is where Johnston saw opportunity:
"I started thinking about buddies that I had swapped trips with in other categories. I had swapped turkey hunting here in Alabama for surfing in California as well as University of Alabama football tickets for deep sea fishing in Orange Beach. On all these trips, I only had to pay for travel expenses. This is when I realized that this could be something way bigger than just exchanging turkey hunting."
"We did our due diligence and saw that no one was offering a platform for swapping trips within the four categories of outdoors, adventure, vacation, and sports. So, I decided to create it."
With an interface similar to Airbnb, Trips4Trade connects adventure seekers with once-in-a-lifetime experiences in exotic locations like sightseeing and photo safaris in South Africa, explorations in New Zealand, or fishing in remote waters. With trips in 42 states and nine countries, one is likely to find a must-do experience on the platform.
Many of the experiences on Trips4Trade are related to hunting, fishing, and recreation in the United States, including trips to hunt deer in Texas, relax in a remote mountain cabin in Georgia, or go "glamping" with all the amenities in Florida.
The only condition to partake in these experiences on the Trips4Trade is a willingness to reciprocate and share an unforgettable and quality experience in-kind. "We want to be known for trading memorable experiences and we plan to be the best in that space." said Johnston.
Trips4Trade is just one venture in Johnston's outdoors empire. The parent company is a brand called Grand Slam Outdoors, named in honor of his grandfather "Gran" and the pursuit of the grand slam. The portfolio includes Cooler Comrade and several other projects in development.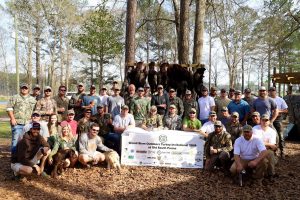 Johnston credits his education at Culverhouse and especially some faculty mentors for inspiring his entrepreneurial ambitions. "Dr. Jef Naidoo especially provided guidance in both business strategy as well as moral standards because he saw how passionate I was."
Johnston has also found mentoring through Birmingham-based entrepreneur John Cassimus, the founder of Zoe's Kitchen, Crazy Cazboy's, Maki Fresh, and a litany of other businesses. Johnston was connected to Cassimus, a fellow graduate of Culverhouse (Finance, '90), by faculty member Lou Marino because of their shared interests in hunting and the outdoors. "The last two years, John has taken me under his wing. He's helped me think through different strategies specific to the business and is an early investor. He showed me how hard you have to work to grow a business and how quickly you've got to move to grow something big," Johnston said.
Cassimus said, "Slade is a dedicated, committed, and innovative entrepreneur whose moral character is admirable. Trips4Trade offers a unique opportunity to create opportunities for all avid outdoorsman as well as others who have something of value to trade for similar activities."
"It is unique and fills a niche," he added.
The grand prize winner of $50,000 in the 2019 Edward K. Aldag Jr. Business Plan Competition hosted by Culverhouse, Trips4Trade currently bases its operations in The EDGE, the new coworking and innovation space that was a joint effort between the City of Tuscaloosa, the Chamber of Commerce of West Alabama, and The University of Alabama via Culverhouse's Alabama Entrepreneurship Institute.
"The EDGE facility is incredible. Being around other entrepreneurs that are passionate about getting their businesses off the ground and putting in the hours as well is incredibly motivating."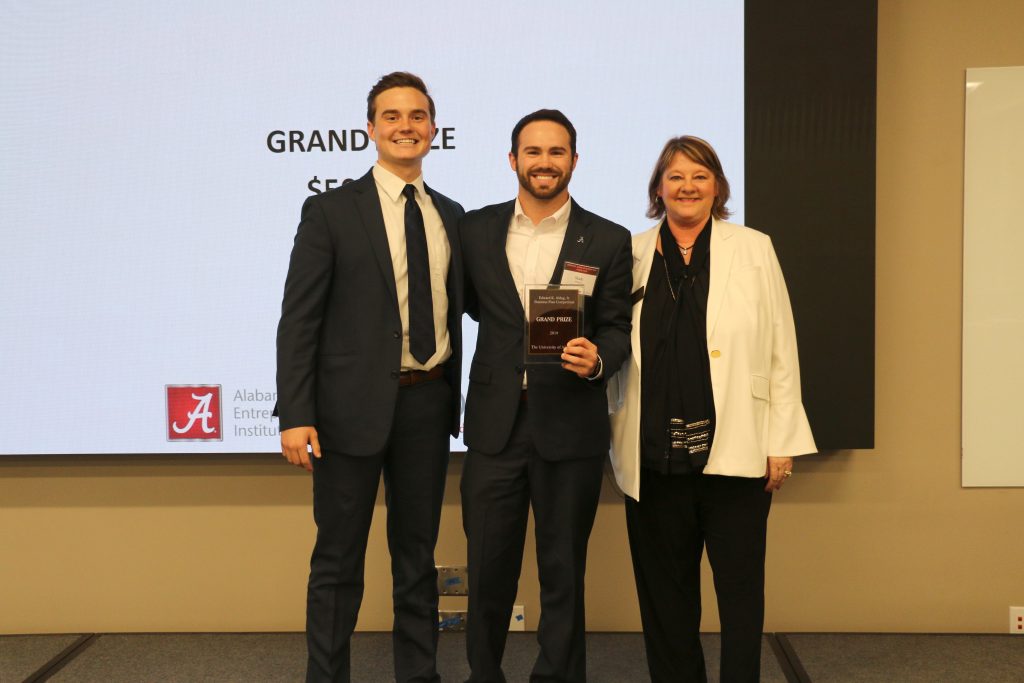 Theresa Welbourne, Culverhouse's Will and Maggie Brooke Endowed Professorship in Entrepreneurship and Executive Director of the Alabama Entrepreneurship Institute, has noticed Johnston's keen capabilities as an entrepreneur and his capacity for hard work, "I've known Slade for several years now through his involvement at The EDGE and as a winner of our annual business plan competitions. He's got tremendously creative ideas that come from his own areas of expertise and that leverage his innate skills as a marketer –– for entrepreneurs, this is an ideal mix of personality traits."
"Slade takes feedback extremely seriously and is receptive to new ideas. He's also a mentor now to other new businesses that are coming into The EDGE and he is inspiring student entrepreneurs."
Johnston says the company's short-term goal is to expand the Trips4Trade listing base through the addition of more sports ticket and vacation home offerings, optimize the platform, and hire additional staff. Looking long-term, Johnston plans to seek an exit in 5-10 years if goals are hit and pursue the next startup under the Grand Slam Outdoors umbrella, "It's taken a lot of hard work to get the company to where it is today, and we still have a long way to go. However, I am enjoying the journey and celebrating the small wins."
"When I see photos and excellent reviews from members who were able to use Trips4Trade to cross-off an item from their bucket list, I get really excited knowing that we were able to help make that happen."
Learn More
Visit Trips4Trade.com to learn more about Johnston's unique business concept and get in touch here.