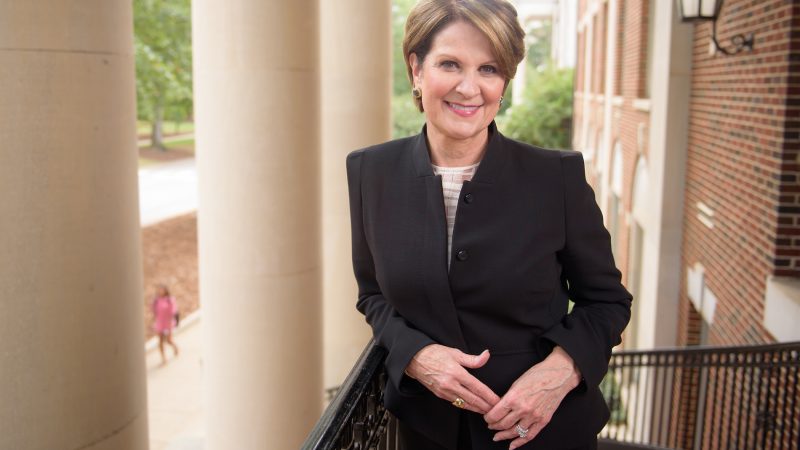 TIME Lists Culverhouse Alumna Hewson among 100 Most Influential People in the World
TUSCALOOSA, Ala. — Marillyn A. Hewson, a University of Alabama alumna and chairman, president and CEO of Lockheed Martin Corp., has been named one of TIME magazine's "100 Most Influential People in the World" for 2019.
In the magazine, which hit newsstands Friday, Hewson credits the Capstone as the most influential place in her life because it set the foundation for her extraordinary career, and it's where she met her husband, James, when they were both undergraduates at UA.
"I am deeply thankful for the strong business education I received at The University of Alabama," said Hewson in a past interview. "That education helped prepare me for many of the challenges and opportunities I've encountered throughout my career – from the day I joined the company as an industrial engineer to my current role as CEO."
The honor is the latest for Hewson, since becoming CEO of Lockheed Martin. In 2018, she was ranked No. 1 on FORTUNE magazine's list of the "Most Powerful Women in Business."  She was also named the 2018 CEO of the Year by Chief Executive magazine and was selected by Forbes magazine as one of the "World's 100 Most Powerful Women."
The Hewsons have generously given back to UA's Culverhouse College of Business, where Marillyn earned a bachelor's degree in business administration and a master's in economics. In 2017, she donated $5 million to the College to support education and research in business-data intelligence and cybersecurity.
In 2018, the Hewson family made a gift of $15 million to the College. In recognition of the gift, the College announced in September plans for the construction of a new building to be named Hewson Hall.
A native of Junction City, Kansas, Hewson was earlier named a University of Alabama "Legend."
The University of Alabama is steeped in tradition and success. Legends have been made in our academic halls, on our athletic fields and courts, and in our endeavors to shape a better world through our teaching, research and service. Many individuals have made significant contributions to UA and have distinguished themselves in their field or profession, bringing national or international recognition to The University of Alabama. They are UA legends. To learn about other UA Legends see https://www.ua.edu/legends/list_legends.php.