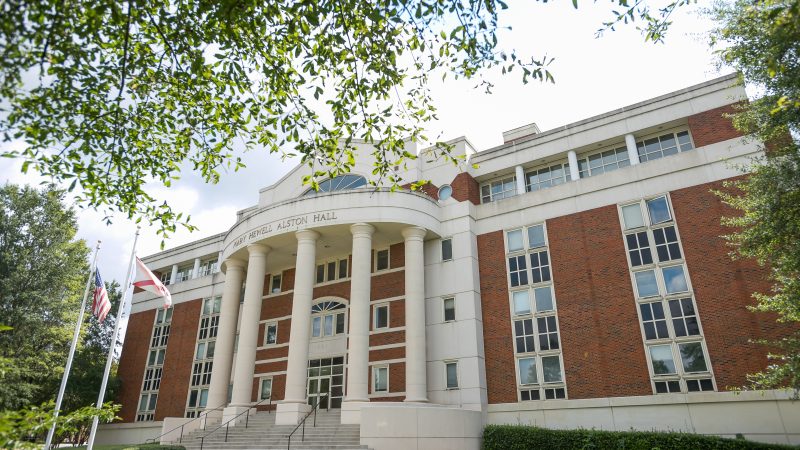 CBER Report: Alabama Business Execs Have Strong Confidence Moving into Q2 of 2019
TUSCALOOSA, Ala. — Business professionals throughout the state of Alabama are feeling confident about economic growth in the second quarter of 2019, according to surveys conducted by the Center for Business and Economic Research at The University of Alabama's Culverhouse College of Business.
Business confidence registered at a very strong 64.8 in the Alabama Business Confidence IndexTM (ABCI) report, which is compiled from a quarterly survey sent to business leaders throughout the state gauging their expectations for the coming quarter compared with the current. The complete report can be downloaded here.
The six component indexes that make up the ABCI reflect panelists' expectations for industry sales, profits, hiring, and capital expenditures as well as their forecasts for the statewide and national economies. An index value above 50 indicates a positive outlook, and the higher the index, the more confident the economic outlook.
The ABCI reached 64.8 in the Q2 2019 survey, signaling strong expectations compared to Q1 2019's level of growth. All of the survey categories registered in the 60s indicating strong confidence, with the lowest index being the national economic outlook, which still registered at a moderately confident 60.0 in the Q2 2019 survey.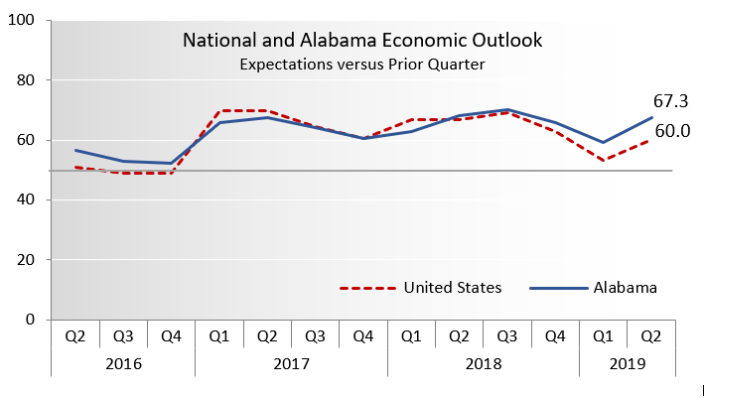 Two of the component indexes were especially confident: industry sales and the Alabama economic outlook. The index for industry sales was 68.5, with 71.2 percent of respondents anticipating an increase in their own industry's sales. The highest sales index this quarter was 81.0 in "All other services," a category that includes management of companies and enterprises; education services; arts, entertainment, and recruitment; accommodation and food services; and other services that don't fit into the survey's other categories. Businesses in construction and manufacturing are also forecasting increased sales compared to Q1 2019 with strong confidence with indexes of 70.5 and 76.0, respectively.
The Alabama economic outlook index registered at a very confident 67.3 after 61.9 percent of all panelists reported expecting better conditions in the statewide economy. Like the sales index, the statewide outlook has sustained high confidence since Q1 2017 with an average index of 65.2 over the last ten quarters. The metro areas have been especially optimistic: business leaders from Mobile and Huntsville communicated strong confidence in improved economic conditions in Alabama with indexes reaching 69.8 and 69.4, respectively.
Media Contact: Susannah Robichaux, Socioeconomic Analyst, 205-348-3781, scrobichaux@cba.ua.edu