"Be Confident" and "Know Your Worth": Panel Brings Together Area Women Entrepreneurs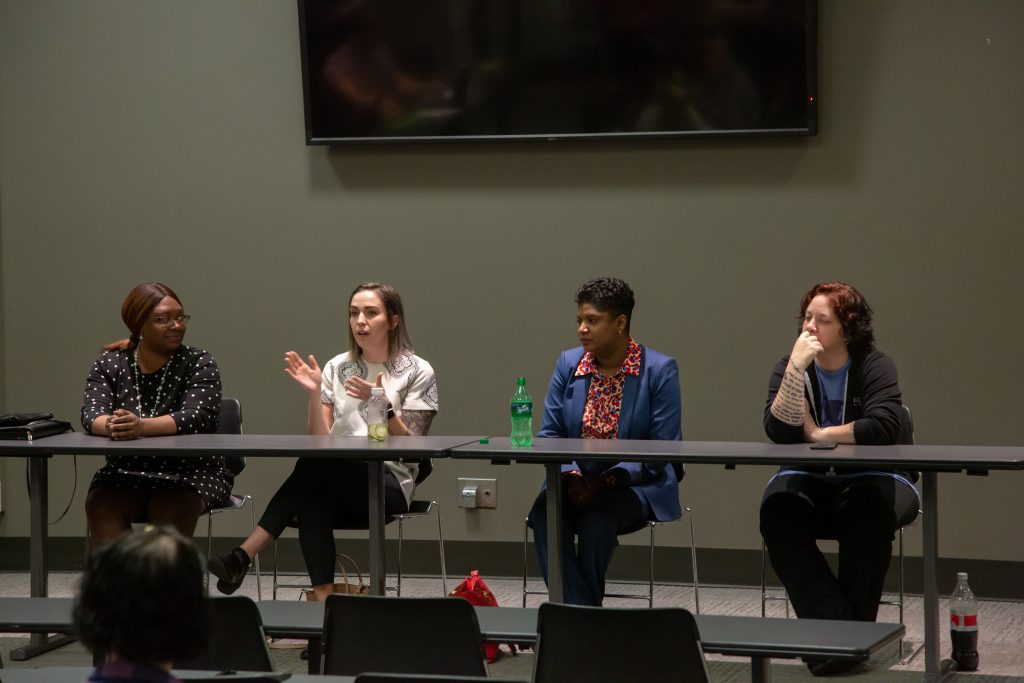 In honor and recognition of Women's History Month and Pay Equity Week, a panel of four women spoke with a robust group of students, faculty, and staff across campus about the successes and challenges of their careers in small business. Panelists included Patricia Cade, Executive Director of the Tuscaloosa Area Black Chamber of Commerce, Michele Coley, owner of a Tuscaloosa Allstate agency, Soapy Jones owner of Left Hand Soap Co., and Cat Noble, owner and master trainer of The Barre Code. This was a collaborative event co-sponsored by the Culverhouse College of Business Diversity and Inclusion Council and The University of Alabama's Career Center and the Women and Gender Resource Center.
The focus of the discussion was centered around the panelists' respective ventures into small business and the experiences and challenges they have endured. While her career into small business has not been without challenges, Michele Coley said, "It's hands down the best thing I've ever done. I'm living my best life right now. I tell my team every day, 'thank you'."
Panelists shared their insight into supervising employees as the boss including, "have clear expectations" and "learn how to have difficult conversations and manage conflict effectively." Patricia Cade advocated for women to create a policy manual and ensure employees understand what the procedures of the organization are and to be adaptable, when possible.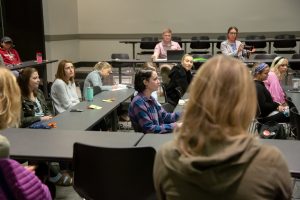 The women also spoke about the gender pay gap and how it affected them personally and through their career trajectory. Soapy Jones explained, "Because my businesses are hospitality and maker-based, the gap had to do with convincing people that what I was doing was legitimate and it's a struggle every day." Michele Coley emphasized the importance of being confident, researching pay discrepancies, and knowing one's own worth. She said, "You need to have conversations with people, you need to have advocates, you need to research and know the market is, know your worth, what you should be paid and ask." Both Patricia Cade and Cat Noble underscored the reality of the pay gap and the discrepancy in pay women often receive.
While the discussion was focused on women in small business, the panelists gave advice applicable to women in all fields. Soapy Jones encouraged women to "give yourself permission to make mistakes." She went on to say, "we are always told as women that we have to be perfect and we really don't. We have to be flawless, it has to be immaculate, and there are double lines we face every day. Can you be strong and feminine? As if those are opposites! You'll fumble, you'll pivot, you'll change your mind, and if you give yourself permission to do that, it won't be jarring when it happens." Persevering through obstacles, speaking up, and following your passion was additional given advice women of all disciplines.
Final parting words of empowerment the women panelists left with the audience were, "Be true to yourself" from Patricia Cade; "Know that it's okay to fail" from Cat Noble; "Do it. No matter what obstacles are there" from Michele Coley; and "Never be afraid to ask for help; never be afraid when someone says 'no.' No one will ever care about your business as much as you do" from Soapy Jones.