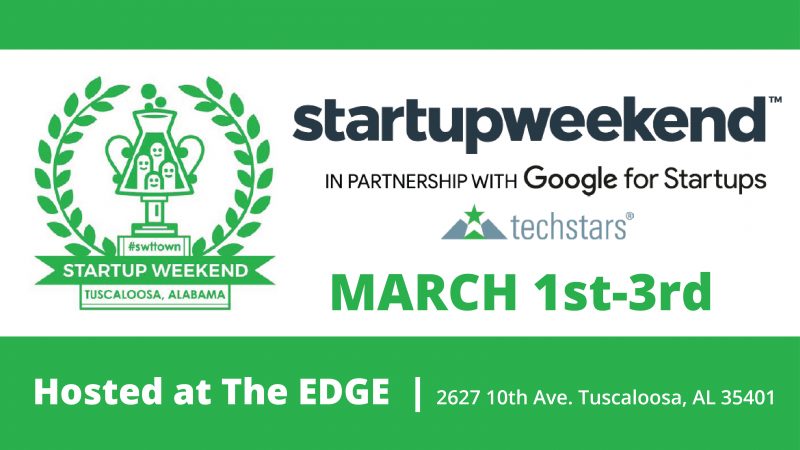 Startup Weekend Tuscaloosa Returns March 1-3
TUSCALOOSA, Ala. — Do you have a product or service idea but don't know how to get started? The power behind a business idea is putting action into the idea, and Startup Weekend Tuscaloosa March 1-3 is where those ideas can become reality.
Hosted by the Alabama Entrepreneurship Institute, the sixth annual Startup Weekend Tuscaloosa is 54 hours of intensive business development for members of the community and students.
The event will be held at the recently opened EDGE Incubator and Accelerator, 2627 10th Ave. Tuscaloosa, AL 35401.
Aspiring entrepreneurs will test the viability of their ideas, build teams, create prototypes and receive feedback from business experts. Beginning with open mic pitches March 1, attendees present their best ideas and inspire others to join their teams. On March 2 and 3, teams focus on customer development, market validation and building a minimum viable product.
On the evening of March 3, teams pitch to a panel of local judges who will decide which ideas are the most likely to succeed.
Startup Weekend winners will receive prizes and feedback from local experts. Participants will also gain valuable insights that can aid if they choose to participate in the upcoming Edward K. Aldag, Jr. Business Plan Competition.
Everyone in the community who believes they have a great idea or is interested in being part of developing an exciting new business is invited to attend. More information about Startup Weekend Tuscaloosa can be found here.
Registration is also available through Eventbrite, and a limited number of discounted early bird tickets are available.
UA students get a 50 percent discount with code SWSTUDENT25 and tickets will remain available for purchase until March 1. Food and drinks are included with ticket purchase.
For additional information, contact Startup Weekend Tuscaloosa at tuscaloosa@startupweekend.org.
Startup Weekend Tuscaloosa is made possible with the support of international sponsors, Techstars and Google for Entrepreneurs, and local business sponsors, Alabama Power and Regions Bank.