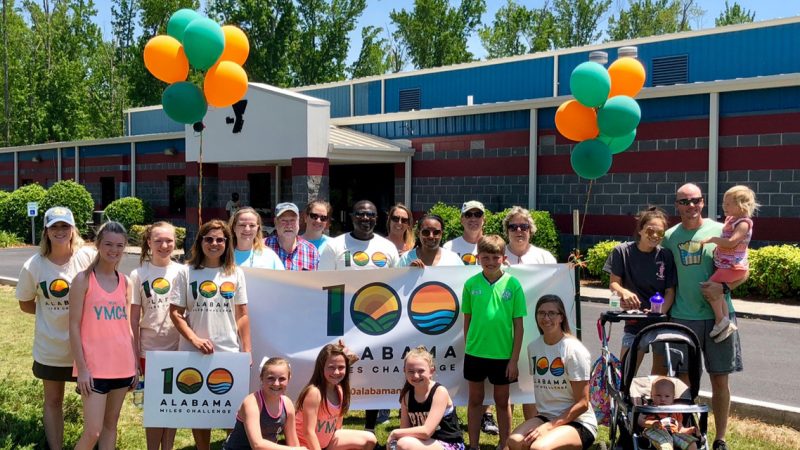 100 Alabama Miles Challenge Inspires Alabamians to Get Outside
Tuscaloosa AL –  The University of Alabama Center for Economic Development (UACED) and its partner organizations announce the kick-off of the 2019 season of the 100 Alabama Miles Challenge on March 2, 2019.
The 100 Alabama Miles Challenge is a statewide public program designed to inspire all Alabamians to walk, run, hike, bike, swim, paddle, ride, or roll 100 miles each year. While Alabamians can participate at home, in their neighborhood, or at their favorite gym, the program encourages participants to get their miles in by visiting Alabama's beautiful parks, nature preserves, and rivers with their friends and family. The program seeks to encourage all Alabamians to be active, go explore, and connect with others.
Now in its second year, the Challenge officially kicks off the 2019 season on Saturday, March 2 with a public event held at Birmingham's Railroad Park at 9:00 a.m. Featured at this event will be 100 Alabama Miles Ambassadors, who will share their inspiring stories about overcoming health challenges to become physically active. In addition to handing out free logo gear, the 100 Alabama Miles Ambassadors will lead a one-mile walk as a symbolic "first mile" of the Challenge for 2019. Later in the season, similar kick-off events will be held in other cities around Alabama, including Huntsville, Red Bay, and Jasper.
"At 36 percent, Alabama has the fifth-highest obesity rate in the nation, and this is due, in part, to a lack of physical activity," said Brian Rushing, the program's coordinator and director of economic development Initiatives at UACED. "However, our state is blessed with literally hundreds of unique and beautiful outdoor recreational destinations that offer fantastic opportunities for all Alabamians to become active," Rushing added.
Organizers invite the public to register for the 100 Alabama Miles Challenge at 100alabamamiles.org, where they will earn electronic badges for milestones they reach and places they visit as they log their miles. The website enables participants to find recreational trails throughout the state, track their progress individually and by teams, and to get important safety and wellness information before they head outside. Participants can take the challenge with friends and family and even create teams and compete with others. Program organizers encourage participants to share their photos and experiences on social media as they journey to 100 miles using the hashtag #100ALMiles.
UACED's partners in developing and sustaining this program include the Alabama Trails Foundation, Blue Cross and Blue Shield of Alabama, Lakeshore Foundation, Governor's Commission on Physical Fitness and Sports, Jefferson County Department of Health, AARP, Alabama Department of Public Health, and the Alabama Obesity Task Force. These partners have designed the 100 Alabama Miles program to support public health and to enhance economic development through recreational tourism.
For more information contact:
Brian Rushing, Director of Economic Development Initiatives
The University of Alabama Center for Economic Development
brian.rushing@ua.edu/ 205.915.5402