New Business Analytics Master's Program Integrates Data Analysis with Business Applications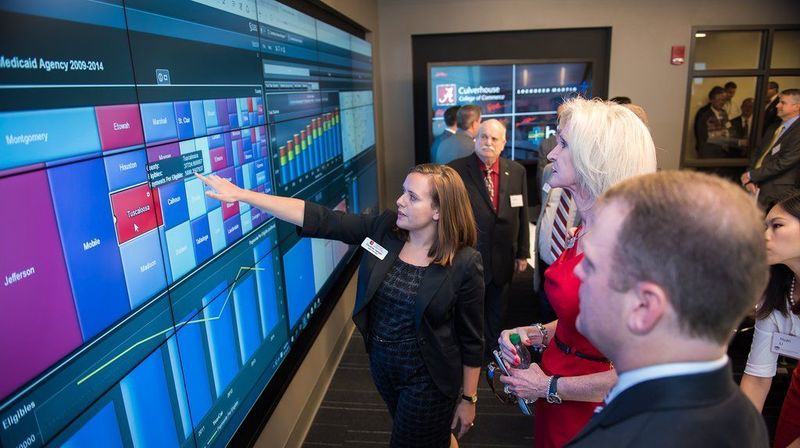 TUSCALOOSA, Ala. — Businesses across nearly every sector are hiring data analytics experts to win over customers, identify growth opportunities, or improve operations. Thousands of these positions, which rely on a mix of computing expertise, operations knowledge, and statistical prowess, are added annually. To prepare students for these opportunities, the Manderson Graduate School of Business at The University of Alabama's Culverhouse College of Business now offers a Master's of Science in Business Analytics.
The Manderson Master of Science in Business Analytics, or MSBA, is a one-year (June to May), on-campus, full-time program that prepares students for analytics positions in industry and government. Students will learn to use state of the art software and methodologies to manage data, transform it in a manner that provides valuable business insight, and interpret and communicate their results effectively.
Students are now being accepted for the inaugural class of 2020.
"Through our new MSBA program, we will provide students with a strong education in analytics and address the growing demand for well-trained analytics professionals," said Dr. James Cochran, associate dean for research at Culverhouse. "Our program focuses on problem solving and integration of analytics skills, two considerations that are of primary importance to companies hiring analytics professionals."
The format of Manderson's MSBA program will be a hybrid of two learning approaches that aims to immerse students in analytics: addressing the core of analytics, while also allowing for flexibility to identify emerging trends. By merging these two approaches, the program recognizes that business analytics is an emerging discipline that requires immersion to assimilate key concepts quickly and develop the broad range of skills necessary to be attractive in the job market, while also learning to recognize and understand emerging trends.
"Data analytics is an essential skill for today's emerging business professionals. The abilities to explore, measure, and translate information are vital to operations in corporate environments and beyond," said Dr. Jason Parton, director of the Institute of Business Analytics and assistant professor of statistics at Culverhouse.
Master's degrees offered through the Manderson Graduate School of Business reflect a diverse range of missions and objectives. Enrollment in all master's programs is limited and competitive. Admissions are supervised by committees of the graduate faculty in each of the academic programs. The minimum admission requirements are:
Admission to the Graduate School of The University of Alabama,
An acceptable score on the Graduate Management Admissions Test (GMAT) or the Graduate Record Exam (GRE) and
Completion of an appropriate undergraduate degree.
For more info, contact Jan Jones, Director of Specialized Master's Programs, 205-348-7221 or jjones@culverhouse.ua.edu.