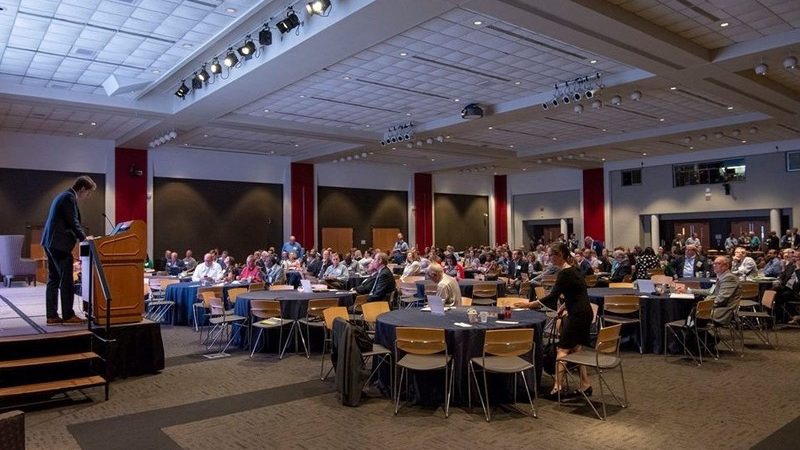 Insurance Disruption on Display at Alabama I-Day
Alabama Insurance Day returned to the University of Alabama campus on Wednesday, Oct.10, 2018. The 35th annual conference attracted hundreds of industry professionals, students and guests for insights on current trends and challenges in insurance and risk management.
This year, the program focused on tech-driven disruption in the industry. Eighteen experts covered various aspects of insurance disruption such as cybersecurity, predictive analytics, innovation, and disaster resilience. Speakers included Dr. Robert Hartwig, an economist and past president of the Insurance Information Institute, and Thomas Albritton, executive director of the Alabama Ethics Commission, as well as a panel discussion with the CEOs of Auto-Owners, Cincinnati Insurance, CRC Insurance, and Holborn. The program also featured a career fair and networking hour where students connected with representatives from 20 major insurance companies.
The main focus of the day was the afternoon panel on automated driving and safety. Mercedes-Benz consultant and UA engineering professor Dr. Bharat Balasubramanian led the discussion with Brad Nail, Uber's senior insurance and policy expert. Jerry Workman, Deputy Commissioner of the Alabama Department of Insurance, and Paulette Johnson, Birmingham-based Vice President of EMC Insurance, also took part in the panel.
"The expectation with more self-driving car capabilities is that we are going to reduce the number of accidents," Johnson said. "This, in turn, reduces worker compensation costs from missed workdays, reduces injuries and thus reduces health care costs, and reduces property damage to the vehicles."
For its part, Uber views autonomous driving as a means to make transportation safer and more efficient for riders in its network. "We are uniquely positioned as both a developer of this technology and the potential end user of the technology," Nail said.
In addition to talks from leading insurance experts, attendees heard from award-winning Alabama sports journalist Kevin Scarbinsky. He spoke about his three-decade-long career as a columnist for Birmingham News and Alabama Media Group which included covering the 1996 Summer Olympics and the 2016 College Football Playoff national championship game.
Alabama Insurance Day is organized by the Alabama Insurance and Risk Management Education Foundation in cooperation with the Alabama Department of Insurance and UA's Culverhouse College of Business. Proceeds from the program help provide scholarships, educational programming, and professional development opportunities for students studying insurance, risk management and actuarial science at UA.
"We are fortunate to have the sustained support of our donors and the local insurance industry," said Dr. William Rabel, professor of insurance and financial services at UA. "It is because of their generosity that we are able to continue developing future industry leaders."