Culverhouse Students Awarded International Recognition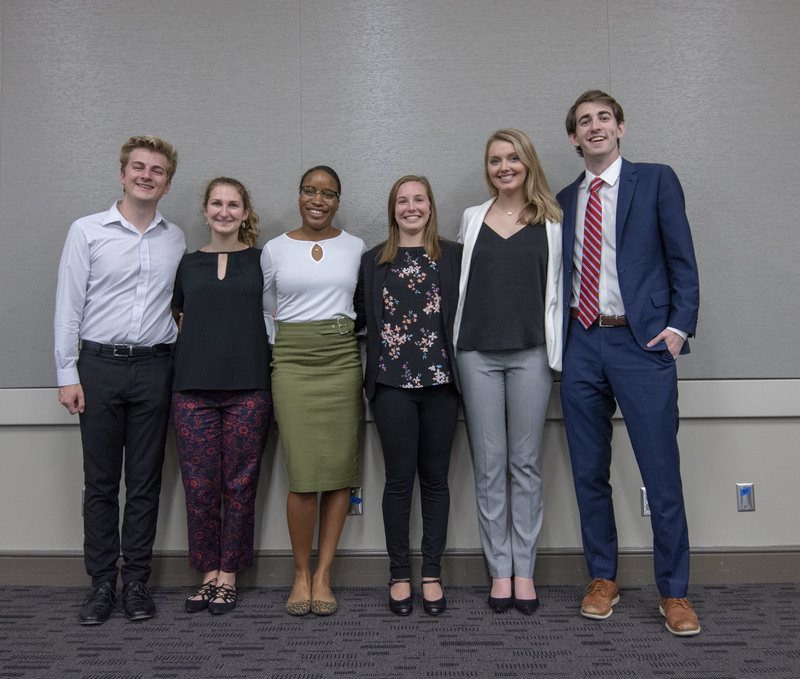 Nine Culverhouse insurance and risk management students traveled to Chicago last weekend to attend the 47th Annual Gamma Iota Sigma International Conference where they were presented with four chapter awards. Gamma Iota Sigma is an international professional fraternity organized to promote, encourage and sustain student interest in insurance, risk management and actuarial science as professions.
The group was recognized for their success in managing one of the oldest chapters of Gamma Iota Sigma. The University of Alabama's GIS chapter received the Well-Rounded Chapter Award and three International Chapter Awards for alumni relations, chapter management, membership development. "I'm very proud of our chapter for earning these awards and want to emphasize how great of a job the board of directors has done," said chapter president Austin Houston. "I'm thrilled to build on this success and I know we have a lot of dedicated students that are willing to put in the work to do so."
The conference, held Oct. 4-6 at Chicago's Navy Pier, is the most comprehensive event for students to develop professionally and expand on their industry exposure and knowledge. Reginald Allison II, co-advisor for UA's GIS chapter, led the contingent of Culverhouse students that participated in three days of intensive programming, which included the largest career fair of its kind, on-sight interviews, keynote presentations, and numerous educational and diversity sessions. Over 450 industry leaders and 650 students from 60 colleges and universities participated in this year's conference, which was themed "Amplifying Disruption".
"Year after year, the students who attend the GIS Conference are inspired and bolstered in their interest in the profession," said Allison. Culverhouse's insurance, risk management, and actuarial science program has sponsored the attendance of UA students at the conference since 2006.
"I enjoyed participating in an interactive seminar about diversity and inclusion in the workplace," said senior Kayla Podleski, a first-time attendee. The session, led by The Hartford's Chief D&I Officer Susan Johnson, continued GIS's support of the global Dive In festival for diversity and inclusion in insurance. "Together, students from across the country and leaders in the insurance industry discussed many ways to improve and continue progression," Podleski said.
Amanda Clower, an accelerated master's student, said the most beneficial event for her was the career fair which featured over 80 organizations. "The career fair opened my eyes to the extensive opportunities in insurance and the far reach of its application," Clower said while noting the broad array of companies and industry organizations that were in attendance.
During the career fair, several members of the group participated in the more than 400 on-site interviews. "I had an interview with Travelers for a summer internship position and made great connections with many companies and individuals which will be so valuable when looking for internships this summer in Chicago," said junior Kayla Carlson.
"I have follow-up interviews with Munich Re, Nationwide, and Mcgriff, Seibels & Williams as well as some hopeful job opportunities that spawned from the conference," added Clower.
In addition to the educational and professional development, the students also explored the Windy City which included eating at the famous Giordano's deep dish pizzeria, visiting the shops on the Magnificent Mile, cheering on Chicago Marathon runners, and touring landmarks like Buckingham Fountain in Grant Park and "The Bean" sculpture at Millennium Park. "This [conference] is a great way for our members to bond and get to know each other," said senior actuarial student Liz Peplinski. "It's always more fun to go back to campus and plan GIS and Alabama Insurance Society events with your friends."